Innovations in Science
We're accelerating the delivery of treatments and cures.
Research Grants
Finding treatments and cures is at the heart of the Muscular Dystrophy Association's mission to free individuals — and the families who love them — from the harmful effects of neuromuscular disease. MDA is doubling down on our sense of urgency and commitment to our research program to advance therapy development. In addition to the work MDA does to provide the best clinical care and support to families living with muscle disease, funding the most promising and innovative research is our top priority.
Information for Investigators Applying for Grants
Applications will be accepted by MDA twice yearly for investigator-initiated Research Grants and young-investigator Development Grants.
Applicants are strongly encouraged to submit applications on innovative research with the following elements in mind:
Applications should directly relate to a disease in MDA's program. (You can see the diseases in MDA's program here.)
Applications should focus on accelerating therapy development for the disease(s) in question. Such projects may include:

New target discovery
Target validation
Screening for new therapeutic molecules that hit validated targets
Addressing a need of the neuromuscular research field (e.g., developing a novel animal or cell model of the disease, developing new technologies, etc.)

MDA is seeking applications that may result in new understanding of disease etiology and pathogenesis for ALS and other neuromuscular disorders where these are not well understood.
To view all open opportunities and apply for funding, please visit proposalCENTRAL.
To download instructions on completing application materials in Proposal Central, click here for Research Grants and here for Development Grants.
Timeline for Grant Cycles
(investigator-initiated Research Grants and young-investigator Development Grants)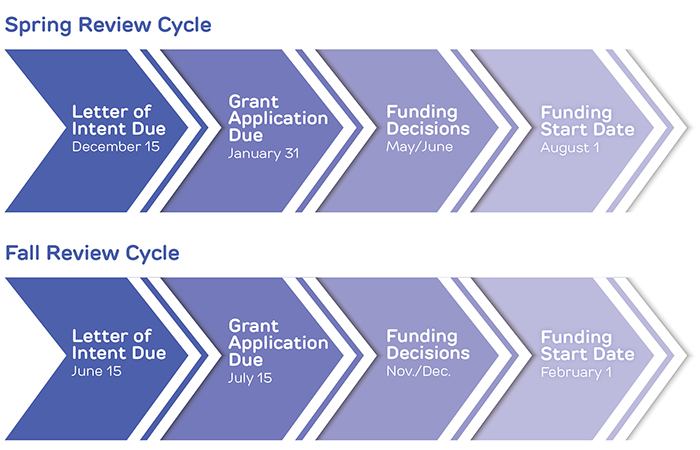 Letters of Intent open approximately one month prior to deadline.
Letters of Intent are due by 11:59 p.m. ET on the specified due date.
Grant applications are due by 5 p.m. ET on the specified due date.
If a due date falls on a weekend or holiday, the due date will be moved to the next business day.
As the leader in neuromuscular disease research, MDA is more committed than ever to finding treatments and cures. Our revitalized scientific program will:
Use a more intentional and proactive approach for our grant proposal process to focus on key areas of promise.
Introduce new talent and dedicated research focus areas to help move more drugs/therapies toward clinical trials.
Lead the development and implementation of a disease registry to help better understand neuromuscular diseases and treatment outcomes.
Direct a greater percentage of our research budget to therapy development.
MDA's Scientific Program 
In addition to these critical enhancements, MDA's scientific program will to continue to:
Support research at pivotal stages in development — from research into disease etiology and pathogenesis through to clinical trials.
Foster talented new investigators.
Encourage companies to engage in neuromuscular disease research and drug development.
Work with the community to identify and overcome hurdles to therapy development.
Facilitate collaboration among researchers, and support professional and educational opportunities.
See list of all current MDA grants.