Volunteer for MDA Summer Camp
Make an impact on the lives of children with muscular dystrophy or related diseases during their best week of the year.
Apply Today
Camp can change your life just as it changes the lives of campers.
MDA Summer Camp wouldn't be possible without people like you. Each summer, hundreds of volunteers serve as counselors and medical staff for up to one week to help make Summer Camp a safe, fun and memorable experience.
As a volunteer, you will be a camper's "buddy" for the week as you participate in adaptive camp experiences, games, dances, meal time and more. You also will take on the role of 24-hour caregiver, friend and confidence-builder.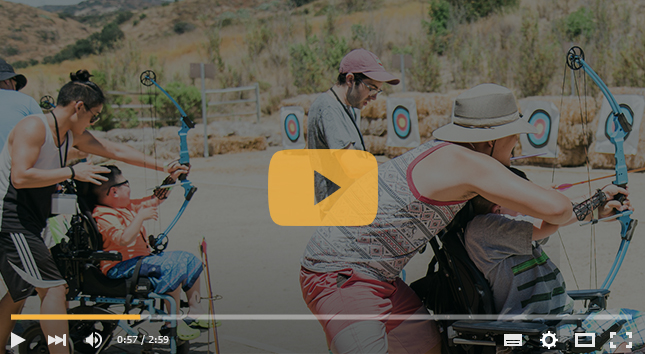 You're there to help the kids, and you're also there to help them function independently. If there's any impact we make, it's having these kids feel like they have more of an ability to live independently [than they did] prior to camp. As different as we are, we're not that different.
As far as life decisions go, I cannot think of any other decision I have made that has made such a large impact on my life and career than agreeing to be a part of the MDA camp experience.
At camp, the resiliency of the human spirit is evident all around you. It is a place where "I can't" becomes "I can," the "impossible" becomes "possible" and "limited" becomes "limitless.
2022 MDA Summer Camps
Use the search below to find a camp near you and click the camp name to begin your application.
New volunteers: before completing an application through UltraCamp for MDA Summer Camp, we need you to first apply as a volunteer with MDA, if you have not previously done so. Please complete this simple sign-up form.
In-Person Camp – Volunteer's Role
Create a fun, safe and inclusive environment for campers.
Act as a companion and encourager of campers, promoting strong self-esteem.
Assist camper, as needed, with camp activities and activities of daily living. Work with unit leaders, program directors or other staff to meet the needs of the campers.
Assure campers are properly supervised at all times.
Have fun and participate in daily activities with enthusiasm.
Set a good example to campers and others by upholding all camp rules.
Set a high standard of cooperation.

In-Person Camp – Application requirements & time commitments:
18+ years old
Commit to an entire week of volunteering at and attending MDA Summer Camp
Online application through UltraCamp system
Criminal Background Check through Sterling Volunteers
Interview with MDA Staff
Submit references
Physical examination, copy of insurance card, and immunization record (including proof of COVID vaccination)
Training, both in-advance of camp and on Day 1 of camp week through volunteer orientation
• Includes training on HIPAA, Risk Management, and the MDA program
Virtual Camp – Volunteer's Role
Assist in facilitating the virtual Summer Camp Program with the support of MDA Staff.
Act as a companion, encourager, and message board moderator.
Create a fun, safe and inclusive virtual environment for Campers.
Encourage positive conversation that promotes strong self-esteem.
Have fun and participate in daily activities with enthusiasm.
Set a high standard of cooperation.

Virtual Camp – Application requirements & time commitments:
18+ years old
*Past camp volunteer experience preferred
Online application through UltraCamp system
Criminal Background Check through Sterling Volunteers
Interview with MDA Staff
Training (~1 hour)
• HIPAA
• Risk Management
• Volunteer Orientation