MDA Summer Camp Update, 4/20/2020
After careful review of the growing seriousness and community spread of the coronavirus (COVID-19), and discussion with trusted medical professionals and organizations, MDA has made the difficult decision to cancel all summer camp programs in 2020. Our top priority is the health and safety of our campers, volunteers and staff. We know that our campers, volunteers, sponsors, and MDA staff look forward to these life-changing weeks at camp every year, and this decision was not made lightly. Visit the MDA Virtual Camp page to learn more about virtual opportunities for the camp community!
Volunteer at MDA Summer Camp
Make an impact on the lives of children with muscular dystrophy or related diseases during their best week of the year.
Camp can change your life just as it changes the lives of campers.
MDA Summer Camp wouldn't be possible without people like you. Each summer, hundreds of volunteers serve as counselors and medical staff for up to one week to help make Summer Camp a safe, fun and memorable experience.
As a volunteer, you will be a camper's "buddy" for the week as you participate in adaptive camp experiences, games, dances, meal time and more. You also will take on the role of 24-hour caregiver, friend and confidence-builder.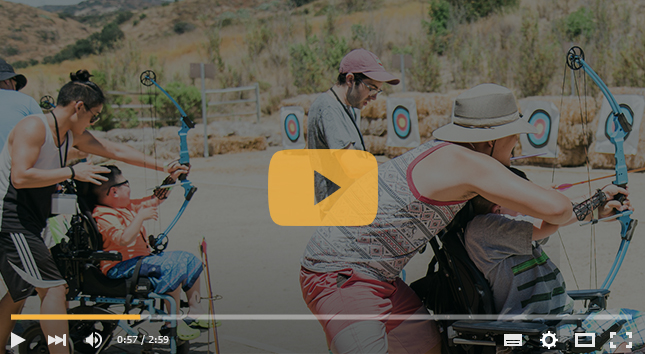 You're there to help the kids, and you're also there to help them function independently. If there's any impact we make, it's having these kids feel like they have more of an ability to live independently [than they did] prior to camp. As different as we are, we're not that different.
As far as life decisions go, I cannot think of any other decision I have made that has made such a large impact on my life and career than agreeing to be a part of the MDA camp experience.
At camp, the resiliency of the human spirit is evident all around you. It is a place where "I can't" becomes "I can," the "impossible" becomes "possible" and "limited" becomes "limitless.
2020 MDA Summer Camps
Camps are held nationwide during the summer months. Use the search below to find a camp near you.
Mountain Center, California
Whispering Hope (age 13-17)
Recreation Unlimited Farm
Airfield 4-H Conf. Center
Salvation Army Wonderland Camp
Whispering Hope (age 8-13)
Rocky Mountain (age 8-12)
Rocky Mountain (age 13-17)
Boulder Creek, California
Rochester Rotary Sunshine
Robert & Marjie Bennett Foundation Summer Camp
Randleman, North Carolina
Boulder Creek, California
A volunteer counselor's role at a glance:
Meet the needs of assigned campers with respect and care
Attend to a camper's needs, such as dressing, bathing and feeding.
Maintain a clean, orderly and safe environment in cabins
Have fun and participate in daily activities with enthusiasm
Set a high standard of cooperation
Implement procedures to keep all campers safe 

Application requirements & time commitments:
18+ years of age
24/7 commitment during the week of camp
Ability to attend mandatory at-camp training
Of sufficient strength and health to lift and care for campers
Completed camp application with two references and a background check
Physical exam in the past year and up-to-date immunizations
Interview with MDA staff

A medical volunteer's role at a glance:
Supervise and maintain the health and well-being of campers
Dispense medications and perform first aid
Maintain health and treatment documentation
Review all camp applications prior to camp
Be part of the Emergency Decision Team
Maintain equipment and supplies
Please note: Lodging, meals and activities are provided. Transportation to and from camp is the responsibility of the volunteer.
Interested in becoming an MDA Summer Camp volunteer?
Complete our volunteer inquiry form. We'll be in touch!
Get Started