Research Grants
Research Grants comprise the majority of MDA's research funding awards each year. They are awarded to independent, established investigators to accelerate progress toward understanding and treating muscle disease and total $100,000 per year for one to three years. In a very limited number of cases, awards will exceed $100,000 per year, but pre-approval is required before letter of intent submission.
Who can apply?
To be eligible to apply for a Discovery Research Grant, applicants must:
Hold a Doctor of Medicine (M.D.), Doctor of Philosophy (Ph.D), Doctor of Science (D.Sc.) or equivalent degree (i.e. D.O.)
Be a professional or faculty member (professor, associate professor or assistant professor) at an appropriate educational, medical, corporate or research institution
Be qualified to conduct a program of original research within his or her own laboratory
Assume both administrative and financial responsibility for the grant
Have access to institutional resources necessary to conduct the proposed research project
What kinds of projects are funded?
Applicants are strongly encouraged to submit hypothesis-driven applications on innovative research with the following elements in mind:
Applications should directly relate to a disease in MDA's program
Applications should focus on accelerating therapy development for the disease(s) in question. Such projects may include:

New target identification
Target validation
Screening for new therapeutic molecules that hit validated targets
Addressing a need of the neuromuscular research field (e.g., developing a novel animal or cell model of the disease, developing new technologies)
Clinical research projects which fit the budget restraint of this program (however, clinical trials should be submitted either through the MVP program or HCTG program - see below under Clinical Research)

MDA is also seeking applications that may result in new understanding of disease etiology and pathogenesis in neuromuscular disorders where these are not well understood
How to apply:
Applications will be accepted by MDA twice yearly for Research Grants. Letters of Intent and Grant Applications can be submitted through proposalCENTRAL.
Full Grant Application Instructions
Tips for Applying for a Successful Grant
Timeline for Grant Cycles: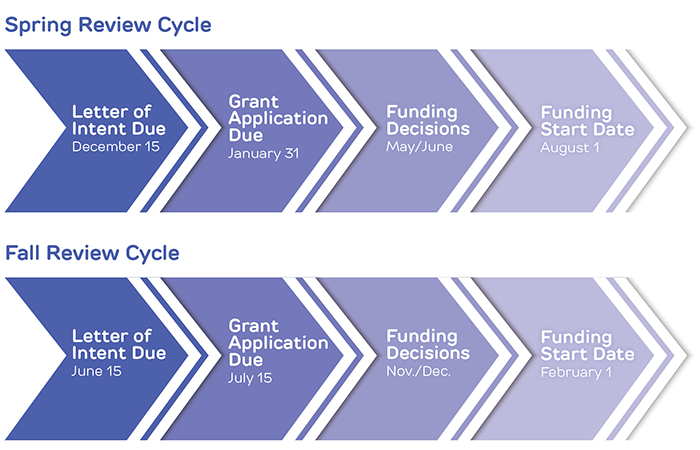 Letters of Intent are due by 11:59 p.m. ET on the specified due date
Grant applications are due by 5 p.m. ET on the specified due date
If a due date falls on a weekend or holiday, the due date will be moved to the next business day