Innovations in Care
We provide access to support and programs that empower the lives of people living with neuromuscular diseases.
MDA Engage Symposiums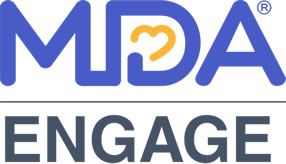 MDA is excited to be bringing back in-person community education programs in 2023! MDA Engage Symposiums are full-day, multi-session programs with both disease-specific learning tracks and general learning tracks that are applicable to all neuromuscular diseases. Each Engage Symposium provides up-to-date information from experts in the field, empowering learners with actionable information to support their, or their loved one's, care and life goals. Attendees will also have the opportunity to connect with other individuals and families impacted by neuromuscular disease and explore exhibitor booths to learn about different resources. Engage Symposiums are free to attend, but registration is required.
---
Upcoming 2023 Events
New Jersey
Saturday, June 3, 10am - 4:30pm
Westin Princeton at Forrestal Village
Princeton, New Jersey
Symposium Chair: Matthew Harms, MD, Columbia University
Watch Recordings
Minneapolis
Saturday, September 23, 9:00am-4:30pm
McNamara Alumni Center
Minneapolis, Minnesota
Symposium Chair: Peter Karachunski, MD, University of Minnesota
Watch Recordings
California
Saturday, November 11, 9:00am-4:30pm
Paul and Mildred Berg Hall Conference Center
Stanford, CA
Symposium Chair: John Day, MD, PhD, Stanford University
Click here to register
Check back soon for additional information including dates, locations, agendas, and links to register!
While transportation arrangements to the Engage symposium is the responsibility of the attendee, we do not want travel costs to be a barrier to attending. MDA is offering a limited number of stipends to assist with the costs of transportation. If you are in need of financial transportation assistance in order to attend, please contact us at mdaengage@mdausa.org.
For sponsorship opportunities or question about these events, please email MDAengage@mdausa.org or call 1-833-ASK-MDA1 (1-833-275-6321) and we'll be happy to help!