Innovations in Science
We're accelerating the delivery of treatments and cures.
Agenda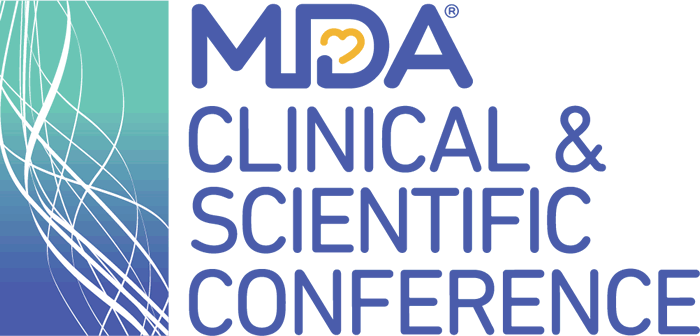 Date
Time
Session Name
June 18
3:00 PM
Virtual Industry Forum: Presented by Sanofi Genzyme
Respiratory Involvement in Neuromuscular Disorders: Pompe Disease as a Prototype
June 19
4:00 PM
Small Molecules & Therapeutic Antibodies: Experimental, Preclinical, Clinical
Jone Lopez-Erauskin, PhD (Chair)
Virginia Kimonis, MD, MRCP (Chair)
Clotilde Lagier-Tourenne, MD, PhD
Don Cleveland, PhD
Joseph Lewcock, PhD
July 10
4:00 PM
Implications of NBS in Clinical Practice - What Does the Future Hold? (CME Certified)
R. Rodney Howell, MD (Chair)
Brittany Hernandez    
Marcia Felker Felker, MD
Mei Baker, MD
July 17
4:00 PM
When Gut Feelings Aren't Helping - Navigating Complicated Ethics in the Neuromuscular Clinic (CME Certified)
John Brandsema, MD (Chair)
Alyssa Burgart, MD
Julie Parsons, MD
Thomas Crawford, MD
July 27
5:45 PM
Virtual Industry Forum: Presented by PTC
Duchenne Muscular Dystrophy: Examining the Totality of Evidence for Corticosteroid Treatment
July 31
4:00 PM
Ultra-Rare Myopathies and Dystrophies
Alan Beggs, PhD (Chair)
Angela Lek, PhD (Chair)
Frances Evesson, PhD
Scot Wolfe, PhD
August 7
4:00 PM
Clinical Trial Design (CME Certified)
Merit Cudkowicz, MD (Chair)
Richard Finkel, MD (Chair)
Ken Cheung, PhD
Kevin Flanigan, MD
Sabrina Paganoni, MD
Diana Bharucha-Goebel, MD
August 14
4:00 PM
Lab To Life: What's New in ALS & CMT (CME Certified)
August 28
4:00 PM
Real World Data: Disease Registries, Natural History & Post-Marketing Surveillance (CME Certified)
Paul Mehta, MD (Chair)
Paula Clemens, MD (Chair)
Craig Campbell, MD
Craig McDonald, MD
Jane Larkindale, DPhil
Jeff Rothstein, MD, PhD
Once your registration is completed, a link will be provided to access our Summer Seminar Series agenda and RSVP information, Virtual Poster Library and Clinical Trials Session presentations. If you have already registered for the 2020 MDA Clinical & Scientific Conference, please use this link to access these offerings and archived content. Your RSVP is required to gain access to our upcoming programs.