COVID-19 Updates
May 22, 2020
MDA Engage: Caring for oneself with ALS during COVID-19 - On-demand Webinar
MDA alongside Dr. Ambereen Mehta and Hillary Zebberman, MSW, LCSW, from UCLA Health in Los Angeles, CA, are the hosts of this on-demand webinar for Amyotrophic Lateral Sclerosis (ALS) families and caregivers to learn about how to care for yourself during this time of uncertainty with COVID-19.  Topics explored during this webinar include an overview of the medical considerations around ALS and COVID-19, working through stress and anxiety, creating new norms, caregiver resources, and adapting to a world with social distancing.
NIH's Rare Disease Survey
Rare disease patients and caregivers: How are you being impacted by the novel coronavirus pandemic? Please complete a 20-minute online research survey from home to share your experiences. This study is being conducted by the NIH's Rare Diseases Clinical Research Network. Is access to care changing? Can you get needed medical and nutritional supplies? Are stress and anxiety impacting you and your family? Your responses may help researchers understand the impacts of COVID-19 on the rare disease community. Complete the survey or learn more.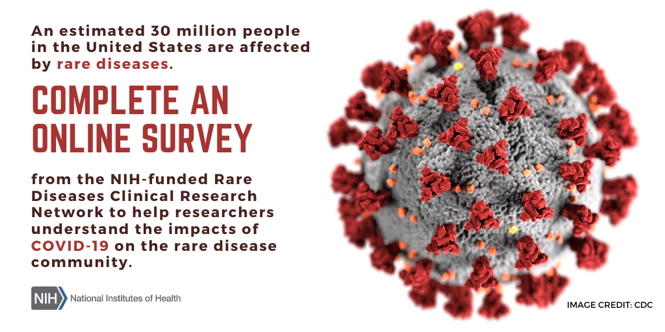 May 19, 2020
Coronavirus 2019 Information
This video presents an easy-to-understand overview of COVID-19 - what it is, how it spreads, and why an infection with this virus can become so serious.
May 14, 2020
See the results of Community Survey on Covid-19
Thank you to the community for lending your voice to MDA's Community Survey on COVID-19. Over 1,900 people participated and provided valuable insight into the needs of the neuromuscular community during this time of COVID-19. We are happy to share back with you the highlights from the survey. These results are helping MDA as we work to support gaps in information and needs.
March 26, 2020
MDA Summer Camp Update
After careful review of the growing seriousness and community spread of the coronavirus (COVID-19), and discussion with trusted medical professionals and organizations, MDA has made the difficult decision to cancel all summer camp programs in 2020. Our top priority is the health and safety of our campers, volunteers and staff. We know that our campers, volunteers, sponsors, and MDA staff look forward to these life-changing weeks at camp every year, and this decision was not made lightly. More information about virtual opportunities to connect with the MDA community will be available soon.
March 9, 2020
MDA Conference Update
After consulting with our physician experts, community leaders, participating panelists, attendees, meeting sponsors, and vendors, we have decided to postpone our 2020 MDA Clinical & Scientific Conference scheduled for March 22–25, 2020, at the Walt Disney World Dolphin Resort in Orlando, Florida, due to concerns over the Coronavirus. Please stay tuned for further updates.