Innovations in Care
We provide access to support and programs that empower the lives of people living with neuromuscular diseases.
Mentorship Programs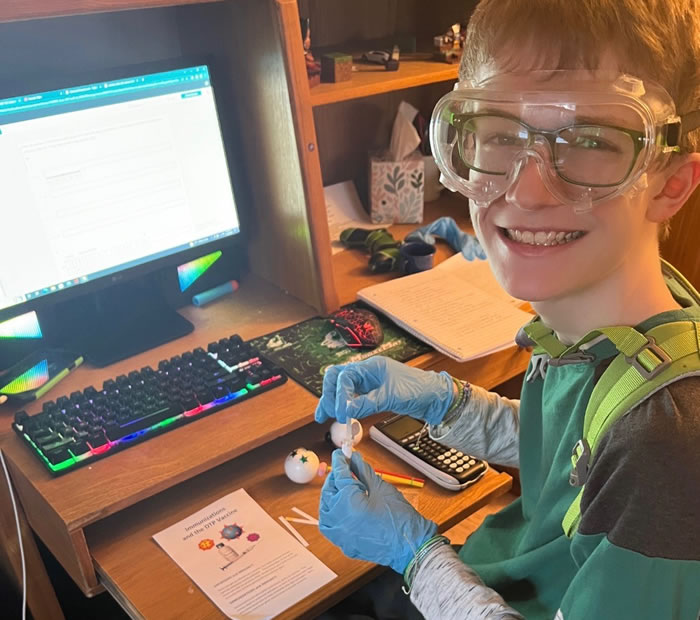 Muscular Dystrophy Association (MDA) is committed to providing program options for teens and young adults to build independence, confidence, and foster lifelong relationships.
Individuals with disabilities are often underrepresented in career fields. Yet, research shows diversity in the workforce drives innovation. After high school graduation, it can be difficult for any teenager to know what career path to pursue. Youth with disabilities may especially feel that their career options are limited. MDA's Mentorship Program aims to increase the number of people living with neuromuscular disease in the workforce by connecting youth to mentors who are established in a variety of fields, while providing hands-on learning in a supportive environment to discover their strengths and interests.  These five-week programs are held virtually and are open to youth and young adults with neuromuscular disease ages 14-21. An application is required, but there is no cost to participate.
2023 Sessions:
Career Explorations: September 11 – October 9
For youth ages 14-18, this session will explore various career paths such as business, marketing, fashion, technology, engineering and more. Participants will rotate through several mentorships while completing hands-on activities to discover their strengths and interests in various fields.
STEM Explorations: October 18 – November 15
Now in its third year, this session is for youth and young adults ages 16-21 who are specifically interested in STEM careers (science, technology, engineering, and math). Participants will work with mentors from a specific field to complete an interactive project while also diving deeper into the ins and outs of STEM related fields.
Participants

Participants will:

Team up with mentors and other participants to learn about career pathways through hands-on activities.
Hear from professionals living with neuromuscular disease about their experiences navigating higher education and employment.
Build connections with other participants and mentors around shared interests.

Requirements:

Complete a brief online application.
Have access to a computer and the Internet. *
Be able to attend and participate in two 90-minute video calls each week for five weeks.

Specific days and times of the week will be determined soon. Calls will be held in the evenings.

Participate in discussion boards throughout the week via Microsoft Teams.

*If access to technology is a barrier to participation, MDA may be able to help. Please reach out to us at resourcecenter@mdausa.org for more information.

In addition to being FUN, the MDA Mentorship Program offers the following benefits:

Opportunity to connect with and learn directly from professionals in the field
Potential credit as a senior project, volunteer hours, or for another assignment (depending on your school).
Potential reference from a mentor for college or job applications (at mentor's discretion).
Receive a kit in the mail with supplies needed for the program as well as MDA swag.

Apply Today – Career Explorations (ages 14-18)

Apply Today – STEM Explorations (ages 16-21)

Space is limited and will be available on a first come, first-serve basis.

Volunteer Mentors

Professionals from all types of industries are needed to volunteer as mentors for this program. Working with MDA staff, volunteer mentors will help lead group activities, share their experiences in the field, and help participants to discover their own interests and strengths.

Qualifications:

At least 22 years of age and established in a field such as business, technology, engineering, fashion, marketing, finance, law, communications, science, etc.
Desire to mentor and encourage youth to discover their skills and interests.
Ability to meet with MDA Staff for one to two 45-minute planning sessions in August.
Ability to commit to two 90-minute live video sessions each week as well as participate in discussion boards throughout the 5-week session.
Experience working with youth and/or individuals with a physical disability is a plus.

Responsibilities:

Identify 1-2 projects relevant to their industry that fit within the scope and time frame of the program.
Work with a co-mentor to lead a group of 6-8 youth through one of those projects.
Collaborate with MDA staff to encourage participant engagement and accessibility of projects.
Mentor participants and potentially provide letters of recommendation (if allowed).
Share personal experiences navigating college and career.

The days and times of the weekly meetings will be determined based on the availability of our volunteer mentors but will most likely be weekday evenings. For the safety of all volunteers and participants, a short application, interview, and criminal background check are required to participate (no cost to volunteers).

Apply Now - Career Explorations

Apply Now - STEM Explorations

"For me, it was an introduction to possible STEM careers, but most importantly, it was encouragement to what can be achieved while coping with the limitations of neuromuscular disease." - Ella, 19

"There are not enough words to convey our appreciation and thanks for the many tangible demonstrations of what is possible, career wise; and for reinforcing the adage, No limits, no bounds." - Orvia, parent of mentee

"I learned a couple career paths that I might want to pursue in the future as well as the importance of self-advocacy in the school as well as the workplace." - Ben, 16