Sharing, Learning and Discovery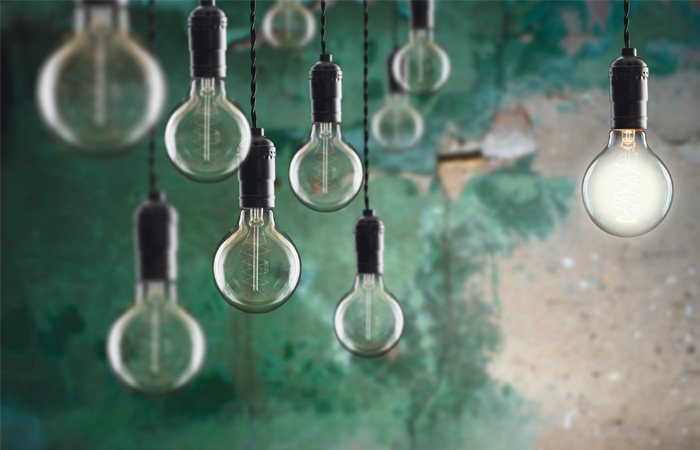 MDA conferences support families by advancing research, advocacy and clinical care objectives
While it's easy to understand how funding research and providing care for kids and adults from day one help individuals with neuromuscular diseases live longer and grow stronger, hosting conferences and facilitating dialogue also have tremendous benefits for saving and improving lives.
MDA-supported conferences bring together the world's best researchers, top clinicians, industry leaders, other stakeholders and families to share knowledge, ideas and best practices; to foster collaboration; to strategize around advocacy initiatives and to connect with like-minded individuals. These experts and influencers in the muscular dystrophy community come together with one goal in mind: to accelerate progress for our families.
MDA Scientific Conference
Every two years, hundreds of the best and brightest scientists from around the country gather for the MDA Scientific Conference to work collectively toward advancing scientific breakthroughs to save and improve lives for MDA families. 
At the 2017 conference in March, more than 500 scientists, clinicians, industry partners, and pharmaceutical and biotech representatives had ample opportunities to engage in dialogue and an exchange of ideas and updates, gain insight into others' research methods and results, and find ways to collaborate and build off successes as they work to unlock the secrets of neuromuscular diseases and develop therapies to treat them. 
As one presenter remarked, MDA's Scientific Conference and other such gatherings are valuable in a number of ways — including the fact that they can be the catalyst for a therapy developed for one neuromuscular disease to lead to a treatment for other diseases that have similar underlying mechanisms or outward effects. We may envision scientists locked away in their labs, hunched over microscopes and studying complicated- looking tables and graphs. But the truth is that attending meetings like MDA's Scientific Conference plays a vital role in advancing science and making breakthroughs.
For MDA, the Scientific Conference represents not only our commitment to advancing science but also to fulfilling a promise to our families to work tirelessly to create real results. To learn more about the conference, read A Deep Dive into the Science of Neuromuscular Diseases on MDA's Strongly blog.
MDA Public Policy & Advocacy Conference
Elisabeth Kilroy, a second-year doctoral student at the University of Maine, is working to identify the genetic cause of her brother Keegan's muscular dystrophy. She relies on federal funding for her research, so when she and Keegan had the chance to speak to veteran Senator Susan Collins as part of MDA's inaugural Public Policy & Advocacy Conference in Washington, D.C., they wasted no time with their ask: fully fund the National Institutes of Health.
"I've read about you two!" Senator Collins replied with a smile. "Tell me more about your work."
In April, Elisabeth and Keegan were among a group of nearly 90 advocates from 23 states who visited more than 100 congressional offices on Capitol Hill during the Public Policy & Advocacy Conference. The advocates spoke to their representatives about the importance of programs and policies that help accelerate the development of treatments and cures for individuals and families living with neuromuscular diseases.
Before they headed to the Hill on the final day, MDA families attending the conference heard from a variety of experts in research, health care reform and accessible air travel. MDA's scientific program officers addressed the unique nature of research across diseases and shared information about current therapy development pipelines and clinical trials. Their presentations helped demonstrate the importance of the requests the advocates made on the Hill by shedding light on the mechanisms of research funding, the role of regulatory science and the drug development process.
The conference also featured guest speakers from the National Organization for Rare Disorders, Cystic Fibrosis Foundation, U.S. Department of Transportation and other national organizations. They addressed concerns about health care reform and issues around accessible air travel.  
Once attendees were prepared with background information to support their advocacy efforts, they fanned out within the House and Senate buildings to put a human face on the issues that matter to the MDA community. Many families found that congressional members were genuinely interested in the issues they discussed during the Capitol Hill meetings.
"To know that [Senator Collins] is on my team and ready to support research is a boost of motivation and dedication for me as I endure the long days and nights in the lab," Elisabeth explains. "Even though Senator Collins was already an advocate for research funding, I believe our story showed her the impact that research has, not just for me who is dependent upon the money to support [my research], but for my brother, for my father and for the thousands of other individuals living with muscular dystrophy."
Elisabeth was one of many participants who left the conference with renewed optimism. "I have shared my experience at this conference with every person I know. I am not ready to stop. I am going to ride this wave of momentum until there is a cure for all types of muscular dystrophy. I will forever be an MDA Advocate," she says.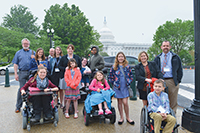 MDA Clinical Conference 
MDA Care Centers make it possible for MDA to help care for kids and adults from day one so they get the very best treatment. MDA's commitment to providing multidisciplinary care at our more than 150 Care Centers across the United States ensures that families can receive comprehensive clinical care and support from a wide variety of health care specialists at one location on the same day.
Every two years, MDA holds a Clinical Conference, bringing together neuromuscular disease clinicians, allied health professionals and scientific experts from across the country to share information and learn about new approaches and techniques for clinical management of neuromuscular disorders, hear about the latest information regarding clinical trial results, and engage in dialogue and networking among peers.
MDA is excited to partner with families and medical and scientific experts as we drive consistent, high-quality clinical care and work to ensure MDA Care Centers are prepared to serve as clinical trial sites. The MDA Clinical Conference is an ideal setting to share ideas about strengthening MDA's multidisciplinary approach and our overall emphasis on family-centered care. 
---
Upcoming Conferences
Aug. 26, 2017
Houston, Texas
This conference — available free of charge to anyone affected by Becker muscular dystrophy (BMD), as well as the individual's family and friends — is designed to bring together members of the BMD community for informative presentations and discussions. 
March 11–14, 2018
Arlington, Va.
MDA's Clinical Conference connects neuromuscular disease clinicians, allied health professionals and scientific experts who are committed to driving the best medical outcomes and optimizing care for individuals living with neuromuscular diseases. 
---
Make Your Voice Heard
It's never too late to get involved and make sure policymakers hear your voice on issues that are important to the neuromuscular disease community. Become an MDA Advocate and receive advocacy emails and action alerts. Sign up today because every voice matters. Together, we are stronger.
---
Looking for More?
Learn more about getting involved with MDA at mda.org. For the latest updates on news, research, advocacy and more, follow our Strongly blog.
MDA Resource Center: We're Here For You
Our trained specialists are here to provide one-on-one support for every part of your journey. Send a message below or call us at 1-833-ASK-MDA1 (1-833-275-6321). If you live outside the U.S., we may be able to connect you to muscular dystrophy groups in your area, but MDA programs are only available in the U.S.
Request Information