Service With a Smile and a Wag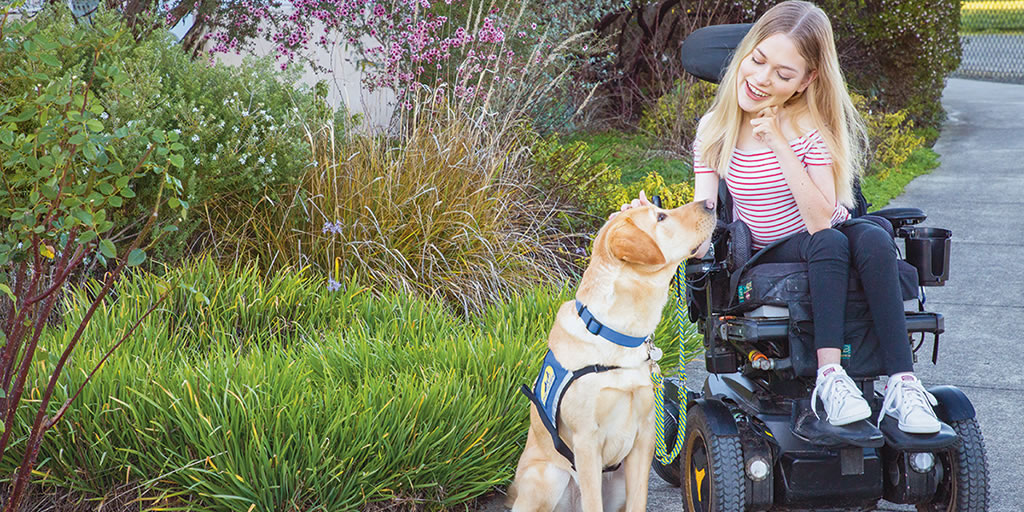 Annie, a client of Canine Companions, praises her service dog, Yardley.

Here's what you need to know about what service dogs do and how to get one
At Payton Rule's high school in Missouri, the school year always ended with field day — a break from academics where kids demonstrated school spirit and played fun games on the athletic field located down a steep hill. Payton, who has Charcot-Marie-Tooth disease (CMT) and uses leg braces, missed the celebration during her first years at the school, because she could not safely maneuver the hill and the field on her own.
A few weeks before graduating from high school, Payton got her service dog, Whitt, through CHAMP Assistance Dogs in St. Louis. Holding onto Whitt's harness gave Payton just enough counterbalance to traverse the hill and navigate the uneven terrain of the field. Finally, Payton joined her fellow students independently and enjoyed the camaraderie of field day.
Having a service dog can even the playing field for people with disabilities. These hardworking animals enhance the lives of those they serve. But having a service dog also is a responsibility. Deciding to get a service dog requires an honest evaluation of your needs and the demands of having a dog in your life.
What is a service dog?
"Assistance dog" is the general term for a guide dog, hearing dog, or service dog. A service dog works with individuals who have disabilities other than blindness (guide dog) or deafness (hearing dog).
According to Assistance Dogs International, service dogs are trained to do three or more specific tasks to mitigate the effects of an individual's disability. They are legally allowed in public spaces with their handler.
The Americans with Disabilities Act (ADA) defines a service animal as a dog that has been trained to perform one or more tasks directly related to a person's disability. They are legally allowed in public spaces with their handler. According to Assistance Dogs International, many service dogs are trained to do three or more specific tasks to mitigate the effects of an individual's disability.
What do service dogs do?
A service dog is not a pet. The dog has a job to do. (If you see a service dog in public, always ask permission before trying to pet it.)
These dogs are trained to follow commands to do tasks that assist people with disabilities, such as opening automatic doors, opening drawers and cabinets, picking up an object on the floor, fetching an item from another room, pushing an elevator button, turning lights on and off, helping with dressing, pulling a wheelchair a short distance, or assisting with balance when walking or standing up.
Just like people, service dogs need practice to keep their skills sharp. Payton, who is graduating from Washington University in the spring, has had Whitt at her side throughout her college career. One of Whitt's skills is picking up an emergency phone and bringing it to her. At home, she keeps a phone with a special handle on the floor so the dog can easily reach it in a crisis. Every few months, Payton reviews this command with Whitt, so he doesn't forget.
What are skilled companion dogs?
Most service dogs are paired with one person who has a disability. A skilled companion dog is an option for those under the age of 18 or an adult who may not have the physical or cognitive abilities to handle a dog. This type of service dog learns to work as part of a team.
"A skilled companion dog is primarily for someone who needs additional assistance handling the dog," says Paige Mazzoni, chief executive officer of Canine Companions, which has six training centers across the nation. The dog is trained to work with a facilitator — typically a parent, spouse, or caregiver who lives in the same household with the recipient and cares for the dog.
The Arioto family of Gilroy, California, received a skilled companion dog from Canine Companions for their daughter, Siena, when she was 9. Siena, who has Friedreich's ataxia (FA), was able to walk when the family got Lustra. Now, Siena is a teenager and uses a manual wheelchair. Having Lustra, who is trained to flip light switches, open and close drawers, and open automatic doors, allows Siena to be more independent.
Siena issues the commands for Lustra to perform tasks, but her parents are the dog's facilitators. When Lustra is out in public, one of Siena's parents has her on a leash. Lustra doesn't attend school with Siena because a handler would need to be present with her all day.
How are service dogs trained?
Service dogs typically spend two years in training before they're matched with an individual. A dog's temperament is evaluated throughout the training process. Not every dog can remain calm and responsive in a constantly changing environment or while meeting new people.
The process of obtaining a service dog can vary depending on the organization and the type of assistance needed, but it generally involves a period of on-site intensive training to bond with the dog as well as learn how to work with and care for it.
The Arioto family drove to the Canine Companions training center in Santa Rosa, California, and spent two weeks there to be matched with Lustra and learn how to manage the dog's behavior, give her commands, and care for her.
Both the dog and the family had to show mastery of certain commands and skills before they could take Lustra home. In addition, they took a public certification test to demonstrate they can manage the dog in public in accordance with Canine Companions and federal public access standards.
What care do service dogs need?
Caring for a service dog is a commitment. Payton has to anticipate Whitt's needs and plan accordingly. If they will be out in the evening, she brings his food and schedules his feeding. She takes Whitt on several bathroom breaks throughout her day. And there are times when Payton opts to leave Whitt at home. For example, she did not take him to her chemistry class out of concern for his safety if chemicals were spilled on the floor.
Whitt is a furry golden retriever who requires frequent grooming. Also, just like people, Whitt needs some downtime from his job. Payton makes sure Whitt's day includes time to run and play with a ball.
What other responsibilities are involved?
Many nonprofit assistance dog organizations provide their dogs at no cost or low cost to clients. The recipient generally is responsible for travel expenses for on-site training and the costs of the dog's ongoing care. The estimated annual cost of feeding, grooming, and vet visits is $2,000, according to Service Dogs, Inc.
Some organizations, like Canine Companions, retain ownership of the service dogs they place with families. The Arioto family meets periodically with a representative from Canine Companions, who evaluates how Lustra is doing.
Service dogs work for approximately eight years, and then they retire. When Lustra is ready to retire, the Ariotos will have the option to adopt her. If they choose not to, she'll be placed with another family to live the rest of her life as a pet.
Friend and helper
The decision to get a service dog shouldn't be taken lightly. A service dog comes with all the typical responsibilities of dog ownership, but also many rewards.
Affectionate and responsive, a service dog can boost a client's confidence and even be a bridge to social interaction.
"People mistakenly think service dogs are robots — a perfect mechanical animal that you can tell exactly what to do and they never have fun," says Paige of Canine Companions. "When they are 'released' from work, they are just like every other dog. They play. They're silly. They all have different personalities."
Payton has found having Whitt in her life is more responsibility than she'd anticipated. But their relationship is more rewarding than she ever imagined. "He's my best friend," says Payton.
Barbara Twardowski has Charcot-Marie-Tooth disease (CMT) and uses a power wheelchair. Jim, her husband, is a registered nurse. The couple lives in Louisiana and writes about accessible travel, health, and lifestyle.
Find a Service Dog
If you're considering applying for a service dog, start the process early. Many organizations have wait times, which can be more than a year. The Arioto family waited nine months before being matched with their skilled companion dog, and Payton Rule waited almost three years for her service dog.
There are about 100 nonprofit organizations in the United States that train and place assistance dogs. Many specialize in certain types of assistance, so compare organizations to find one that meets your needs. For example, Payton's dog is trained to assist her with her balance, but not all programs offer this type of training.
Assistance Dogs International (ADI) provides accreditation to nonprofit organizations that place assistance dogs. Visit their website to search for ADI member organizations.
MDA Resource Center: We're Here For You
Our trained specialists are here to provide one-on-one support for every part of your journey. Send a message below or call us at 1-833-ASK-MDA1 (1-833-275-6321). If you live outside the U.S., we may be able to connect you to muscular dystrophy groups in your area, but MDA programs are only available in the U.S.
Request Information