Riding High in the Saddle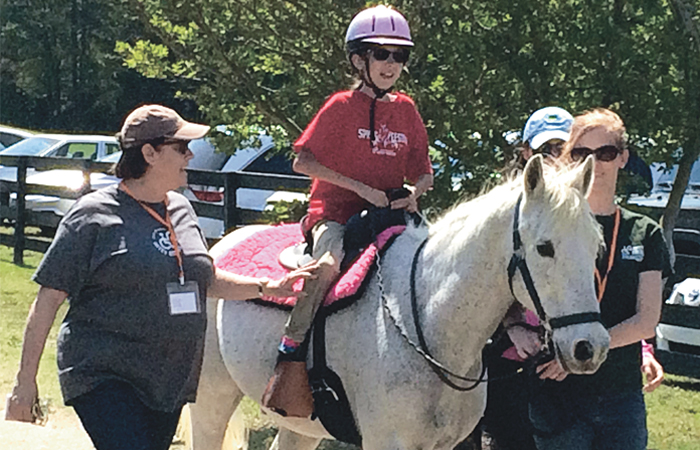 Being on horseback builds strength and confidence for individuals with neuromuscular diseases
Kierra Sunris, a typical 12-year-old, enjoys reading The Hunger Games, making silly faces to annoy her parents and riding horses. She rode for the first time at age 6. "I was afraid the horse would fall over. It's kind of scary when you get on top of something that's five feet taller than you are," says Kierra, who has Ullrich myopathy (a form of congenital muscular dystrophy) and uses a power wheelchair. 
Kierra's fears quickly disappeared, and she's been enjoying adaptive riding for the past six years. "When you go fast on the horse you don't feel like you're sitting down; you feel like you're running," she says.
The steady clip clop of a horse's gait is remarkably similar to a human walking pattern: rhythmic, consistent and predictable. The repetitive nature of this movement allows riders to practice and refine their balance responses. This can lead to improved core stability and postural control. 
Two ways to ride 
No piece of equipment can duplicate the movement of a horse. Individuals with neuromuscular diseases can get the benefits of being on horseback from hippotherapy or adaptive riding (also known as therapeutic riding). Both involve riding horses, but they have significant differences:
Hippotherapy is a medical treatment strategy performed one on one by a licensed physical therapist, occupational therapist or speech therapist. The service is billable through medical insurance but not covered by all provider plans. Like all therapy sessions, there is an individualized care plan and periodic progress evaluation to determine the need for ongoing service. The American Hippotherapy Association (AHA) facilitates research on hippotherapy and provides training for therapists.
Adaptive riding is a recreational activity that teaches horseback riding skills for people with complex physical needs. A certified adaptive riding instructor works with individuals or groups. Payment for adaptive riding is an individual's responsibility, although many nonprofit facilities offer scholarships. The Professional Association of Therapeutic Horsemanship International (PATH International) recognizes 866 member centers.
Equine-centered activities are beneficial for a range of disabilities, including neuromuscular disorders, developmental delays, sensory processing disorders, genetic syndromes and Autism spectrum disorder. 
Typically, the first hippotherapy or adaptive riding session involves assessing an individual's balance, coordination and physical limitations. The staff will then choose what equipment and horse is required. Helmets should always be worn, and some riders use specially adapted saddles.
Gaining strength and confidence
Twelve-year-old Gregory, who has Duchenne muscular dystrophy (DMD), has participated in adaptive riding for four years. He rides a pony that is 14 hands high (4 feet, 9 inches). A Velcro belt is wrapped around his waist to secure him to the saddle. A volunteer leads his horse, while a sidewalker follows on his left and an instructor on his right. Gregory loves being out of his wheelchair and up high. His lessons are conducted along trails, and he often spots deer, foxes and red-tailed hawks.
"Gregory has limited trunk control and is very capable of steering his horse on his own," says Laurie Kelley, who is a PATH International-certified instructor. "Sitting on the horse helps Gregory work his core and upper body because he has to maintain his balance. Riding is not just physically beneficial; it's empowering for Gregory to manage a 950-pound animal."
Kierra also has felt that empowerment and freedom. During her six years of riding, she has built positive, self-affirming relationships with the staff and animals she sees every week. She credits riding with giving her the confidence she needs to live beyond her physical limitations and reach out to others as MDA Ambassador for North Carolina. 
Social and emotional learning
Erica participates in hippotherapy one hour each week. Riding provides an excellent physical workout for the 15-year-old who has myotonic muscular dystrophy (MMD), and it has also made a difference in her social development.
"Erica was an extremely shy girl. Hippotherapy has helped her come out of her shell," says her father, Dale Destache. Typically, Erica would not interact with strangers, yet on her first hippotherapy session, she talked with the volunteer horse walkers and occupational therapist who comprised her therapy team. "Even on the way home, she kept conversing, and not just about the horse," Destache recalls. "She was very verbal, and we knew hippotherapy was the right thing to do."
Since beginning hippotherapy three years ago, Erica has continued to meet and interact with new volunteers. Erica is even building friendships outside her therapy team with other kids who ride.
Maximizing mobility
When Grayson, who has DMD, began hippotherapy at the age of 4, he was unable to hold himself upright. He progressed to sitting and doing standing exercises on a horse. His occupational therapist, Linda Frease, explains the goal of hippotherapy was to keep him "as mobile as possible for as long as possible." Grayson, now 14, only recently began using a power wheelchair, and he credits hippotherapy with helping him remain ambulatory much longer than is typical for his progressive disease. 
Frease explains that Grayson's therapy involved exercises focused on improving his postural stability, core strength and endurance. But to Grayson, it felt more like play than exercise. This is a common feeling among kids who participate in hippotherapy or adaptive riding. Parents and therapists report that the time the kids spend on horseback is time when they get to feel just like any other kid. 
However, equine activities are not just for kids. Grown-ups can reap the benefits, too. Frease works with adults who have mobility limitations due to a number of conditions. Her oldest client is 92 years old.
Barbara Twardowski has Charcot-Marie-Tooth disease (CMT) and uses a power wheelchair. Jim, her husband, is a registered nurse. Both have degrees in journalism. They live in Louisiana and write about accessible travel, health and lifestyle, and related issues.
---
Three Steps to Getting on a Horse
1. Consult with your MDA Care Center physician and medical team to determine if hippotherapy or adaptive riding is appropriate.
2. Find a facility within a reasonable distance of your home. Visit the American Hippotherapy Association (americanhippotherapyassociation.org) and the Professional Association of Therapeutic Horsemanship International (pathintl.org) to locate therapists, instructors and facilities in your state.
3. Meet with a therapist or instructor to discuss your goals. Ask questions such as:
• What certifications has the individual or facility earned?
• Is the service being provided considered hippotherapy or adaptive riding?
• What type of documents are required to begin?
• How long is a typical session?
• Are sessions conducted indoors or out? What happens when weather conditions are poor?
• What safety precautions are in place?
• What equipment is required?
---
Looking for More?
Read about a woman with Friedreich's ataxia (FA) who thought her riding days were over in Not Just Horsing Around to learn about her experience with therapeutic riding.
MDA Resource Center: We're Here For You
Our trained specialists are here to provide one-on-one support for every part of your journey. Send a message below or call us at 1-833-ASK-MDA1 (1-833-275-6321). If you live outside the U.S., we may be able to connect you to muscular dystrophy groups in your area, but MDA programs are only available in the U.S.
Request Information