Reimagined and Moving Forward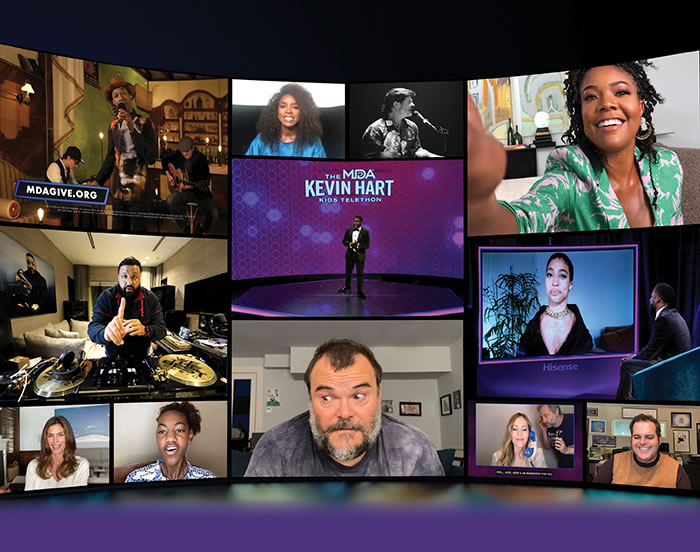 A successful debut for The MDA Kevin Hart Kids Telethon
On Oct. 24, actor and comedian Kevin Hart, dozens of his celebrity friends, and the MDA community joined together to raise funds for research, care (including Summer Camp and educational programming), and advocacy during The MDA Kevin Hart Kids Telethon.
"This was an incredible experience — bringing the work of the Muscular Dystrophy Association forward," said Kevin, who hosted the two-and-a-half-hour live event. "It's been an honor to collaborate with MDA and educate the public about supporting people with disabilities. We are all in this together."
A star-studded affair
Tuning in via LOL Network platforms and social media channels like YouTube, Facebook, and TikTok, people worldwide streamed the reimagined event for entertainment, comedy, and musical performances by celebrities including actress Gabrielle Union-Wade, model Cindy Crawford, actor Josh Gad, and DJ and record producer DJ Khaled, to name a few, alongside our MDA advocates and Care and Resource Center teams. Among the moments:
"Black Panther" star Michael B. Jordan highlighted MDA's vital advocacy work. "[Advocates] are using their voices to push for legislation that could change lives, including better healthcare coverage, better access to voting, and increased newborn screening. They are out there fighting," Michael said.
Fashion model, actress, and activist Jillian Mercado, who lives with spastic muscular dystrophy, gave her expert fashion advice to help actor and singer Jack Black with a wardrobe update. Jillian then joined Kevin for a live chat about her beginnings in the fashion industry. As a child, she collected fashion magazines and longed to see someone like herself on the cover. "I took it upon myself to make sure disability in the fashion industry was heard and that it would start conversations with actual changes," she said. "Now, 10 years later, I think I can say confidently that I've done a pretty good job. And, FYI, I'm not leaving."
Singer Kelly Rowland chatted with MDA advocate Maddee Helaire, 13, about Maddee's love of cooking, dancing, and her favorite MDA programs and events: galas, camps, and the Shamrocks fundraiser. As a proud supporter of Shamrocks, she gave some details on the important research and programs it supports that help people like her. "Thirteen years ago I was supposed to be in a wheelchair, and now I'm walking and doing everything," said Maddee, who has congenital muscular dystrophy. Kelly and Maddee then choreographed an endzone dance for Maddee's brother, who plays in the NFL.
Actor Adam Devine sat down virtually with MDA chief medical advisor Barry Byrne, MD, PhD, and MDA medical consultant Matthew B. Harms, MD, for a segment he called "Doctors Roundtable." They discussed the doctors' essential gene therapy work and how MDA has helped unite clinicians, researchers, and the patient and family communities for these medical advancements.
"Schitt's Creek" star Dan Levy, whose aunt has facioscapulohumeral muscular dystrophy (FSHD), said the annual telethon was a highlight for his family while he was growing up, and he introduced a recap of special telethon moments.
Rapper Fat Joe, actress Leslie Mann (with an appearance from her husband, producer and director Judd Apatow, who donated $100,000), singer Aloe Blacc, actor Jay Ellis, actor Zachary Levi, and comedian Loni Love lent their help at the call center.
Additionally, MDA hosted an online auction on CharityBuzz including one-of-a kind celebrity items from David Beckham, Serena Williams, Stephen Curry, Zachary Levi, and more.
A celebration of community and hard work
Viewers also got an inside look at MDA's essential work through profiles of the people MDA's mission serves: families living with neuromuscular disease, advocates for the disability community, and researchers developing therapies. Kevin took time to recognize the impact of MDA partners such as the International Association of Fire Fighters (IAFF), Dutch Bros Coffee, Jiffy Lube, and the National Association of Letter Carriers (NALC).
Lynn O'Connor Vos, president and CEO of MDA, expressed her gratitude for the show and for the opportunity to tell incredible stories about the MDA community. "The money we raise tonight is going to go a long way, and we promise to keep on pushing the envelope for accessibility, independence, and equality for all people with neuromuscular disease," she said.
The evening wrapped up with the MDA 70th Anniversary Show, hosted by TV personalities Nancy O'Dell and Jann Carl and with appearances from more celebrity guests honoring 70 years of progress. This hour of extended programming celebrated members of the neuromuscular disease community and revisited memorable moments from past telethons.
Telethon sponsors included Salesforce, Hisense, Fabletics Men, Hydrow, Shake Shack, Sarepta Therapeutics, Jiffy Lube, Mitsubishi Tanabe Pharma America, Cytokinetics, and more. Hisense had premium H9G TV giveaways and matching gifts during the event.
A gaming element
Complementing the telethon, and building up the excitement, was the MDA Let's Play for a Cure gaming streamathon. This live-streaming event, hosted by DJ and gamer Zedd, brought the MDA community together in the weeks leading up to the telethon and during the event to enjoy giveaways, surprise guests, and video games while raising money to support MDA's mission. The community continues to game year-round. Join on Discord or at mda.org/lets-play.
Missed the Live Event?
You can watch the telethon on the LOL Network on YouTube and the MDA 70th Anniversary Show on MDA's Facebook page.
MDA Resource Center: We're Here For You
Our trained specialists are here to provide one-on-one support for every part of your journey. Send a message below or call us at 1-833-ASK-MDA1 (1-833-275-6321). If you live outside the U.S., we may be able to connect you to muscular dystrophy groups in your area, but MDA programs are only available in the U.S.
Request Information