MDA Transitions: A Bright Future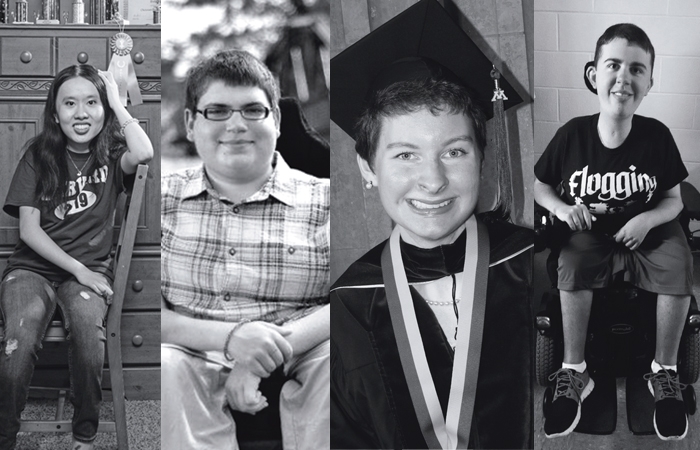 For many young adults with neuromuscular disease, the challenges and rewards of college offer a steppingstone to greater independence
"I was already signed up for Duke, and was wait-listed for Yale, but waiting for Harvard. When I opened the Harvard letter, I got the shock of my life, and that was it!" says 17-year-old Caroline Zheng on being accepted to her dream school, Harvard, where she'll start classes in the fall. For Zheng, who has congenital muscular dystrophy (CMD), and for many young adults who live with a neuromuscular disease, college isn't just a means to pursue academic and career success; it's also an empowering step toward a more independent adult life. 
According to Zheng and others who have balanced the demands of a neuromuscular disease with postsecondary school ambitions, making a smooth transition from one's teens to young adulthood, and university life specifically, comes down to planning — as well as learning when to be practical and when to push yourself.  
Access and admissions
Imagine you're a high school junior or senior who doesn't want your neuromuscular disease to prevent you from attending a college or university after you graduate. You'll start like any other student by searching for a school that offers a program that interests you. And like any other student, you'll soon be preoccupied with sending in applications, gathering letters of recommendation, applying for financial aid and writing a powerful essay. But at some point in your college search, you'll confront questions and challenges that are unique to your personal physical needs.
Zheng stresses that one of the biggest questions that needs to be addressed early on is whether a school's campus is accessible. Despite the fact that she liked the University of Virginia's strong academic reputation, Zheng, who often uses a walker or other mobility aids, dropped the school from her application list because of its hilly campus. For prospective students who use wheelchairs, campus accessibility is an even bigger consideration. "When I toured [the University of Minnesota], I became aware of the potential difficulties I would face as a wheelchair user," says Ann Motl, who received a diagnosis of Charcot-Marie-Tooth disease (CMT) at age 5. "For example, to enter many of the buildings, I had to use back entrances that were sometimes blocked because no one used them. UM is also a very large campus, and I could have come across difficulty traveling across it in the snow." 
To research how schools accommodate accessibility issues, it's a good idea to ask direct questions of guidance counselors and admissions officers, while also doing independent research online or, better yet, actually visiting schools before applying. In many cases, what you find out will be pleasantly surprising or at least will factor into your decision-making process. 
Before starting his college search, Garrett Buckalew, who also has CMD, was concerned that he'd have to limit his options to living at home and attending a nearby community college, which wasn't the college experience he had envisioned. Luckily, he didn't rely on that false assumption. "When I started, I would have liked to have known that colleges are as accommodating as they are," he says. "Almost every college we looked at had disability services to be sure you can live on campus and not be excluded from activities." 
Buckalew, now 21, found the college experience he desired, along with support services he required, at DeSales University in Pennsylvania, from which he graduated in 2015 with a degree in accounting. At DeSales, the Office of Vocational Rehabilitation (other schools may call it "Disability Services") provided Buckalew with a free laptop and table for note-taking, and even helped pay for part of his tuition and books.
Buckalew's advice to high school students with neuromuscular diseases: "Don't worry about your disability being a burden; you can almost always go to the college of your choice."
Like Buckalew, Motl, who has since gone on to attend law school, formed a vision at a young age of what college could be like. But for her that vision always included amenities and services to help her manage her disability — thanks to a friendship formed at MDA summer camp.
"I chose my undergraduate school, the University of St. Thomas [in St. Paul, Minn.], because I knew one of my friends from MDA summer camp had attended that school and thrived there," Motl says. "We discussed accessible colleges, managing PCAs [personal care assistants], navigating the bureaucracy necessary to use PCAs, living in dorms and more."
After narrowing down a list of possible schools based on desired academic programs and accessibility needs — as well as other equally important factors, like location, cost, class size, campus culture, etc. — the next step is to get in touch with each school's office for students with disabilities. The services each one offers (note-takers, speech-to-text software, other assistive technology, etc.) can and will vary from campus to campus and state to state. It's important to know and understand your rights based on federal, state and local laws, and be sure to keep your medical documentation handy, as you may need to provide official forms regarding your diagnosis to use these resources. 
Many universities also will be able to help you find a dorm room that meets your needs when that time comes — but make sure the key amenities are as advertised. Campus housing offices may say they have "accessible dorm rooms," but that doesn't necessarily mean they will be accessible for you. If possible, go and see the exact room for yourself. If that's not possible, ask someone in the disability office to take pictures of the room and send them to you. After all, if you can't get your wheelchair up to the sink, you can't use it.
A welcome challenge
The college admissions process is taxing for every high school student. From studying for standardized tests and working on applications to securing scholarships and balancing extracurricular activities, the lives of college-bound teens are hectic. Even after that phase is over, when students are away from home for the first time and facing college-level coursework, their lives are different but certainly not easier.
So when you add a neuromuscular disease to the mix, the idea of attending college can be downright overwhelming. But if there's one group that understands how to overcome challenges, and the benefits of doing so, it's MDA families. 
"Through its decades-long commitment to funding critical research and providing care and support services through its nationwide network of clinics, MDA is proud to support our families as they encounter exciting opportunities and overcome new challenges that create richer, more satisfying lives," says Kristin Stephenson, MDA's vice president of policy and advocacy. "Consideration around transitioning into adulthood — important life events like attending college and finding meaningful careers — are critically important, and MDA will continue to work to help the people we serve and their families," adds  Stephenson, whose husband lives with Becker muscular dystrophy (BMD). 
MDA-supported research and advanced clinical care are helping to improve and extend the lives of individuals with neuromuscular disease. MDA also offers dedicated support and planning resources for MDA families with teens transitioning into independent adulthood, notes Carolyn Minnerly, MDA's director of summer camp and support services. "We have many seminars hosted by the local MDA offices that address the transitions from high school to college or living independently," she says. "We also have a wonderful publication to help both young adults and their parents, called 'Road Map to Independence for Young Adults,' to guide young adults to become their own advocates and live successfully with neuromuscular disease." (See Road Map to Independence for more details.)
MDA's Transitions Center for Teens and Young Adults with Neuromuscular Diseases is another great tool for MDA families. Among its many resources, the website includes an education section that provides links to relevant services that have been recommended by fellow members of the MDA community. These resources cover topics like:
Scholarships and financial aid resources and publications
College planning resources and publications
Resources for e-learning
MDA's Campus Accessibility Checklist
"Of course, we also have caring MDA staff that are just a phone call away," adds Minnerly. "Our Health Care Service Coordinators know of community resources that are available in most areas, and they can help connect a person to social workers, counselors or other people who are in or have been in similar situations and can help share the experiences and information they found helpful."
Campus life and beyond
Once you've found a school that meets your needs and have coordinated with its administrators to secure proper living arrangements as well as personal care assistance, if needed, you may be surprised to discover just how much you enjoy college life. 
Soon much of what was previously seen as a challenge associated with being away from home will become an opportunity for self-expression. From managing personal finances to maybe even doing some of your cooking and laundry, you'll be flexing your independent living skills more every day. 
To be successful in such endeavors, those interviewed for this article stress the importance of practical time management — both in terms of keeping a realistic class schedule (factoring in class locations and overall course loads), and balancing those classes with getting plenty of rest and following prescribed care and rehabilitation schedules. 
Of course, they also stress that college is a truly transformative time in large part because of the friendships they have formed there. So between hitting the books and following your care regimens, find time to join groups and engage socially — even, or especially, if doing so is outside your comfort zone. 
Take Lexi Buckalew, who like her older brother, Garrett, has CMD. By her own admission, Lexi was shy in high school and had difficulty making friends. But only one year into college, she's opened up and is making a lot of friends, in part because she's meeting people who shared her interests — and don't care about her wheelchair. "It's different from high school. The maturity level goes up, and the cliques go away," she says. "My social life has definitely changed. Now, I have people who talk with me, not at me." A marketing and management major at Penn State, Buckalew says she has met new friends in her dorm and classes as well as through her work on the Campus Activity Board and as an orientation leader for new students.
"I met most of my friends through classes and clubs," Motl agrees. "I've also met people by attending events with friends, like going to 'Music in the Park' or karaoke nights. At law school, we had 'Bar Review' night, where we gathered for weekly happy hours to hang out with friends and complain about professors and just decompress."
In the same way that getting outside your comfort zone can you help you form and maintain friendships, it also can help you apply all that knowledge you've been accumulating in the classroom.  
Skyler Canute, who has type 2 spinal muscular atrophy (SMA), is studying mechanical engineering with a minor in medical engineering at Clarkson University in Potsdam, N.Y. When the opportunity for a semester-long internship with an Atlanta-based biomedical company came up, Canute surprised even himself when he went for it. After landing a coveted slot, he's glad he did. 
"MDA helped me settle in this area for this job. They gave me leads for housing and connected me with the aid service I use," says Canute, who plans to work in the biomedical field on new technologies to help others living with disabilities.
Canute's story is a familiar one to Motl. "I never thought I would live out of state," she says, "but I applied to an internship [in Washington, D.C.] sponsored by the American Society of Mechanical Engineers for the summer of 2012 after I graduated from St. Thomas and before I began law school. I took things step by step, got accessible housing [on the campus of George Washington University with other interns], figured out personal care assistants and worked with MDA's equipment program in D.C. to have a manual wheelchair to use for the summer. Then I moved cross-country and spent nine weeks living independently in the heart of the nation's capital. I researched the intersection of technology and policy, culminating in a research paper that I presented."
As a little girl growing up on a dairy farm in Minnesota who successfully jumped from high school to college — with a few important MDA summer camps along the way — and then from college to a key internship, and onto law school from there, Motl has learned a thing or two about making successful life-stage transitions. In fact, she even shares some of that know-how as an MDA Transitions blogger; don't miss her latest post on the trials and tribulations of finding a suitable apartment after college. For now though, Motl's attention is focused on her next big transition — into the professional workforce, as she'll be clerking for a judge this fall.      
Donna Albrecht is a freelance writer and speaker in Northern California. 
MDA Resource Center: We're Here For You
Our trained specialists are here to provide one-on-one support for every part of your journey. Send a message below or call us at 1-833-ASK-MDA1 (1-833-275-6321). If you live outside the U.S., we may be able to connect you to muscular dystrophy groups in your area, but MDA programs are only available in the U.S.
Request Information