Mobility: Choose the Right Wheels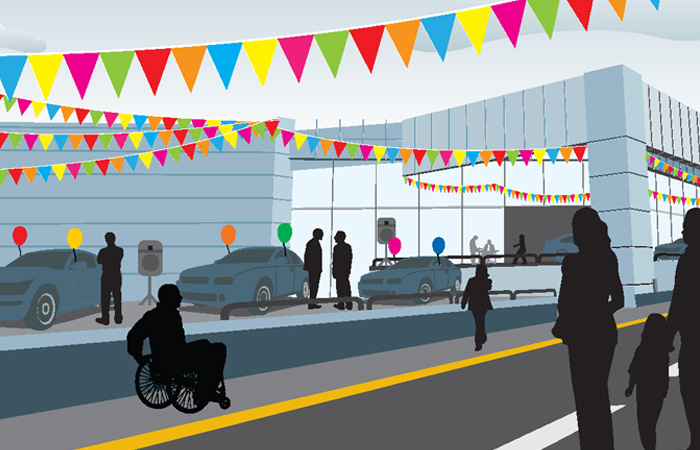 What you need to know before purchasing an accessible vehicle
Purchasing a vehicle can be a daunting experience for many people. Choosing one that accommodates an individual who uses a wheelchair often presents an additional layer of decision-making. When you are ready to buy an accessible vehicle, be prepared to ask and answer a lot of questions. 
Team approach
The process typically begins with an evaluation by a certified driver rehabilitation specialist (CDRS). A CDRS conducts an assessment of your abilities and limitations, provides driving instruction and can collaborate with a mobility dealer to determine which vehicle and equipment is the best fit.
Find a mobility dealer in your area that is a member of the National Mobility Equipment Dealers Association (NMEDA). The association requires members to follow safety standards set by the National Highway Traffic Safety Administration, as well as their own guidelines that ensure quality and service.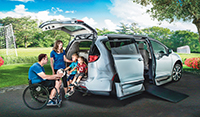 So much more than an automotive dealer, the mobility dealer's job is to understand your physical capabilities, budgetary concerns and lifestyle. Armed with this knowledge, the dealer customizes a vehicle and any necessary adaptive equipment, such as hand controls, to create the best fit for you. 
Individuals with neuromuscular diseases should be especially discerning and anticipate future needs as their mobility changes. An accessible vehicle is a significant financial expense, and ideally, it will serve you well for many years.   
Vehicle choices
Minivans are the most popular choice for accessible vehicles due to their adaptability. Minivans come with side-entry or rear-entry ramps. If you plan to drive or want to ride in the front row, scratch rear-entry ramps off the list of choices.
Two types of ramps are available: foldout and in-floor ramps. The foldout is mounted in the passenger side doorway, folding and unfolding in an accordion-style motion. The in-floor ramp is housed under the floorboard, sliding in and out in a horizontal movement. There are pros and cons to each ramp, which you'll want to discuss with your mobility dealer. For example, both BraunAbility and Vantage Mobility International (VMI) offer a converted Chrysler Pacifica, but the door hinge opens differently on each of their ramps. Buyers should compare all options carefully to determine what is best for their needs and lifestyle.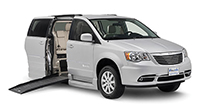 In side-entry minivans, the entire floor of the vehicle is lowered, making maneuverability easier. Both the driver and front passenger seats are removable. An individual can remain in his or her own chair or transfer to the seat. For safety, wheelchairs must be properly tied down. 
Your wheelchair dimensions dictate which vehicle is the best match. For example, those who sit high in their wheelchair may need an Extra Tall (XT) model, which provides more head room. 
What's new
The wheelchair-accessible Chrysler Pacifica made its debut this year, replacing the Town & Country. A new version of the Honda Odyssey will be rolled out in 2018.
An alternative to vans, the Ford Explorer MXV is an SUV by BraunAbility. Introduced to consumers less than two years ago, the sporty vehicle can accommodate some power wheelchairs. The category-defying MV-1, introduced in 2011, is an innovative vehicle designed from the ground up for accessibility.
New or used?
When you're ready to buy an accessible vehicle, you have three choices:
• New: The vehicle and the conversion are brand new. Both come with manufacturers' warranties. 
• Pre-owned: The conversion is brand new and comes with a warranty. The vehicle is 1 to 3 years old and usually has less than 30,000 miles on it. You'll need to determine if the vehicle includes a warranty.
• Used: The conversion and vehicle are used. You may find them through mobility dealers or individuals. You'll need to determine if any warranty is still valid.
Test drive
Individuals who use wheelchairs usually can't test drive vehicles, because each adapted vehicle is custom-made. However, many mobility dealers offer the chance to take a ride in an accessible vehicle before buying. Some dealers will even bring a vehicle to your home or pick you up and drive you to the showroom. 
Another option is to attend a disability trade show. At Abilities Expos, companies display vehicles and adaptive equipment and will answer questions. 
Take your time choosing an accessible vehicle. Once you've made a choice, call insurance companies and compare policies. You'll want to have the best coverage possible before you get behind the wheel.
Barbara Twardowski has Charcot-Marie-Tooth disease (CMT) and uses a power wheelchair. Jim, her husband, is a registered nurse. The couple lives in Louisiana and writes about accessible travel and related issues.
---
Buyer Beware
Imagine this: It's a holiday weekend and you find an incredible deal on a new Honda Odyssey that looks exactly like your neighbor's wheelchair-accessible van. Should you buy it on the spot and take it to a mobility dealer to be converted? "Not necessarily," says Dawn McCool, field marketing director for Superior Vans and Mobility, which has mobility dealerships in four states. "Not all chassis (standard vehicles) can be converted."
According to McCool, different versions of the same model may be configured differently, or sometimes the two-wheel drive can be converted, but the four-wheel drive cannot be converted. Before making a purchase on your own, give your mobility dealer the VIN number so they can determine if the vehicle's configuration supports modifications.
Looking for More?
Check out Mobility: In the Driver's Seat to learn more about learning to drive with adaptive equipment enhances mobility and independence for drivers with neuromuscular diseases. Also, read Accessible Vehicles Q&A to read answers to common questions about how to get the most value for your dollar when purchasing an accessible vehicle.
MDA Resource Center: We're Here For You
Our trained specialists are here to provide one-on-one support for every part of your journey. Send a message below or call us at 1-833-ASK-MDA1 (1-833-275-6321). If you live outside the U.S., we may be able to connect you to muscular dystrophy groups in your area, but MDA programs are only available in the U.S.
Request Information