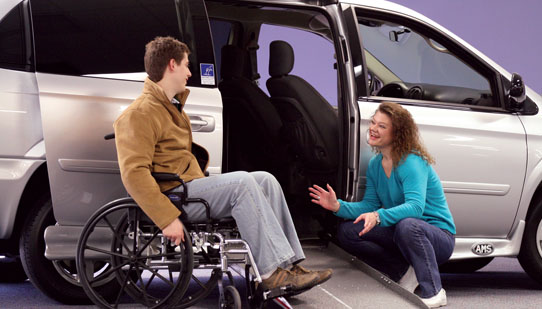 Rear vs. side entry. Buying online. Buying used. What do you need to know to get maximum benefit for minimum expense?
Good information is the key to saving money and getting the most value for the dollar when making a big-ticket purchase like a wheelchair-accessible vehicle.
With that in mind, Quest consulted the experts for answers to some common questions facing consumers.
Q: Can't I just go to the car dealer down the street? Why do I need a certified mobility dealer?
A: Certified mobility dealers help consumers buy the right vehicle and adaptive equipment to meet their mobility needs now and in the future. Future planning is especially important for people with muscle diseases that get progressively worse over time.
 "There are so many different products out there, and technology has improved so much. We just want to help people make the right decision," says Sam Cook, president of Superior Van & Mobility based in Louisville, Ky.
"Many times, consumers will go to a car dealer and buy [a vehicle] that can't be modified or one that doesn't fit their needs. And once you buy a vehicle, normally it's very difficult to return it."
Cook serves as vice president of the board for the National Mobility Equipment Dealers Association (NMEDA), a nonprofit organization that provides consumer guidance and ensures quality and professionalism in the manufacturing and installation of mobility equipment. Members include mobility equipment dealers, manufacturers, driver rehabilitation specialists and other professionals.
NMEDA member-dealers must follow the safety standards established by the National Highway Traffic Safety Administration (NHTSA), in addition to NMEDA's own stringent guidelines.
Some dealers choose to enroll in NMEDA's Quality Assurance Program (QAP), which requires them to adhere to national motor vehicle safety standards, and use proven quality control practices to yield the highest level of performance and safety.
"The QAP dealer is audited by an outside engineering firm to verify that technicians have been trained, make sure the dealer has insurance and make sure the facility is ADA-compliant," Cook says. "It's a voluntary program, so it means the QAP dealer is going above and beyond."
To locate a NMEDA mobility equipment dealer in your area, visit nmeda.org, or call (800) 833-0427. QAP dealers have a QAP designation with their contact information.
Other reasons to seek out a certified mobility equipment dealer include:
They're committed to "an easy buying process," says Monique McGivney, marketing manager for Vantage Mobility International, based in Phoenix, Ariz., noting that many will bring the vehicle to you at home or work to test drive.
They specialize in assessing clients, explains Troy Schultz, the BraunAbility Corp.'s lowered-floor minivan division manager. They determine what vehicle will best fit a buyer's needs based on several factors, including the wheelchair size and person's seated height.
They provide a link to qualified service and repair, says Cook, noting that it's crucial to have an adapted vehicle serviced by a mobility dealer due to its special features.
It's possible to buy an adapted vehicle without going through a dealer at all, and still receive expert guidance.
Some manufacturers of adapted vehicles sell directly to consumers, cutting costs by cutting out the middle man, says Scott Andrews, director of sales for Rollx Vans, based in Savage, Minn.
But expert assessment and "try before you buy" remain essentials for prospective buyers, with or without a dealer in the middle.
For example, Rollx, a NMEDA QAP-certified member, sends representatives to customers' homes for assessment and test drives before they buy, and also to service any modified vehicles purchased from Rollx.
Q: Can I get a better price if I buy online rather than from a dealer?
A: As with any online shopping, the warning "buyer beware" rings true. Buying online without trying out different vehicles with different conversions can be a costly mistake.
Mobility Independent Transportation Systems (MITS) based in Largo, Fla., does a lot of online sales, says Pete Galietta, president of the NMEDA-member QAP dealership.
But, Galietta says, his clients aren't shopping blind. Typically they already know what kind of vehicle they need and have specific recommendations from a driver evaluator or occupational therapist.
"If you're not familiar with the product, you definitely shouldn't buy it online," Galietta said. "We're not trying to assess your needs by e-mail or over the phone. That's either already been done, or if they do contact us directly, we'll steer them in the appropriate direction to a driving evaluator or local dealer."
MITS has a questionnaire on its Web site to help it understand a buyer's needs. But, Galietta says, "If we're not comfortable with what you're asking us to provide, we just won't provide it."
Patrick Brent, marketing manager for Freedom Motors, based in Battle Creek, Mich., seconds the "buyer beware" warning.
"A mobility vehicle is probably the second-largest purchase after a house. You should see it, try it out, and make sure it's something that will work for you. It's horrible when people get something that they're disappointed in."
Every vehicle is a little bit different — such as in the dimensions, electrical and fuel systems, or suspension modifications, says Jim Probst, director of sales for Viewpoint Mobility, based in Kalamazoo, Mich. "If you go online and buy [based] on price, you're not really looking at the total package."
McGivney of Vantage Mobility adds that, while buying online can save money, consumers may miss out on the important local service contact that a mobility equipment dealer provides.
Q: What are some common mistakes people make when buying a modified vehicle?
A: Manufacturers and mobility dealers agree that one of the most common — and costly — mistakes is buying the vehicle first and then shopping for the conversion. Not all vehicles can be converted.
For example, Scott Andrews from Rollx notes that people who purchase a minivan from a traditional car dealership may hit a roadblock if it doesn't meet specific requirements to have the floor lowered for a rear- or side-entry conversion.
Q: What are some good questions to ask a dealer or manufacturer?
A: Although buying a modified vehicle can be "a daunting experience," says VMI's Monique McGivney, it also can be "exciting and fun when you walk in armed with good questions and information."
Prior to getting an assessment from a mobility dealer, evaluate your needs and try answering the following questions:
What vehicle will fit in my garage?
What kind of parking issues will I encounter where I live?
What is the size and weight of my wheelchair?
What is my seated height in the wheelchair?
How many people will ride in the vehicle?
In what part of the vehicle do I want to sit?
Will I be able to drive with hand controls?
Do I want a full-size van, minivan or alternative vehicle?
Do I want manual or power equipment?
Will an in-floor ramp or fold-out ramp meet my needs?
What is my budget, and do I have access to supplemental funding?
The first question mobility dealers usually ask a client is: "What is your seated height in the wheelchair?" From there, the dealer can advise whether a full-size or minivan is appropriate, and what kind of conversion is needed.
Be sure to ask the dealer about the warranty and how the vehicle can be serviced.
Furthermore, Freedom Motors' Patrick Brent encourages requesting a copy of the vehicle's crash-test data, to ensure you're getting a safe vehicle. If you ask and don't receive, be cautious.
Q: Which is better: rear entry or side entry?
A: The most important difference between a rear- and side-entry conversion is that with a rear entry, wheelchair users can't drive from their wheelchairs nor can they ride in the front passenger seat. From there, the choice comes down to personal preference and budget.
Where do you want to sit? If you plan to drive from your wheelchair, then a side-entry conversion is what you'll need, unless you can transfer to the driver's seat (rear entry). With a rear-entry conversion, the wheelchair user typically is positioned in the back or between two mid-row captain's seats, while a side entry offers a wheelchair user multiple seating options in the driver, front passenger and middle sections.
In recent years, because of convenience and cost, there's been a shift toward rear-entry vehicles, says Freedom Motors' Patrick Brent. Rear entry involves a less-complicated conversion process and typically is less expensive than a side-entry conversion.
Many people prefer rear entry because they can park almost anywhere and not worry if the spot is wide enough to open the ramp and roll out. Also, rear entry allows the consumer to maintain the mid-section seats in a minivan because the conversion doesn't affect that area.
Jim Probst of Viewpoint Mobility (which specializes in rear-entry conversions) says rear entry also is more reliable because the back hinged door has fewer moving parts, as compared to a side-entry door on slider tracks.
But the market still tends to focus more on side-entry vehicles because they're more versatile, says MITS' Pete Galietta, who uses a power wheelchair and accessible van. For example, side entry allows someone with a progressively worsening condition to use the vehicle for a longer period of time. A wheelchair user can start out driving from his or her chair, and then move to several other positions in the vehicle when no longer able to drive.
Side-entry conversions typically are more expensive than rear-entry because they're more intrusive and labor intensive. For example, with a minivan, the entire floor and frame must be removed and replaced with a lowered floor and new frame.
Q: What's the difference between a fold-out ramp and in-floor ramp?
A: This decision comes down to aesthetics, convenience and cost.
A fold-out ramp folds up into the vehicle and must be deployed whenever the door is opened.
The more expensive in-floor ramp slides under the floor, so there's no obstruction to the door, and other passengers can enter and exit without deploying the ramp. In-floor ramps only are available for side-entry minivan conversions, and there isn't a manual (unpowered) option.
In-floor ramps generally provide more room in the vehicle because there's nothing blocking the doorway. The ramp is "out of sight, out of mind," says VMI's Monique McGivney, and may last longer because it doesn't have to be deployed each time the side passenger door opens.
Fold-out ramps generally cost less than in-floor, and consumers can select from manual and power versions; a power fold-out ramp still costs less than an in-floor ramp. Some consumers prefer fold-out ramps because they can be used on any curb, especially if there's limited parking.
Wheelchair users also tend to feel more comfortable with a fold-out ramp because it can be pushed out manually if the vehicle loses power or if there's an electrical computer malfunction, says Scott Andrews of Rollx.
If an in-floor ramp system breaks down or the vehicle loses power, a caregiver can use a hand crank to get the ramp down. McGivney notes that VMI's in-floor ramp systems have a backup system that bypasses the vehicle's battery and allows a caregiver to deploy the ramp even in a power failure.
But a lot of people just feel more secure knowing they can quickly deploy a fold-out ramp in case of an emergency. Troy Schultz says BraunAbility tends to sell more fold-out ramps primarily for this reason.
"Our system allows a person to open the door and push down the ramp, and it will slowly fall down so the person in the wheelchair can get out," Schultz says.
Q: I use a wheelchair, but a van or minivan just isn't "me." Are they my only options?
A: You have some choices.
Lowered-floor conversions with fold-out ramps can be done on the Honda Element, Chrysler PT Cruiser and Toyota Scion. The side-entry conversion can be on the passenger side or driver's side, for people who drive from their wheelchairs.
"We've seen a lot of demand for those vehicles," says Patrick Brent, marketing manager for Freedom Motors. "There are many people who've always had vans and never had other options."
The Toyota Scion also can be modified with a manual rear entry, which is less expensive than an automatic side entry-conversion. (Rear-entry conversions aren't available for the Honda Element or PT Cruiser.)
The Scion with rear entry is "great for people looking for a more economical alternative," says Brent, because the entire package is less expensive than other modified new vehicles, and it's more fuel-efficient than a van. The downside to the rear entry is that a wheelchair user can't drive unless he or she can transfer into the driver's seat.
For those who prefer to keep their standard car rather than purchasing a modified vehicle — and who can make the transfer from a wheelchair to a car seat — the answer may be a turning seat. These power seats extend from a vehicle, and lower and raise to help people enter and exit more easily on their own or with assistance.
Turning seats can be used in a wide range of vehicles, from sedans to SUVs and pickup trucks. A way to transport the wheelchair (like a rear lift) also is needed.
The rate at which your disease symptoms are worsening is one thing to consider when looking at turning seats — is it likely you'll be able to transfer and ride in a car seat for many more years? Also, be sure to check with a mobility dealer to determine if your vehicle can accommodate a turning seat and a wheelchair lift.
Q: Why are modified vehicles so darned expensive?
A: A vehicle conversion can cost consumers upwards of $20,000 —  and that's just the cost for the conversion, not the vehicle. The total package can run between $40,000 and $60,000 — or more.
Besides the cost of the components, the reason it's so pricey is that basically the entire vehicle must be taken apart, the components installed, and then the whole thing put back together again.
Modified vehicles from certified manufacturers and dealers must meet NHTSA's Federal Motor Vehicle Safety Standards (FMVSS). That means all modified vehicles must be properly crash tested.
Oliver Ramaker, director of business development for Liberty Motor Co. based in Oakville, Ontario, Canada, explains, "It's quite a labor-intensive process because of the customization. When you make structural modifications to a vehicle, you have to go through all of the crash testing, and you have to show that the vehicle is compliant again, and those tests are very expensive."
For example, says Viewpoint Mobility's Jim Probst, lowering the floor in a minivan requires replacing or moving the fuel tank, meaning the lines must be altered. Once the conversion is finished, the vehicle still has to meet the original requirements for evaporative emissions, in addition to NHTSA requirements.
Q: How can I pay less?
A: Consumers have some options. For example, a manual rear-entry conversion is less expensive than a powered side-entry conversion.
Many consumers cut costs by purchasing pre-owned vehicles with new conversions, typically saving around $10,000 to $12,000.
This offers the best of both worlds, says Diana Conte, vice president of business development for AMS Vans in Norcross, Ga., which buys and converts about 800 used Dodge or Chrysler minivans a year.
The previous van owner already has absorbed the depreciation hit on a new van, which essentially occurs right after you've driven off the dealer's lot, says Conte. But she warns against buying an already converted used van. Used adaptive components may have unknown problems and probably aren't under warranty.
Troy Schultz from BraunAbility, which manufactures both rear- and side-entry conversions, notes that buying used can be beneficial for first-time buyers who want to try out a vehicle for a few years before buying new. BraunAbility will warranty a new conversion on a used vehicle for three years or 36,000 miles, if purchased through a mobility dealer.
But if you plan to buy used, do some research and make sure the vehicle is structurally sound and able to handle the conversion process. Ask for a vehicle history (CARFAX) report, and get the vehicle inspected by a mobility dealer to ensure it can be modified.
It can be difficult to convert a vehicle with more than 20,000 miles, says mobility dealer Sam Cook, because "it doesn't work very well when you cut into the floor, and the gas and brake lines have corrosion."
VMI's Monique McGivney notes that VMI typically won't convert a van with more than 35,000 miles on the odometer because "it's got a lot of wear and tear on it, and since we add some weight to the vehicle and take the floor off, it needs to be as structurally secure as possible."
And of course it doesn't make sense to put a $20,000 conversion on a vehicle that's depreciated in value to $10,000 because the conversion would outlive the vehicle.
Q: How do people manage to pay for it?
A: In the past, many consumers used home equity loans to purchase a vehicle and adaptive equipment. But with home values decreasing, that option has evaporated for some families.
Many dealers and manufacturers work with lending institutions that offer extended-term financing, including 10-year loans, allowing consumers to make lower, more affordable monthly payments. The downside is that consumers are locked into the vehicle for 10 years, and end up paying more in interest.
"If you finance for 10 years, and you're not going to keep the vehicle for that amount of time, you're going to lose money when you try to sell or trade it because you haven't paid off much of the balance," says Viewpoint Mobility's Jim Probst.
When you buy a new vehicle, many car manufacturers offer mobility reimbursement programs (up to $1,000) to help offset the cost for the purchase and installation of adaptive equipment. Visit the NMEDA website for the latest information about these programs.
Some other options:
State Assistive Technology Act Programs are available in all states and U.S. territories. Some state AT programs offer AT loan programs that provide low-interest loans for assistive technology devices and services, including modifications to vehicles used by people with disabilities. People on fixed incomes who don't qualify for traditional bank loans may find these alternative financing loan programs more receptive to their applications.
State vocational rehabilitation agencies may assist with costs if the vehicle helps you pursue educational goals, or become and stay employed.
Medicaid Home and Community Based Services (HCBS) waivers can help state Medicaid recipients receive funding for assistive technology. The waiver programs vary from state to state, but some have approved funding for "other services" that include vehicle modifications.
Editor's note: Always check with your mobility equipment dealer to help find local programs and learn more about mobility rebate programs offered by many vehicle manufacturers. A NMEDA dealer also can provide information about special financing programs that may be available for financing mobility vehicles, including loans with extended terms and leasing packages.
MDA Resource Center: We're Here For You
Our trained specialists are here to provide one-on-one support for every part of your journey. Send a message below or call us at 1-833-ASK-MDA1 (1-833-275-6321). If you live outside the U.S., we may be able to connect you to muscular dystrophy groups in your area, but MDA programs are only available in the U.S.
Request Information