MDA Muscle Walk: Mary's Marathon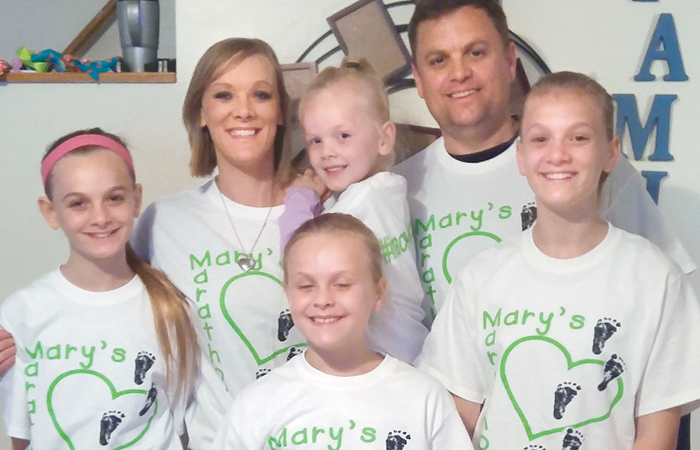 MDA Muscle Walk team boasts more than 100 members
It took a while for Colleen Stratton and her husband, Charlie, to process the news that their daughter, Mary Grace, who is now 5, was diagnosed with limb-girdle muscular dystrophy (LGMD) in June 2014. 
"The shock was settling in, and I was almost in denial," Colleen says. 
But in the year that followed, the Strattons found support by engaging with their local MDA community. They made their MDA Muscle Walk debut with a bang at the 2016 Muscle Walk of Cincinnati last April, where their team, Mary's Marathon, was more than 100 strong. 
"I'm one of 12 children, so I expected a big turnout," Colleen says, "but I was blown away. People came who didn't even know us personally — they just knew us through a friend. And it was raining, but they all showed up and then some. I had to step back, and I started crying at all of the support Mary Grace was getting."
"The name of our team is Mary's Marathon because, in our mind, slow and steady wins the race," Colleen says. "We're here to help her cross the finish line every time she can."
The team raised almost $4,800 for MDA. And while Colleen is proud of their fundraising, the outpouring of support for her daughter is what made the event so memorable.
"We had [everyone] gathering around a backdrop for a photo," she says. "That moment stood out more than anything because so many of these people I had never even met before were there for Mary Grace. It made me feel good that we still have so many good people in this world."
Get Involved 
Help bring strength to life at your local MDA Muscle Walk by starting a team like Mary's Marathon. Average Muscle Walk teams have 10 participants, but shoot for the stars. Visit mdamusclewalk.org to find your local walk, register and begin recruiting your family and friends.
MDA Resource Center: We're Here For You
Our trained specialists are here to provide one-on-one support for every part of your journey. Send a message below or call us at 1-833-ASK-MDA1 (1-833-275-6321). If you live outside the U.S., we may be able to connect you to muscular dystrophy groups in your area, but MDA programs are only available in the U.S.
Request Information