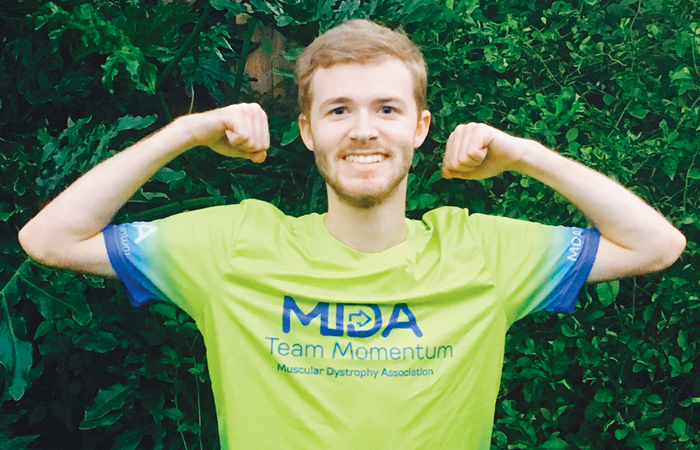 How to talk with an employer about your neuromuscular disease
Talking with employers about neuromuscular disease can be challenging. Given the broad spectrum of neuromuscular diseases and their often unpredictable nature, some may find it difficult to navigate exactly when and how much to disclose.  
"The very first thing a person needs to consider is why you want to disclose," says Sharon Rennert, senior attorney advisor at the U.S. Equal Employment Opportunity Commission (EEOC). Doing so for the right reason at the right time keeps the focus on your performance as an employee, rather than on your disability.
Focus on the job
If you are applying for jobs and choose to disclose, Rennert encourages individuals to limit the discussion. "Under the Americans with Disabilities Act (ADA), and many state laws, it is illegal for employers to ask about the presence of disability prior to making a job offer," she says. "Keep the job interview focused on performing the job, and make any disclosure about disability incidental."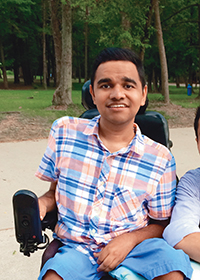 That's exactly what Kushal Parikh did when he entered the workforce. Parikh, who has Becker muscular dystrophy (BMD) and uses a wheelchair for mobility, chose not to disclose his disability until the job interviews. At the end of each interview, he asked if the employer had any questions about his disability. "I feel like it's necessary to talk about it," says Parikh, who currently is a social worker at ComPsych in Chicago. "If you can't talk about disability with your employer, it's not going to be a good work experience." 
Even when you disclose information about your condition, the employer is still limited in what they can ask about it, Rennert notes. "With disclosure, what would be lawful is if the employer wants to ask specifically about any reasonable accommodations you need to perform
the job." 
Speak up
While your employer is permitted to ask if an accommodation is needed once you disclose your disability, the employer may not readily offer accommodations. It is up to the employee to state what accommodations are needed. "Even if someone has disclosed having a disability, it doesn't relieve them of the legal obligation to ask for something from the employer when they need it," Rennert says. "The requirement is on the individual to speak up." 
For some, that is easier said than done. "It can be difficult to have that conversation with yourself, let alone other people," says Chase Miller, who works as a fundraising coordinator for the Muscular Dystrophy Association. "You have to know your limits, and you have to be honest with yourself about them."
Miller has BMD and is ambulatory. Over the years, based on his requests, MDA has accommodated him with a sit/stand desk to relieve pressure on his hips; a gaming chair to reduce stress on his knees, back and hips; and a flexible work schedule so he can come in later on days when he's experiencing increased pain or fatigue. 
When to disclose
Ultimately, disclosing information about your disability to your employer is a personal choice. Choosing not to disclose your disability might be the most appropriate choice if you are able to perform all your essential job functions without extra assistance. However, if your disability begins to impact your job performance, you could be held accountable for performance issues if you have not disclosed your disability and asked for reasonable accommodations. 
"Even if you're not quite sure what accommodations might help you, it is better to get the ball rolling," Rennert says. "The last thing anybody wants is for there to be disciplinary action based on poor performance." 
Miller agrees. "It's OK to let people around you know what you're going through. It's OK to take accommodations that are necessary for your disability." 
Karen Henry is a freelance writer and editor in the Denver area. She is living with limb-girdle muscular dystrophy (LGMD). 
---
The ADA and Reasonable Accommodations
Title I of the Americans with Disabilities Act (ADA) of 1990 prohibits private employers, state and local governments, employment agencies and labor unions from discriminating against qualified employees with disabilities. They also must make reasonable accommodations employees with disabilities need to perform their jobs.
According to the U.S. Equal Employment Opportunity Commission (EEOC), a reasonable accommodation is any change in the workplace or the way things are customarily done that provides an equal employment opportunity to an individual with a disability. "The types of accommodations an employer could provide are quite broad," says Sharon Rennert, senior attorney advisor at the EEOC. "It is often easier to talk about what employers are not required to do."
1. Employers do not have to remove essential job functions. A person with a disability must be able to perform all essential duties of the job with or without reasonable accommodations.
2. Employers do not have to change their performance standards. However, reasonable accommodations can be made to help an employee meet those standards.
3. Employers are not required to supply personal use items. These are generally items that a person needs on and off the job, such as a wheelchair, walker or cane. 
4. Employers are not required to make accommodations that would pose an undue hardship on the operation of the business. Undue hardship is defined as an "action requiring significant difficulty or expense," according to the ADA National Network, and is determined on a case-by-case basis. 
ADA requirements apply to employers with 15 or more employees. For people who work for smaller businesses, protections may still exist under state or local law.
Learn about the Americans with Disabilities Act (ADA) and what it means to the MDA community in ADA 25th Anniversary, an MDA article from 2015.
MDA Resource Center: We're Here For You
Our trained specialists are here to provide one-on-one support for every part of your journey. Send a message below or call us at 1-833-ASK-MDA1 (1-833-275-6321). If you live outside the U.S., we may be able to connect you to muscular dystrophy groups in your area, but MDA programs are only available in the U.S.
Request Information