Accessible Living: The Comforts of Home
Even small changes can make a big difference in accessibility
When Brenda Allen's son, Tyler, was diagnosed with Duchenne muscular dystrophy (DMD), the family had just closed on a home. Although Tyler was only 3, they immediately knew that the house wouldn't work. It lacked many accessible features, like a bedroom on the first floor and a large bathroom to accommodate a wheelchair.
"We didn't want to keep moving as he got older, so we decided to build a new one that had features he would need later on," Allen says. "But even then, we still had to make some modifications along the way." 
The new home had wider doors, a sloped walkway and a roll-in shower, but as Tyler got older, they had to tweak some aspects of the rooms to make them more accessible. For example, the builder had put cabinets under the bathroom sink, which didn't allow Tyler full access to the sink in his wheelchair, so they removed them. They also removed a shower bench, because the space became too tight when a shower chair was added.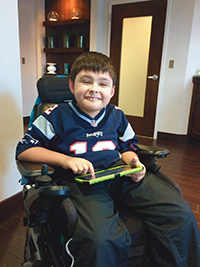 "You learn along the way what works and what doesn't," says Allen. 
Fresh ideas
For homeowners looking to boost accessibility, new construction isn't always an option. Fortunately, there are many DIY measures and modest renovations that can have a major impact. Here are some to consider:
• Widen doorways by a few inches by taking the door and surrounding molding off, suggests Amber Ward, occupational therapy coordinator at the MDA ALS Care Center at Carolinas Medical Center. A curtain on a tension rod can provide privacy, if needed. Another tactic is to install "double hinges" that allow the door to swing completely open, also increasing the width.
• Swap out regular doorknobs with lever-style handles. Ward says this can help people with hand weakness and limited mobility, because a door can be opened with an arm or elbow instead of the standard grip-and-turn.
• Lower beds by using a half-height box spring, or even no box spring. Use wooden slats under the mattress for support.
• Implement smart home controls that can turn lights on and off, set thermostat temperatures, lock doors and perform other functions from a smartphone. "This can be so helpful for lighting someone's way, and they can turn off the lights once they're seated or in bed," Ward says.
• Install a SuperPole in areas where railings would be awkward to use, Ward suggests. This type of pole runs from floor to ceiling and assists someone rising from a seated or lying position. 
• Consider accessibility products before making major renovations, suggests occupational therapist Susan Bachner, a fellow with the American Occupational Therapy Association. "There may be the perfect product that does just what you need, and it's often less expensive than bringing in a contractor," she says. For example, rather than ripping out a tub to put in a wheelchair-accessible shower, consider purchasing a battery-powered tub lift that can raise and lower someone into the bathtub. (See Home Accessibility Products, below, for more suggestions.)
There are definitely times when hiring a contractor makes sense for a major renovation. For instance, someone may need a wheelchair-accessible ramp to the front door.
But even in those circumstances, focusing on just one or two areas of the home can keep costs down while increasing accessibility. For example, the Allens found that having a separate bathroom for Tyler with ample space for him to move around gave him a sense of independence. Focusing funds and efforts on a project like that could yield nearly as many benefits as redoing an entire house.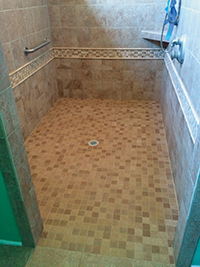 Getting started
Whether taking on a series of small changes or a larger renovation, like expanding a bathroom or bedroom, the first step is to understand exactly what's needed. Your MDA Care Center team members, including the physical and occupational therapists, are great resources for helping you assess your needs and offering tips on modifications that will give you the most bang for your buck. 
"We often see rails in the hallway that tend to be more in the way than helpful," says Ward. "Or they're installed on the side where someone has more weakness."
Rather than implementing a wealth of modifications all at once, Bachner suggests a progressive approach, based on what's needed now and in the near future. "Observe movement, any struggles or challenges, and make note of that, so you can modify from there," she says. "Making changes based on what you think someone needs rather than what they actually need could lead to modifications that aren't used and expenses that could have been avoided."
Securing funding for home modifications may be a necessary step to get started, and resources can vary significantly by state or county. Allen suggests connecting with your local MDA office or the MDA Resource Center for advice, resources and support. "They've helped us all along the way," she says. 
For the Allens, creating a more accessible space for Tyler made a huge difference in his everyday life and gave him greater independence. Now that he's 13, the family moved to a town with a better school system. Living in a rental unit while a new house is under construction, they're realizing just how important accessibility can be.
"We're seeing that accessibility features allow Tyler to feel safe, not only physically, but emotionally," says Allen. "They really do make such a big difference."
Elizabeth Millard is a freelance writer in St. Paul, Minn.
---
Common Home Modifications
Bathrooms: Often the most labor- and cost-intensive room for renovations, a bathroom can be a mix of DIY and contractor-led changes. Typical changes include installing grab bars and roll-in showers, lowering or raising toilet seats and sinks, and bringing in shower or bath chairs and benches.
Kitchens: Many times, changing a kitchen can be done affordably, based on relocating often-used items and making cupboards or drawers easier to access. Typical changes include bringing in a rolling cart, putting dishes and glasses in low drawers, and installing pull-out shelving in cupboards. Read The E-Z Use Kitchen to learn more about kitchen improvements.
Closets: Built-in shelving often gets in the way of wheelchairs and walkers, so it's usually better to use free-standing shelving units instead. Also, lowering or eliminating closet rods can be helpful.
Doorways: To accommodate wheelchairs and scooters, doorways often have to be widened. Some can be increased by installing offset hinges or removing molding, while others require a contractor to cut into the surrounding wall.
Fixtures: Low-hanging lights and fans may need to be repositioned if they're in the way. New smart home fixtures also can be useful, since someone can turn lights, fans and other home controls on and off from a smartphone.
Also, check out Home, Sweet Modified Home for five practical and affordable DIY tips to make your house more accessible.
---
Home Accessibility Products 
If your home has some accessibility challenges, consider accessibility products. These companies offer products that can make everyday tasks easier and may prevent the need for major home renovations.
AmRamp
This company offers wheelchair ramps, stairlifts and other accessibility products, which can be rented or purchased. Also available are portable ramps, portable showers, overhead patient lifts, pool lifts and grab bars.
Barrier Free Lifts
Their lifts, slings and bathing aids make transfers and daily tasks easier.
Mobility Lifter
These portable wheelchair stair climbers are battery powered and designed to aid transportation up and down stairs indoors or outside.
Open Sesame
This company specializes in residential automatic door openers, which make getting in and out easier for individuals who use wheelchairs or scooters.
Power Access
This company also makes easy-to-install automatic door openers for homes.
NuProdx
Choose from shower chairs that are stationary or wheeled, as well as tub and slider systems, in pediatric and adult sizes.
ShowerBuddy
These chairs are geared for showers or baths. There are six different models ranging from pediatric to adult.
SuperPole
This floor-to-ceiling pole can be installed anywhere and is especially helpful for extra support when rising from a sitting or lying position.
SureHands
This company offers lifting systems, body support systems, shower-bathing trolleys, safety belts, sliding sheets and other mobility products.
Check out Home Smart Home to learn more about products that aim to make tasks around the home easier for everyone, including those with neuromuscular diseases.
---
Editor's note: Be sure to read Accessible Living: Lease on Life to learn how to use resources and your advocacy skills to find accessible rental housing.
MDA Resource Center: We're Here For You
Our trained specialists are here to provide one-on-one support for every part of your journey. Send a message below or call us at 1-833-ASK-MDA1 (1-833-275-6321). If you live outside the U.S., we may be able to connect you to muscular dystrophy groups in your area, but MDA programs are only available in the U.S.
Request Information