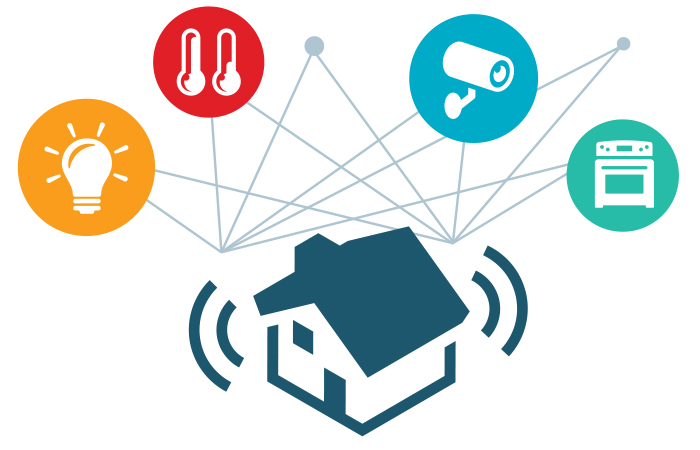 New products aim to make tasks around the home easier for everyone, including those with neuromuscular diseases
As the world awaits the full realization of the Internet of Things (IoT) — the computer- based platform on which all home automation will reside — the individual products and innovations that will one day comprise it are slowly trickling out. These smart home technologies will likely end up in all homes in the future; however, the difference in their effect on a typical homeowner compared to one living with muscular dystrophy, ALS or a related muscle- debilitating disease is the difference between additional convenience and a game-changing transformation.
Here, we take a look at some of the latest products promising to make life at home easier, more convenient and more independent for individuals with neuromuscular diseases.
Doorbell cameras
For the general population, doorbell cameras are usually used for monitoring the doorstep while away from the house. For people with neuromuscular diseases, they are about managing the doorstep from the inside. 
Ring's Doorbell Camera ($199, Lowe's) lets homeowners communicate audio-visually with visitors at their door. Vivint's Doorbell Camera ($1,500, vivint.com, 844-720-7988) takes it a step further by including a motion detector, door-and-window sensors, auto locks and 24/7 live surveillance. 
"Individuals may lack endurance and strength to stand and see who's on the other side of the door and may also lack the grip strength and dexterity to manage locks and door handles," says Jessica Garcia, an occupational therapist at the MDA Care Center at the University of New Mexico Hospital. "Technology like this gives them the ability to accomplish these tasks with minimal effort and range of motion." 
Automated thermostats
The inability to monitor and self-regulate room temperature can be a troublesome reality with certain types of neuromuscular diseases. A new series of automated thermostats addresses this issue by "learning" and predicting a person's temperature needs on its own. The Nest Learning Thermostat ($249) takes about a week to study your temperature preferences and then it programs itself. And the longer it's used, the smarter it gets. 
"In our care centers we talk a lot about prioritizing our actions throughout the day," says Caroline Brandel, an occupational therapist at the MDA Care Center at Georgetown MedStar. "You have to think of it as having a tank with a certain amount of energy. What actions are most worth depleting it for? If it comes down to adjusting the temperature versus eating or bathing, the thermostat is probably going to get left behind." 
Smart switches & bulbs
A new wave of smart LED bulbs and switches are already making a huge a difference in people's home lives since their arrival on the market two to three years ago. Philips' Hue lighting system uses LED bulbs which communicate with a free application that serves as the interface through which lighting can be turned on and off, dimmed or put on a timer ($199.95 for a White and Color Ambiance Starter Kit). 
Sengled's system expands upon this concept by offering bulbs that are not only controllable wirelessly through an app, but also double as wireless home media devices ($49.99 to $149.99). For example, Sengled offers LED bulbs that boost Wi-Fi signals or come equipped with a webcam and speaker. Brandel loves the idea for the lighting capabilities alone. "Simply not having to move through an environment that's not lit provides safety from so many potential falls," she says.  
The WeMo Insight switch ($49.99, available from Lowe's in May 2016) is a Wi-Fi enabled outlet that controls, monitors and manages home appliances, electronics and home systems, such as air conditioning and heat, from any smart device. Simply plug a device into its connected outlet, and that device becomes operable from a laptop or smartphone. 
Kitchen appliances
Kitchen electronics companies LG and Innohome have been working on the release of two products holding significant promise toward an individual's ability to cook and eat. LG's Signature Refrigerator features a floor sensor that triggers its doors to open when it detects a foot beneath it. "It's a great feature for people with armloads of groceries but also for people who might have difficulty with arm control," says Stephen Ewell, Executive Director of the Consumer Technology Association Foundation. The front door of the refrigerator also lights up when knocked upon, letting the "knocker" peek inside without having to open the door. 
In the same way new thermostats learn an individual's temperature preferences over time and adjust accordingly, Innohome's Stove Guard learns a person's cooking habits and monitors for potential safety hazards. The small device, which attaches to any oven appliance, detects dangerously high temperatures and steep temperature rises and, depending on the situation, either shuts off the appliance, adjusts it or alerts the user. "Within the spectrum of MD there are plenty of individuals who can cook for themselves," Brandel says. "For these folks, these products could be huge." 
Both the Signature Refrigerator and Stove Guard are expected to come out within the next year. Stove Guard will be priced around $250; LG will release the price on its Signature Refrigerator near 2017.
Shaila Wunderlich is a freelance writer in the St. Louis area.
---
Knowledge Source: Thinking Ahead
The only thing more exciting than the influx of smarthome products on the market is the ever-growing number of experts, think tanks and scientists working feverishly to make the ideal of a fully automated home a reality. One project being worked on to achieve this goal is the "Cognitive Computing Research Study," which pairs tech giant IBM with the CTA Foundation (the philanthropic arm of the Consumer Technology Association) to investigate the connection between technology, humans and their environment.  
Much of the study's efforts will center on cognitive computing's ability to predict human condition and behavior. "If it can take all the various data points of your daily activity — smart appliances, thermostats, wearable [technology] — and use those points to predict events, such as when you might be looking to cook dinner or leave the house or do the laundry — imagine the applications," says Stephen Ewell, executive director of the Consumer Technology Association Foundation. "But beyond that, could it also help recognize — possibly through a shift in gait, for instance — when a person is close to taking a fall?"   
The study's findings are expected to be published in a report some time within the next year, which means in the years to closely follow, individuals with neuromuscular diseases may expect to see more (and better) home appliances, robotics and wearable devices available that have the power to streamline their daily routines and make it easier to live independently. 
MDA Resource Center: We're Here For You
Our trained specialists are here to provide one-on-one support for every part of your journey. Send a message below or call us at 1-833-ASK-MDA1 (1-833-275-6321). If you live outside the U.S., we may be able to connect you to muscular dystrophy groups in your area, but MDA programs are only available in the U.S.
Request Information