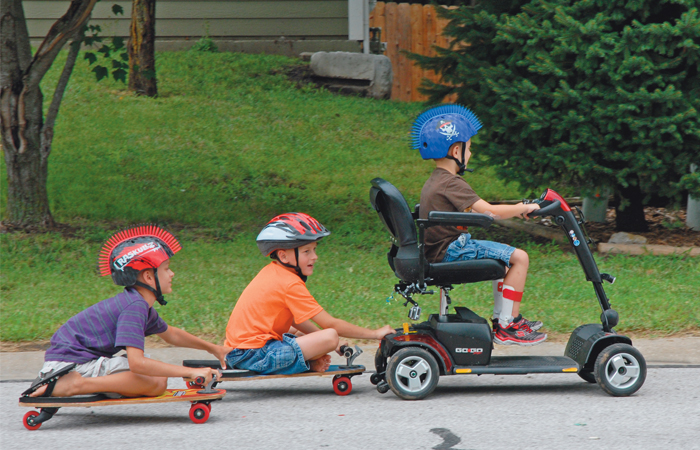 Your guide to the MDA community, from news briefs to inspiring profiles
Through the Fire: A fire fighter shares the highs and lows of his experience with neuromuscular disease
Dennis Bracety had been fighting fires in Tucson, Ariz., for almost 10 years when he first started to experience symptoms of what he would eventually find out was dermatomyositis, a neuromuscular disease that causes inflammation of the muscles and skin.
"My symptoms started in November 2010 at our annual Turkey Bowl Thanksgiving event," Bracety says. "I felt sluggish, and I didn't feel alert. Something was off, and I knew it. For the next three weeks I ignored the symptoms; I'm a macho guy, I figured I would be fine. It wasn't until Christmas Eve [that I recognized something was seriously wrong] when I was on duty, and I just couldn't get out of bed."
After visiting doctors for weeks, Bracety finally received his diagnosis of dermatomyositis in February 2011. 
"I remember being shocked," he says. "I thought the doctors were lying to me. I was in the best shape of my life. You never think it can happen to you."
Shortly after the diagnosis, Bracety's health took a turn for the worse. Within two months, he was in the ICU and had lost all muscle function as well as 90 pounds. At one point, Bracety was unable to walk, talk or even swallow — everyday freedoms many sometimes take for granted. However, by December 2011 he had improved thanks to treatment and physical therapy, and his doctors told him he would likely be able to go back to fire fighting after he recovered. It took another year-and-a-half for that to become a reality.
"For that whole year [of 2012,] I would have good days, but mostly bad days," he says. "It ended up being two-and-a-half years of touch and go, before I was able to feel somewhat normal again, emotionally and physically." 
One of the good days that Bracety can point to was the 2012 MDA Muscle Walk in Tucson, which was the first Muscle Walk event he had attended. Although he was hesitant to go out and speak because he was dealing with depression due to his condition, a local MDA representative gave him the push he needed to do it.
"It was awesome," Bracety says. "It felt good to feel alive again. That MDA Muscle Walk was huge for my mental health, just being in a public forum. I was done feeling sorry for myself."
Now that Bracety is back at work — he returned in June 2013 — he's also involved with Fill the Boot through his local IAFF Chapter 4944, and in 2015, he served on the Tucson MDA Muscle Walk Committee, helping to organize and raise funds for the walk, as well as having his station bring the fire truck to the event for the kids.
In addition to his support of MDA, Bracety wanted to share his story and experience with others by writing a book. Called Fire Within, Bracety's book covers not only his personal story, but it also provides insight into universal challenges that many people with neuromuscular disease and their friends and families face each day. 
"When I was first in the hospital, there were no answers," Bracety says. "It was a sad, depressing scene because we didn't know. With my book, I wanted to let people know about the importance of being their own best patient advocate and not giving up. A lot of people lose hope or motivation, and I want to bring some of that hope back, if I can."
Fill the Boot at the Smithsonian
Visitors to the Smithsonian's National Museum of American History in Washington, D.C., will be able to examine an important piece of MDA history as part of the museum's first annual philanthropy symposium, "The Power of Giving: Philanthropy's Impact on American Life." Among the historic artifacts representing charities will be a firefighter's boot used to collect money for MDA's Fill the Boot campaign. "The Power of Giving," which was first unveiled in December 2015 and covers giving in America from the 1870s to the present day, will be open to visitors until November 2016.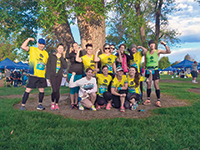 Join the Team: Runners and walkers share their reasons for joining MDA Team Momentum
"I joined Team Momentum for the Colfax race and ran the half marathon. My daughter Kinley (age 15) has mitochondrial encephalomyopathy and has attended MDA Summer Camp in both Kansas and Colorado. MDA has been a wonderful resource for our family over the years, and I felt this was a great way to raise money for MDA while getting in shape and running another half marathon. The coaching was a huge help and being part of a team made the training and the race even more fun. It was a tremendous experience for me!" — John Hower
"I run for a cure. Plain and simple, neuromuscular disease is horrific. With MDA Team Momentum, every step I take and every dollar I raise brings us one step closer to tangible treatments and cures!" — Ryan Woodman, MDA director of business development 
"We started with MDA Team Momentum in 2014 with the Michelob ULTRA Half Marathon in Boston. I was by no means a runner, but seeing the determination on Mason's face when we went out for our daily runs before the big day was something I will never forget, and I carry with me every day. His encouraging words of 'Mommy, you can do it!' or 'It's OK you can walk, I'll walk with you ...' still ring in my ears." — Alicia Martin, whose son Mason was diagnosed with a rare form of muscular dystrophy in 2012
Team Momentum Upcoming Events
Get out and walk or run with MDA Team Momentum at any of these upcoming premier races. Some of the races sell out and MDA Team Momentum has limited entries. Register today! 
Bank of America Chicago Marathon: Sunday, October 9, 2016 
Rock N Roll Denver Half-Marathon: Sunday, October 16, 2016 
Marine Corps Marathon & 10K: Washington, D.C., Sunday, October 30, 2016
TCS New York City Marathon: Sunday, November 6, 2016
Dallas Marathon & Half-Marathon: Sunday, December 11, 2016
Passionate Professional: A young professional discusses having a disability and thriving in the workplace
Editor's note: Shortly after Quest Magazine went to press, we learned that Emmanuel Arzate passed away. Emmanuel's story illustrates the importance of never giving up. Countless individuals like Emmanuel and the families who love them are at the heart of everything we do and why MDA is fighting to give more strength, independence and life to kids and adults with muscular dystrophy, ALS and related life-threatening diseases. In this issue of Quest, we honor Emmanuel's memory, spirit and passion for life.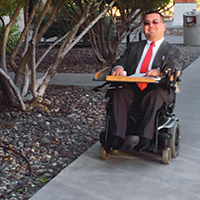 Emmanuel Arzate, a 26-year-old from El Paso, Texas, who was diagnosed with spinal muscular atrophy at age 2, has always had a passion for educating and connecting with others. Currently working as a teacher/clerk at his local YWCA, Arzate's previous job as a financial adviser set him on the path toward using this passion to help people make informed decisions about their finances.
"Being a financial adviser, it was like a match made in heaven," Arzate says. "I was educating clients on their finances, but probably what I enjoyed the most was being able to see their progress. I would see people come into my office who weren't savers come back in six months with $2,000 or $3,000 in their accounts."
And although an accidental injury he received during a flight in December caused Arzate to leave his job as a financial adviser at Northwestern Mutual due to additional stress, Arzate's perseverance led him to his new job at the YWCA, as well as to other opportunities, including his interest in being a motivational speaker.
"I'm very ambitious," he says. "I want a lot from life, and I have a very tenacious personality. I want to be a successful entrepreneur, a motivational speaker and politician, as well. Recently, I've been doing motivational speaking, and it's been great. I recently was chosen to be a presenter for a conference at [my alma mater] the University of Texas at El Paso (UTEP)."
Arzate received his undergraduate degree from UTEP and is currently getting his MBA there. In addition to his motivational speaking and entrepreneurship, he plans to collaborate with fellow students on a project that addresses some of the challenges he has faced when talking with potential employers. Fittingly, his plan is to do this through an educational video for employers about employees with disabilities. He was inspired by his positive experience working at Northwestern Mutual, which, in addition to supporting Arzate's workplace needs, also donated $5,000 to last year's Fill the Boot campaign. 
"I'd like the video to help human resources at companies better understand what it's like to hire a person with a disability," he says. "I want to interview some of my employers and ask them about how the initial process [of hiring me] was and what ran through their minds."
Between the video, his motivational speaking, getting his MBA and his regular job, Arzate is a busy man, but he still gets out and enjoys spending time with his friends, as well as participating in the MDA Muscle Walk each year.
"I love going to festivals and concerts," he says. "Anything that comes to El Paso. I love going to all of these events and just having a good time with my friends."
MDA's Transitions Center offers many resources for teens and young adults looking to start (or change) their careers.
Preparing for an Interview
Trying to connect with a potential employer during a job interview can be difficult — whether you have a disability or not. Emmanuel Arzate shares some advice that has helped him find success when interviewing for a job.
"I've had interviews where I have the qualifications they're looking for, but there's a disconnect at the time of the interview, [for example,] when they try to shake my hand and I can't shake their hand," he says. "So from the very beginning the interview is awkward."
In order to defuse some of that awkwardness, Arzate suggests being forward with employers about what you can do and what you need in terms of accommodations.
"The thing I discovered is you have to be upfront about things," Arzate says. "You have to be the one that brings it up and discusses the accommodations [you need]. When I was preparing for interviews, I created a portfolio that showed the software I needed, my limitations and even had testimonials from previous employers of their experience working with me."
An Awesome Cause: A teenager brings her passion to sports and her support of MDA Muscle Walk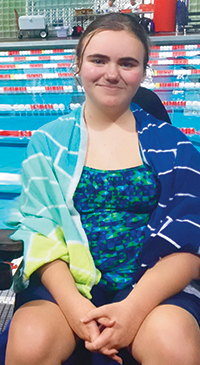 Dana Parrott, a 13-year-old from Milford, Conn., who was diagnosed with limb-girdle muscular dystrophy (LGMD) at age 8, loves being active. She participates in track and field, she swims and recently started playing power soccer. Through her local Hospital for Special Care in New Britain, Conn., she joined teams for all of these sports, and she even found herself at nationals for her track and field team in 2015, breaking records for discus and the club throw.
"When I first got diagnosed, I thought, 'How am I going to be able to do anything?'" Dana says. "But I started doing these sports, and I feel like it makes me stronger and I'm getting better and better. When I did so well at nationals, I just thought, 'This is what I love.'"
Dana brings her passion for being active from sports into her support of MDA. For the past four years, since she received her diagnosis, she has been attending the Greater Hartford & New Haven Area MDA Muscle Walks with her aptly named team, Dana's Team Awesome. 
"With everything she's going through, she is absolutely a trooper and we always tell her how awesome she is for dealing with everything, so we thought maybe we should call it Dana's Team Awesome," says Jane Parrott, Dana's mom.
Dana agrees with that origin story; however, she had one addendum. 
"I mean, I think I'm awesome," she says, laughing. 
Dana loves attending MDA Muscle Walk each year not just because of the fun activities and events, but because of the way it brings their local MDA community together.
"I like everything [about MDA Muscle Walk,]" Dana says. "I love how the people come to help and the community comes together. All my friends and family come to support me, and they have my back. And all the activities they have just make it that much more fun. Not only is it this great cause, but it's also a lot of fun."
Join us at your local MDA Muscle Walk to bring strength to life and make an impact in your community. Visit the MDA Muscle Walk site to find a walk near you and register today. 
In The News: 
Film highlighting Duchenne muscular dystrophy picked up by Netflix
"The Fundamentals of Caring" is an upcoming film starring Paul Rudd as a caregiver for a young man named Trevor (Craig Roberts) who has Duchenne muscular dystrophy (DMD). The film focuses on the relationship between the two as they embark on a cross-country road trip together. 
After premiering at the Sundance Film Festival in January, the film was quickly bought up by Netflix for digital streaming distribution. Netflix hasn't announced its release date yet, but it should be available later this year. 
NPR shares the amazing story of Jill Viles's discovery
Listeners of "This American Life" on NPR may have heard the story of Jill Viles, a woman with Emery-Dreifuss muscular dystrophy (EDMD) who made an amazing discovery about her own condition. Doing her own research and using unorthodox resources such as Google images, Viles discovered a connection between herself and the Canadian Olympic hurdler Priscilla Lopes-Schliep. She determined that they both have EDMD, but due to a gene mutation, Lopes-Schliep's muscles grew rather than decreased. While at first doctors were skeptical of Viles's claims, a genetic test proved her right. 
Visit thisamericanlife.org for more details about this incredible story, featured in episode 577.
Lego reveals its first figure with a disability
Lego, the biggest toymaker in the world, revealed its first-ever figure with a disability in January. Refreshingly, the figure was released with little fanfare about its disability: a Lego figure in a wheelchair was simply included in a new playground-themed set to be released in Summer 2016. 
It is clear that campaigns like #ToysLikeMe or Melissa Shang's petition to American Girl for a doll with a disability (previously covered in Quest) are making the argument to toymakers that these products are in high demand. With Lego on board, it seems likely that more companies will follow.
Sharing Our Strength: Read stories from around the MDA community — and share your own — on Strongly, the MDA blog
With the launch of Strongly, MDA's new blog, MDA is bringing together the stories and voices of people across the MDA community. On Strongly, you'll find everything from personal blogs by people living with neuromuscular disease to news and commentary on current research to fun stories and videos from members of the MDA community. All of the content can be easily filtered and searched, and new items are added daily. 
Check out Strongly. And if you're interested in blogging or sharing your story for Strongly, contact us at strongly@mdausa.org. 
MDA Resource Center: We're Here For You
Our trained specialists are here to provide one-on-one support for every part of your journey. Send a message below or call us at 1-833-ASK-MDA1 (1-833-275-6321). If you live outside the U.S., we may be able to connect you to muscular dystrophy groups in your area, but MDA programs are only available in the U.S.
Request Information