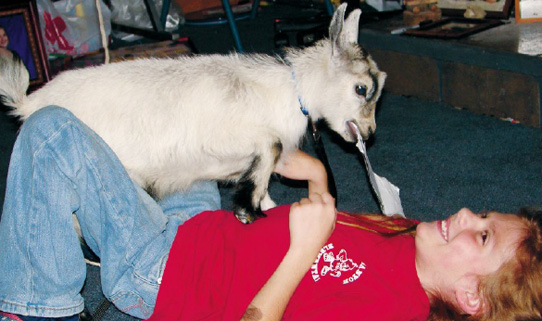 Paige Viscuso of Carlton, Pa., has fun while training her pgymy goat, Rockie.
Dogs aren't the only option for service animals
Most service animals are dogs, trained to offer different types of assistance to people with a variety of disabilities — from vision or hearing impairments to emotional or medical problems. But there are other types of service animals that retrieve dropped items, open and close doors, push the elevator buttons and pull wheelchairs for people with physical disabilities such as those caused by neuromuscular diseases.
This article focuses on this last type of service animal.
Helping hands
Who wouldn't want a service dog? Well, some people need more help than dogs can offer.
Based in Boston, Helping Hands: Monkey Helpers for the Disabled is a national organization that trains and places capuchin monkeys with people who have severe disabilities such as quadriplegia.
Since 1979, Helping Hands has placed 109 monkeys free of charge. The monkeys are bred at the center and receive 10 to 12 years of foster placement with a human family and three to five years of training before being matched with a person with a disability.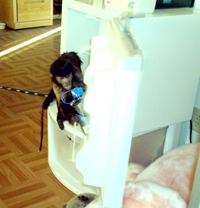 Beside offering companionship and retrieving items, monkey helpers can do many tasks that assistance dogs can't do, thanks to their manual dexterity. Monkeys are sometimes used to feed people who don't have use of their arms. They can even put disks in your DVD player or get objects that are too high for assistance dogs to retrieve.
Another advantage of helper monkeys is that they live 30 to 35 years.
Here's the story of one of Helping Hands' first helper monkeys, Chi-Chi, and her newest recipient, Chanda King, who has spinal muscular atrophy (SMA) and uses a power wheelchair.
Chanda & Chi-Chi
Two and a half years ago Chanda King, 35, of San Angelo, Texas, was partnered with Chi-Chi. She had learned about Helping Hands on "60 Minutes" and saw how valuable these animals could be in increasing her independence.
A writer, Chanda King works from home while her husband, Marell, who has Becker muscular dystrophy (BMD) and also uses a wheelchair, goes to school and work during the day. Having Chi-Chi makes her feel more comfortable being alone throughout the day.
The 7½-pound monkey can open the refrigerator and retrieve the food item on which King shines a laser beam. Chi-Chi puts a straw in a drink and puts it in her human's mouth, climbs a bookshelf to fetch a particular book and puts a CD or DVD in the player.
"She actually saved my life three times," King said.
If King's head falls back and she can't breathe, as long as her arm's on the wheelchair's armrest, she can get her head back up.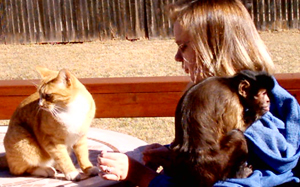 "The command [to pick up my hand] would be 'Chi-Chi do hand,' and she'd run over and pick my hand up and put it on my control. But this time my head was back and I couldn't talk to give her a command. I could hardly breathe and she knew, 'Mommy's in trouble,'" King said.
"I didn't have to tell her — she knew I was trouble. She came over and put my arm back up on my chair so I could pop my head up." King lifted her head by moving her wheelchair forward and stopping suddenly.
A wonderful companion for King, Chi-Chi, who'll also assist Marell if his wife gives the command or is out of the room, is part of the family and even plays with their dog and two cats.
"[Monkeys] are more humanlike. They understand more, and they know what you're talking about," said King, who also added a word of warning. "If you're a neat freak, a monkey isn't for you — monkeys get into everything."
Helping hooves
Another reason not to get a service dog is allergies.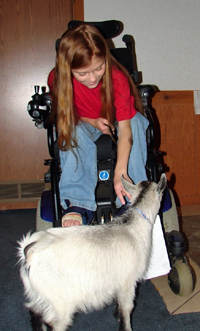 Eight-year-old Paige Viscuso of Carlton, Pa., who received a diagnosis of limb-girdle muscular dystrophy (LGMD) at age 3, was envious of people who had service dogs because she's allergic to dogs. In fact, Paige, who can walk short distances and uses a wheelchair part time, is highly allergic to all but three animals with fur or hair: cows, pigs and goats.
Paige & Rockie
In 2002, Paige's parents, Vinnie and Ricki Viscuso, began discussing getting a pet for each of their three children, Marci, Sydney and Paige. Keeping in mind Paige's allergies, which cause severe asthma, and the fact that cows require too much upkeep and pigs smell, Vinnie and Ricki brought home three pygmy goat siblings that turned out to be good for Paige in more than one way.
"We didn't really realize at the time that it was going to be therapeutic for Paige," Ricki said. "In taking care of the goats, she was getting exercise and not even realizing it.
"The more we learned about a goat, the more I realized that they are just as smart as any dog I have seen. It started to give us brilliant ideas! So we spoke to our vet, and he told us that a goat can in fact be trained just like a dog."
The Viscusos decided to breed their female goat, Angel, with the intention of training the offspring to be service goats. Rockie and Bullwinkle were born in February. Unlike most dogs, these goats were housebroken by day 2.
Paige chose to work primarily with Rockie, who's already learned to fetch dropped items and turn on the light by pulling a long shoestring attached to the ceiling fan's light switch. Eventually, she'll teach him to help her get up from the ground, pull her in her manual chair and push the wheelchair access buttons to open doors.
Once Rockie is fully trained, Paige hopes to take him with her when she goes out. The family will enlist the help of a friend who raises police dogs to further Rockie's training. However, Ricki is still uncertain that a goat, even a service goat, will be allowed in a public place.
"I really do think this story could be a lot of help to people affected by muscular dystrophy who have dog allergies," said Ricki, who's been thinking of breeding Angel and selling the babies for this purpose. "I think it would be an interesting field to look into, to have people start training goats, because they're very intelligent and they're about the same size as a service dog."
Service animals and the ADA
The Americans with Disabilities Act (ADA) requires all businesses and organizations that serve the public to allow people with disabilities to be accompanied by their service animals. The only exception is if the animal is disruptive or puts others in danger.
According to the ADA, a service animal is any animal that is individually trained to perform tasks for people with disabilities. A service animal isn't required to be licensed or certified by a state, local or private agency, and businesses can't require special ID cards for the animal or ask about the person's disability.
The ADA was written vaguely because it's a civil rights law, and insisting on proof of a person's disability or an animal's training would be violating his or her civil rights, says Carol King, vice president of the International Association of Assistance Dog Partners (IAADP).
The IAADP, based in Sterling Heights, Mich., is an international organization representing people with assistance dogs.
Notice that the ADA doesn't say the service animal has to be a dog. But service dogs are much more socially acceptable than most other animals, especially traditional service dog breeds such as German shepherds and retrievers.
"We really encourage people to use dogs because it's so much easier with public access," said Carol King, who runs the IAADP Information and Advocacy Hotline from her home in Oceanside, Calif.
Nontraditional service animals such as monkeys, goats and even dogs belonging to toy breeds, are more likely to have problems with public access.
Although refusing to allow a service animal into a public place violates the ADA, many courts and local police agencies don't enforce it.Sometimes, these officials aren't even familiar with it, King said.
"If I go in — and I have four times where someone denied me access with my assistance dog — I'm barely going to be heard," said Carol King, whose medic alert dog is a Yorkshire terrier. "The slap on the wrist to the business that denied me access is going to be their legal cost and most often having to pay my legal fees."
King said her attorneys often have to educate the court about the ADA's service animal laws.
"Some states have laws that are very protective of assistance animals. Police do have to enforce the state laws," she said. "But under the ADA, your only option is to take [the business] to court — there are no penalties."
To avoid trouble while out with your service animal, King recommends traveling with information on the ADA and state laws regarding assistance animals. You can present the information if you're confronted when you and your service animal enter the establishment.
Correction (April 11, 2013) — This article was amended to show that service monkeys placed by Helping Hands receive both extensive foster placement and training prior to being matched with a human partner. For the safety and comfort of its monkeys, Helping Hands does not want them to accompany their human partners out in public.
MDA Resource Center: We're Here For You
Our trained specialists are here to provide one-on-one support for every part of your journey. Send a message below or call us at 1-833-ASK-MDA1 (1-833-275-6321). If you live outside the U.S., we may be able to connect you to muscular dystrophy groups in your area, but MDA programs are only available in the U.S.
Request Information