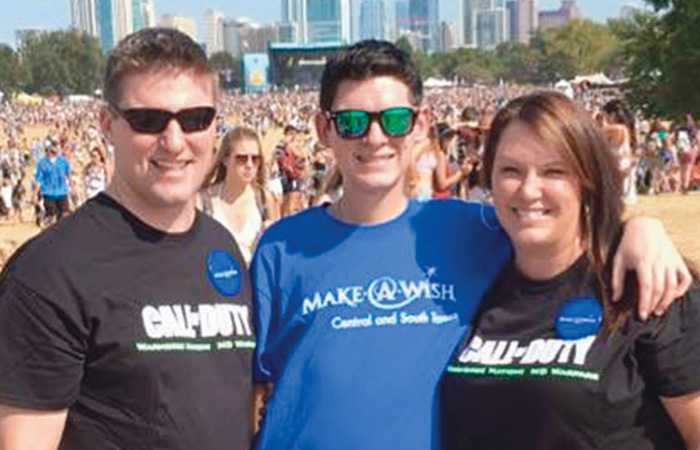 The Robinson family raises awareness and money for MDA Muscle Walk
When Valerie Robinson came home from her first visit to her MDA Care Center in Texas after her son, Ryan, had been diagnosed with limb-girdle muscular dystrophy (LGMD) at age 14, the first thing she did was go to the MDA website and set up her MDA Muscle Walk team. 
"The clinic was an amazing experience, despite what we were there for," she says. "At the end of the appointment, the MDA coordinator mentioned the upcoming Muscle Walk and asked if we would be interested in forming a team, and we just said, 'Yes.'"
The Robinsons shared their team link with friends and family, and it gained attention quickly. They called the team Warhorse Nation because Valerie and her husband were in the 1st Cavalry Division of the U.S. Army. Being a military family, they have a competitive streak, so even though they didn't reach the top spot in the 2012 MDA Muscle Walk of Austin — which was the first year they participated — that only meant they came back with more enthusiasm the next year.
"Our first year, we were in third, and the next two years we were in second," she says. "The first year that we took first place, I wrote about it on Facebook and said 'We held a little plastic WWE Championship belt over our heads like we accomplished the cure.' That's the kind of feeling we had in that moment."
Over the years, Warhorse Nation has raised a staggering amount for MDA — more than $115,000 total. The Robinsons have put a lot of effort into fundraising, including recruiting volunteers from Ryan's high school ROTC to go door to door to raise funds for their MDA Muscle Walk team. 
Ryan, now 20, will soon start working for the Department of Veterans Affairs in Texas. 
---
Sign Up Today
Help bring strength to life at your local MDA Muscle Walk by getting involved today. Visit the MDA Muscle Walk website to find your local walk, register and begin recruiting your family and friends. 
Five Reasons to Join MDA Muscle Walk in 2017
MDA Muscle Walk is a life-changing event that strengthens families and communities, helps fund research breakthroughs, provides care for kids and adults, and empowers families with services and support to live longer and grow stronger. For these reasons alone, it's obvious why we love Muscle Walk. But don't just take our word for it. Learn why five MDA families are equally dedicated to Muscle Walk and why you should also support this incredible cause. Read more ...
MDA Resource Center: We're Here For You
Our trained specialists are here to provide one-on-one support for every part of your journey. Send a message below or call us at 1-833-ASK-MDA1 (1-833-275-6321). If you live outside the U.S., we may be able to connect you to muscular dystrophy groups in your area, but MDA programs are only available in the U.S.
Request Information