Turning Seats Can Enhance Mobility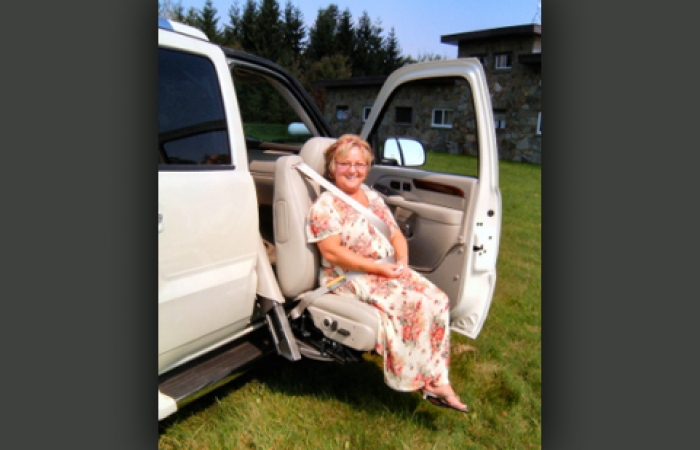 Sometimes the problem with a vehicle isn't driving it, but getting in and out. In that case, a turning seat may be a good option.
People often would rather keep their SUV or pickup truck instead of getting an adapted van, says T.C. Cole, Access Unlimited's director of sales and marketing. "This opens up a lot of possibilities that weren't there before."
A turning seat extends from a vehicle and raises and lowers to help people enter and exit more easily on their own or with assistance.
They're helpful for people who use canes and walkers, as well as those who can make a seat-to-seat transfer from a manual or power wheelchair. And, they can be used in a wide range of vehicles from sedans and minivans to SUVs, pickup trucks and full-size vans.
"You have to go to a mobility dealer if you're considering this type of equipment," advises Andrew Bayer, product manager for Bruno's Turning Automotive Seating (TAS). Mobility dealers will evaluate your vehicle and capabilities to determine the best equipment solution.
Here's a look at some options:
Access Unlimited's Easy-Reach
The Easy-Reach lift-up seat extends far out from the vehicle at a natural angle to assist in making safe transfers. It's designed to be used on the front passenger seat of most SUVs, pickup trucks, minivans and full-size vans, but can be installed in minivans with second-row seating.
Easy-Reach is "vehicle specific and uses the factory seat," Cole says. "If it's for a 2004 Cadillac Escalade, we get one into our shop and build the seat right onto it so we know it's going to fit exactly. And that way, we're using the original bolt patterns and not drilling any holes in the vehicle."
Ranging in price from $5,295 to $5,695, Easy-Reach also offers a manual override in case the vehicle's electrical system malfunctions.
Braun's Companion Seat
The Companion Seat (no longer available from Braun) fits most GM and Chrysler minivans, and can lift up to 300 pounds.
To use, an assistant manually swivels the seat toward the door, and a toggle switch powers the seat in and out. It takes about 22 seconds for the power base to rotate, extend out the car door and tilt forward six inches.
Braun engineer Pete Budd notes that Companion Seat users must have some mobility. "It could be used by someone who relies on a walker or cane, but it's not meant to be used by someone who's a full-time wheelchair user."
Bruno's Turning Automotive Seating (TAS)
TAS systems can be installed in a wide range of vehicles, including sedans, minivans, SUVs, pickup trucks or full-size vans. For higher vehicles, the seat rotates, extends from the vehicle and lowers toward the ground.
Turnout Seats, which are used in sedans, range in price from $2,000 to $3,000, depending upon whether it's a manual or power rotate system.
Turny Seats, which fit minivans, SUVs, pickup trucks and fullsize vans, cost between $5,500 and $6,000. They have a manual rotate system with power up-and-down features.
For a complete power rotate and up-and-down system, the Turny Orbit runs between $6,500 and $7,000.
Bruno's Carony Transportation System — used with a Turny or Turnout seat — transforms from a car seat to a manual wheelchair by way of an interlocking wheeled base. Passengers never need to leave their seats, eliminating the need for transfers. The Carony runs from $4,000 to $5,000.
Bruno's SM seat can be added to a TAS system, providing various accessories such as a lap belt, positioning support, lateral and hip abduction support and a headrest. Also, the seat and back cushions are removable, allowing for customization and laundering.
The SM Seat adds $1,000 to $1,500 to the total, depending upon accessories.
Freedom Lift's Freedom Seat
Lifting up to 400 pounds, the Freedom Seat (which uses the factory seat) can be installed in full-size vans, minivans, full-size SUVs, pickup trucks and full-size sedans. In addition to moving in and out, the seat also lowers and rotates left and right to help facilitate wheelchair transfers.
Todd Bick, Freedom's national sales manager, says the seat's programmability is its strongest point, giving it more flexibility than a regular turning seat. "We can program multiple points along a path from the home position to a position outside of a vehicle."
Costing between $7,000 and $8,000, the automatic seat can be installed in the front passenger or driver positions, or mid-row in minivans. An emergency manual backup system is included.
Safety features
Structural modifications and additional cutting or drilling aren't necessary to install a turning seat, so it's possible to easily restore the vehicle to its original condition. Most manufacturers retrofit the original factory seat, while Bruno uses its own after-market seat.
All turning seat systems meet Federal Motor Vehicle Safety Standards (FMVSS). Manufacturers ensure the safety features of the vehicle, such as seat belts and air bags, continue to operate normally. In addition, seats may retain their ability to recline and slide forward and backward.
Overall, the key is to work with a mobility dealer familiar with turning seats to ensure that one will help meet your evolving mobility needs.
MDA Resource Center: We're Here For You
Our trained specialists are here to provide one-on-one support for every part of your journey. Send a message below or call us at 1-833-ASK-MDA1 (1-833-275-6321). If you live outside the U.S., we may be able to connect you to muscular dystrophy groups in your area, but MDA programs are only available in the U.S.
Request Information