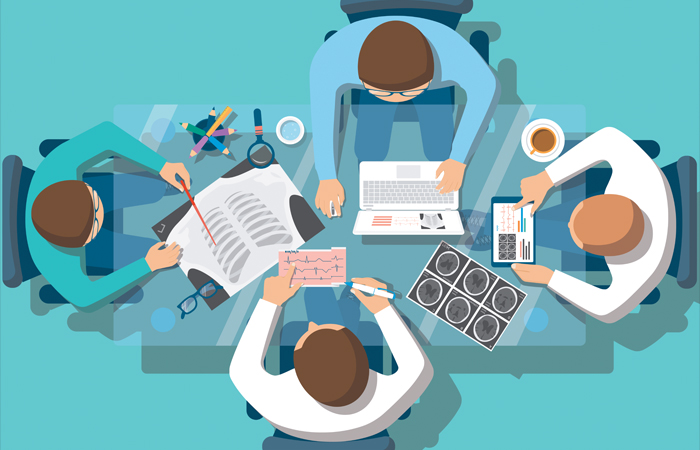 Multidisciplinary care improves quality of life for individuals with neuromuscular diseases
Brendan is a curious, bright-eyed 7-year-old with a fun-loving attitude and a buoyant smile. He was diagnosed with Duchenne muscular dystrophy (DMD) when he was 23 months old. His mother, Colleen Labbadia, describes his diagnosis as long and heartbreaking but adds that there has been a bright spot. "Brendan is seen at the MDA Care Center at Nemours Children's Hospital in Orlando, and we absolutely love it," she says. "They have been our silver lining."
Nothing about living with neuromuscular disease is easy or convenient. Effectively managing progressive muscle weakness as well as the various associated complications individuals may experience requires an equally varied list of specialists. 
Brendan's health care providers include a neurologist, physical therapist, occupational therapist, cardiologist, orthopedist, endocrinologist and nutritionist. These professionals work as a team to provide Brendan with comprehensive multidisciplinary care.
The MDA Care Center at Nemours is just one of the more than 150 MDA Care Centers across the United States and Puerto Rico that provide multidisciplinary care to individuals with neuromuscular diseases.  
What is multidisciplinary care?
Multidisciplinary care brings together the expertise of professionals from a wide range of disciplines in one location to provide coordinated, patient-centered care. A recent study showed that this is the gold standard model of care for individuals with complex medical needs. 
MDA is committed to ensuring that the MDA Care Center network operates with a multidisciplinary approach. MDA Care Centers include strong medical teams, but they don't just have doctors. In addition, each MDA Care Center includes a social worker, a physical therapist and a care center coordinator. (See Specialists at a Glance.) 
Beyond this framework, the specialists included on an MDA Care Center team vary based on the conditions they manage and the age range of the individuals they work with. Likewise, not all MDA Care Centers function in exactly the same way. At some MDA Care Centers, individuals will see all their relevant specialists during every visit, while at others, the directing physician will recommend that individuals see some specialists more or less frequently.  
For example, at the MDA Care Center at Johns Hopkins University in Baltimore, Md., the disciplines represented on its multidisciplinary care team include neurology, pulmonology, cardiology, physical therapy, occupational therapy, genetic counseling and orthotics. MDA Care Center Director Thomas Crawford, M.D., a neurologist, says his approach is to refer patients to specialists when their needs in a particular area extend beyond the basics.
"When you go to see a lot of specialists, it can be kind of overwhelming," Dr. Crawford says. "I like the model of having a person like myself who thinks about all things related to muscular dystrophy and spinal muscular atrophy, so when you come and see me, we are going to cover all of those territories. If we need to spend extra time on a particular domain, I'm going to get a specialist who knows even more about that domain. In that way, we don't waste time."
Communication is key
Regardless of how they are structured, the most successful multidisciplinary teams prioritize good communication, and they are able to provide a comprehensive and coordinated care plan because they have spent time thinking about what it means to work as a team, what it takes to provide good care and how to deliver care effectively.
The multidisciplinary team at Nemours is a good example of this. "Not only are all of Brendan's doctors under one roof, but they share everything — their notes, their assessments, what medications they put him on," Labbadia says. "Everyone is on the same page." 
Benefits of multidisciplinary care
When everyone is working together toward a patient-centered care plan, the benefits for individuals and families are far-reaching. Research has shown that multidisciplinary care can have a positive impact on those with neuromuscular disease in a number of ways.
1. Quality of life
Jerry Creehan, a 65-year-old retired medical equipment salesman and father of three, can attest to the impact of multidisciplinary care. After being diagnosed with ALS in January 2017, he started visiting the MDA ALS Care Center at Virginia Commonwealth University Medical Center in Richmond, Va. Creehan's multidisciplinary care team includes a neurologist, respiratory therapist, physical therapist, registered dietician, social worker, research coordinator and MDA family care specialist. 
From his very first appointment, Creehan knew he had something special. Not only was he impressed with the amount of time his neurologist and other care providers spent with him, but he was amazed at the level of compassion, care and respect each one showed.
"I have been in and around hospitals all my career, but I have never experienced that level of care in a clinical setting," he says. "I had been told that being seen by a multidisciplinary care team can add length to life for an ALS patient. I knew right then and there why. It didn't mean that they were going to catch me in some crucial stage and intervene medically, but all that love and care makes me want to come back."
2. Proactive care
When clinicians work as a team, they are able to take a more proactive approach to care. This type of teamwork helped 75-year-old Patricia Mishler optimize her communication strategies before she lost the ability to speak as a result of ALS. 
Mishler was diagnosed with ALS three years ago. Her neurologist at the MDA ALS Care Center at Vanderbilt University Medical Center in Nashville referred her to Sarah Whyte, a certified and licensed speech-language pathologist. Whyte told her about voice banking, a process where an individual records their speech to be used as a personal synthetic voice. Mishler's speech was intact at the time, so she and Whyte decided to act quickly to take advantage of the timing and the technology. 
"Because I saw her very early in her disease progression, we were able to bank her voice, which she now uses with an eyegaze device," Whyte says. 
Patricia uses her eyegaze device to generate speech and operate her computer with her eyes. "My MDA Care Center is always ready to help me improve the quality of my life," she says via email.
3. Streamlined care
Having multiple experts observe an individual's movements and functions during a single visit increases a clinician's ability to recommend and implement therapies and adaptive equipment.
Lynn Lukins, a licensed physical therapist at the Kids Center for Pediatric Therapies in Louisville, Ky., works as part of the pediatric MDA Care Center at the University of Louisville. The therapists there use a team approach to assess the needs of the children and families they serve.  
"We all observe the child during each screening, so while the speech therapist is watching swallowing, breathing and vocalizations, I can be looking at posture, weight shifting and preferred position for play, and the OT can be watching fine motor activities," she says. "We are then able to more effectively and quickly provide evaluations and recommendations to the physician and family."
4. Practical efficiency
Among the advantages to being seen by a multidisciplinary care team, the most impactful might be reducing the travel burden associated with seeing multiple specialists. "Most of the people in our community have mobility issues, and transportation can be challenging," says Theresa Cox, clinic coordinator at the MDA Care Center at Johns Hopkins. "Being able to come to the clinic and see all of your providers on the same day is really helpful." 
To ensure the necessary services are available during each visit, Cox coordinates appointments for each individual. "It can take me a couple of months to coordinate just one of our multidisciplinary clinics because we tailor each visit to meet the patient's needs," she says. 
Labbadia says that kind of care coordination is well worth the wait. "Getting all of these amazing doctors together talking about specialty care for your child is wonderful. That kind of expert care allows us a sigh of relief because we are not left hanging when issues come up. It's done right then and there." 
Karen Henry is a freelance writer and editor living with limb-girdle muscular dystrophy (LGMD) in the Denver area. 
---
Expert Care from Day One
We know early diagnosis, highly specialized care and access to promising clinical trials help ensure the best possible outcomes for individuals and families living with muscular dystrophy, ALS and related neuromuscular diseases. MDA has more than 150 Care Centers across the United States and in Puerto Rico located at top hospitals and health care facilities. Go to mda.org and type in your state or ZIP code in the "Find MDA in Your Community" box to find an MDA Care Center near you. You also can contact the MDA Resource Center at 800-572-1717 or resourcecenter@mdausa.org for assistance with locating an MDA Care Center in your area.
---
Specialists at a Glance
How is a pulmonologist different from a cardiologist? It can be confusing. Here is a guide to some of the specialists you are likely to meet at your MDA Care Center. Click on the image for an expanded infographic.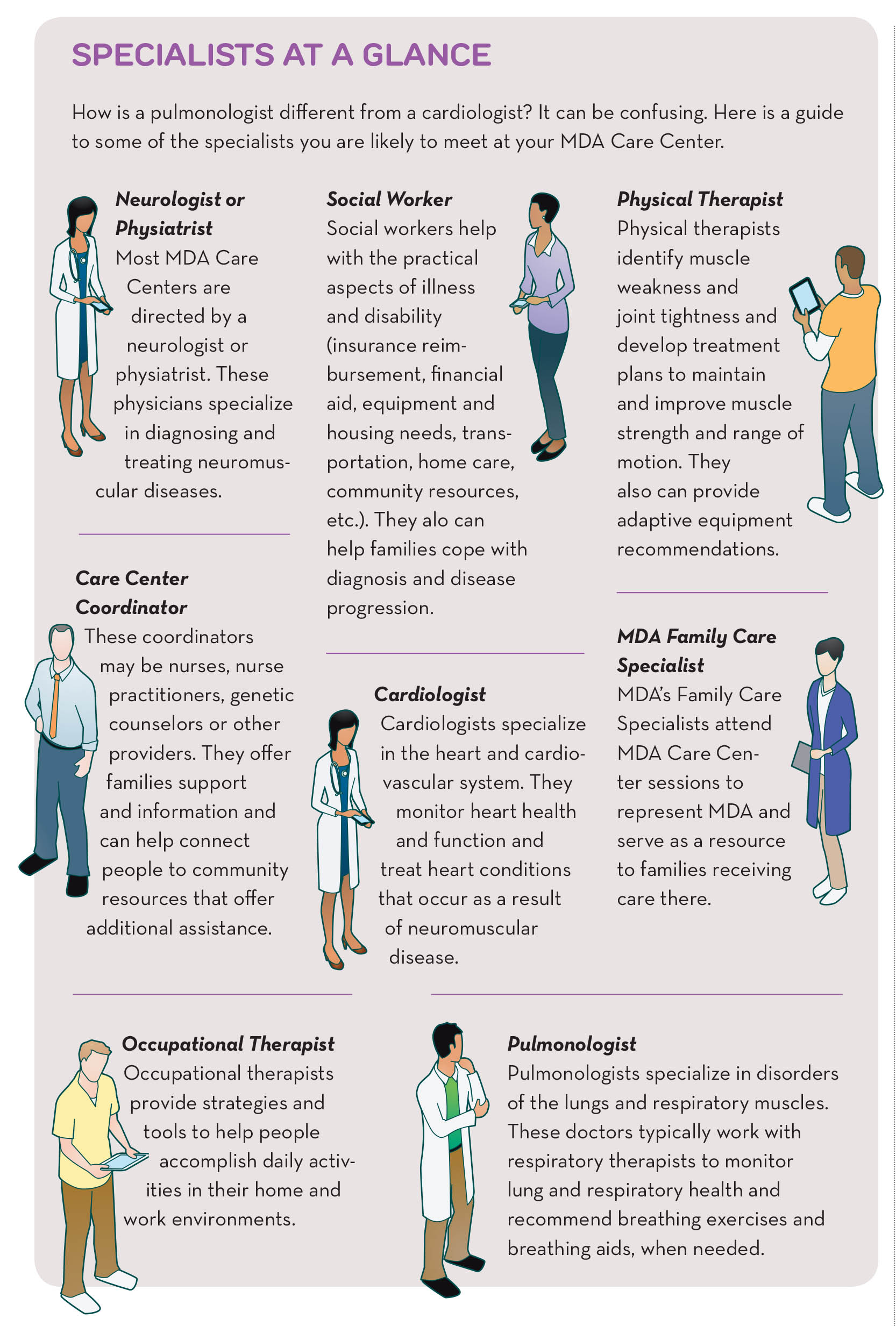 Neurologist or Physiatrist
Most MDA Care Centers are directed by a neurologist or physiatrist. These physicians specialize in diagnosing and treating neuromuscular diseases.
Social Worker
Social workers help with the practical aspects of illness and disability (insurance reimbursement, financial aid, equipment and housing needs, transportation, home care, community resources, etc.). They alo can help families cope with diagnosis and disease progression. 
Physical Therapist
Physical therapists identify muscle weakness and joint tightness and develop treatment plans to maintain and improve muscle strength and range of motion. They also can provide adaptive equipment recommendations.
Care Center Coordinator
These coordinators may be nurses, nurse practitioners, genetic counselors or other providers. They offer families support and information and can help connect people to community resources that offer additional assistance. 
Cardiologist
Cardiologists specialize in the heart and cardiovascular system. They monitor heart health and function and treat heart conditions that occur as a result of neuromuscular disease.
MDA Family Care Specialist
MDA's Family Care Specialists attend MDA Care Center sessions to represent MDA and serve as a resource to families receiving care there.
Occupational Therapist
Occupational therapists provide strategies and tools to help people accomplish daily activities in their home and work environments. 
Pulmonologist
Pulmonologists specialize in disorders of the lungs and respiratory muscles. These doctors typically work with respiratory therapists to monitor lung and respiratory health and recommend breathing exercises and breathing aids, when needed.
---
The Importance of Social Workers
For individuals and families living with neuromuscular diseases, having access to the right support is paramount to living life to the fullest. But so is everyday help, and that's where an MDA Care Center social worker comes in. A social worker is a counselor, advocate, educator, facilitator, resource specialist and problem-solver all rolled into one. 
Hillary Zebberman is a licensed clinical social worker at the MDA Care Center at University of California, Los Angeles (UCLA). "I'm not a therapist, but I can identify problems and direct parents where to go to get help," she says. 
Zebberman looks at the overall health and stability of children and their families as it pertains to their finances, social and emotional health, and education. She works with each individual and their family to come up with resources to make life easier, such as information about adaptive equipment, financial aid and community resources. She also provides education to schools about neuromuscular diseases to ensure students have access to the accommodations they need to be successful.
"There are so many things that social workers can do to add a dimension of support," she says. 
MDA Resource Center: We're Here For You
Our trained specialists are here to provide one-on-one support for every part of your journey. Send a message below or call us at 1-833-ASK-MDA1 (1-833-275-6321). If you live outside the U.S., we may be able to connect you to muscular dystrophy groups in your area, but MDA programs are only available in the U.S.
Request Information