Swimming, S'mores and More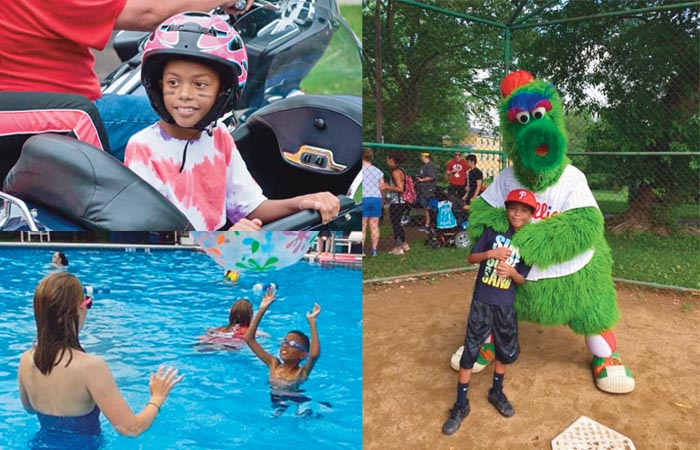 A first-time MDA camper reminisces about his unforgettable experience
The excitement that surrounds MDA Summer Camp is evident from the energy and smiling faces of the campers. That's perhaps especially true of first-time campers. For 10-year-old Axel Vazquez-Solis of Pennsylvania, who was diagnosed with Ullrich congenital muscular dystrophy in 2009, that excitement lasted all week long as he enjoyed the many pleasures of camp life — swimming, singing, meeting new people, having a friendly food fight and even taking motorcycle sidecar rides.
"I liked riding on the motorcycles," Axel beams. "I like to feel the wind when I'm going fast!" 
Along with his mother, Yessenia Solis, and younger brother, Nicolas, who also has Ullrich congenital MD, Axel also participates in the MDA Muscle Walk to help raise money for MDA programs, including summer camp. This year, the family raised more than $2,000 for the Greater Philadelphia-area Muscle Walk. 
Still bubbling with excitement from this year's summer camp, Axel is already thinking about going back next year. When asked what he is most looking forward to, Axel says that while every day and activity was special, there is one thing that stands out. "The campfire and the s'mores," he says. "[Sitting by the] campfire and roasting marshmallows was a lot of fun."   
To learn more about MDA Summer Camp, including an FAQ for parents, visit mda.org/summer-camp. And if you or your child is a camp veteran, we'd love to hear your camp stories; email us at mycampstory@mdausa.org.
MDA Resource Center: We're Here For You
Our trained specialists are here to provide one-on-one support for every part of your journey. Send a message below or call us at 1-833-ASK-MDA1 (1-833-275-6321). If you live outside the U.S., we may be able to connect you to muscular dystrophy groups in your area, but MDA programs are only available in the U.S.
Request Information