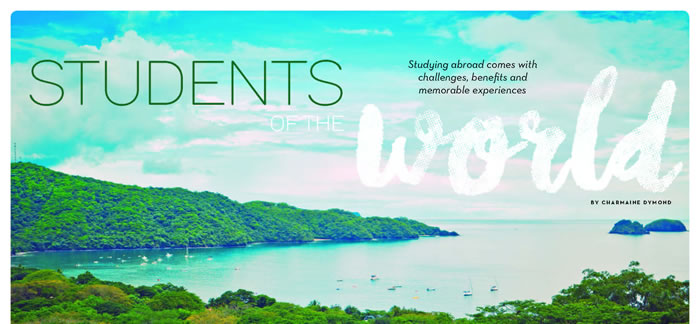 Studying abroad comes with challenges, benefits and memorable experiences
Editor's note: Shortly after the Summer 2018 issue of Quest was published, we learned that Joe Brown, who was featured on the cover, passed away. Joe graciously shared with Quest his story of studying abroad in the United Arab Emirates for the article "Students of the World." Individuals like Joe and the families who love them are at the heart of everything we do and why MDA is committed to transforming the lives of patients with muscular dystrophy, ALS, and other neuromuscular diseases. In this issue of Quest, we honor Joe's memory, spirit and passion for life.
When Joe Brown, who lives with Friedreich's ataxia (FA), decided to participate in a study-abroad program in 2016, he knew he'd encounter challenges with accessibility, but he didn't let that stop him.
"On the last day, we were going to go dune bashing and have an evening meal in the desert. Bringing a power wheelchair to the desert is not feasible," Brown says. "The program leaders asked me if I wanted to participate, since I would be without my wheelchair. I think my response was something like, 'Strap me to the roof and put sand goggles on me if you have to!'"
The trip, a weeklong visit to Dubai and Abu Dhabi in the United Arab Emirates, was organized by the University of North Carolina's Kenan-Flagler Business School as part of Brown's undergraduate studies.
From touring the Burj Khalifa, the world's tallest building, to visiting the Sheikh Zayed Grand Mosque, Brown's trip was jam-packed with memorable experiences. "One of my favorite visits was the Dubai campus of Zayed University," he says. "We got to see how very similar people of the same age are, even though we are on the complete opposite sides of the world."
A Good Move
Hugo Trevino joined his first study-abroad program as an undergraduate student at the University of Illinois. "After I went to Costa Rica for the first time, I just became addicted and I wanted to travel abroad again," he says. He participated in programs in China, Hong Kong and Taiwan as an undergraduate, then continued his global adventures in Vietnam as a graduate student at Loyola University Chicago, which he chose partly because the program requires students to study abroad.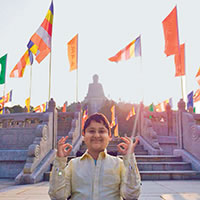 Trevino, who lives with spinal muscular atrophy (SMA), now works as an MDA resource coordinator, and he feels that his study-abroad experience has helped him find jobs. "One of the things I always say whenever I'm getting interviewed is, 'If I was able to study abroad in all of these countries, I'm not going to have a hard time just coming into work every day.' They laugh about that."
Studying abroad helps students develop useful professional and personal skills, such as adaptability, communication, cultural awareness and confidence. This can help launch careers, according to Matthew Rader, assistant vice president of student affairs and dean of students at IES Abroad, which runs study-abroad and internship programs around the world. "Career benefits of studying abroad include increased hireability, jobs secured more quickly after graduation, higher starting salaries and higher acceptance into grad school," he says.
Plan It Out
If you're interested in studying abroad, the first step is to talk with your university's study-abroad office, which can advise you on credit transfer options, financial aid and application processes.
"My advice would be to not go about it alone," says Brown, who depended on the study-abroad department to do the bulk of the planning. "My school had tour guides on the ground in Dubai, and they found out things for us like what is accessible and where to get needed medical equipment. They had plywood ready at one place that did not have a ramp."
Mobility International USA (MIUSA) can help with this planning. Its National Clearinghouse on Disability and Exchange, sponsored by the U.S. Department of State's Bureau of Educational and Cultural Affairs, offers a web resource library with tip sheets and success stories, as well as a free information and referral service.
"People have connected with our office to understand how they can study abroad with different types of disabilities, including physical and sensory disabilities," says Monica Malhotra, MIUSA program manager. "We can offer support and resources to both the student and programs on how they can prepare for an inclusive program. This includes identifying various funding options, connecting with disability organizations abroad and tips for using personal assistants abroad."
Facing Challenges
Each journey comes with its own challenges. For Trevino's trips to Asia, for example, he decided to swap his power wheelchair for a manual one — lighter and foldable — after being warned of accessibility issues.
Overall, his experiences were positive. "I have zero regrets and feel lucky to have been able to experience every single trip," he says. But Vietnam proved to be more inaccessible than Trevino had expected, and it began to take a physical toll on his personal assistant. Trevino had to explain to his professor that though his assistant was there to help make things accessible, he had limits.
"He's not a robot. If he ends up hurting his back, the trip will be over for me," Trevino says. "We had to turn down some of the visits toward the end of the trip."
Brown also had to miss a scheduled class outing because of accessibility problems, but for him it resulted in a positive experience when he was able to arrange a visit to the stadium of the Al-Nasr Sports Club instead. He was even able to meet with a marketing representative for the soccer team, a perfect fit for his academic interest in sports management.
"Dubai is fantastic, but it personally made me feel lucky to live in the United States given my disability," Brown says. "I expected some challenges as far as accessibility, and I got them. But I had a blast regardless."
Where in the world will you go?
A successful study-abroad trip aligns with your academic interests as well as your abilities and taste for adventure. Answer these questions to find the right experience for you.
Academic and personal interests: What are you looking for in a study-abroad experience personally and academically? What countries, cultures or activities interest you?
Accessibility: How accessible is your host country? Will your disability prevent you from participating in certain events, and if so, how will you feel about that?
Comfort level: How adventurous and flexible are you? Would you prefer an English-speaking country? What are your must-haves?
Cost: How will you pay for it? Will you need to pay for extra equipment or a personal assistant's travel and living expenses? What funding is available?
Credit: Will your studies be accepted for academic credit at your university?
Health: What access to medical services do you need, and can your host country provide that? Will you need to bring prescription medicine with you? How might living abroad affect your health and well-being?
Adventures Await
Your university's study-abroad office should be your first stop for information, but these resources can also help:
Abroad With Disabilities empowers students with disabilities to go abroad and offers a scholarship. abroadwithdisabilities.org
Diversity Abroad is a global community of diverse students and programs. diversityabroad.com
IES Abroad runs study-abroad and internship programs around the world. iesabroad.org
Mobility International USA (MIUSA) offers support and advice for studying abroad with a disability. miusa.org
The U.S. Department of State's Bureau of Educational and Cultural Affairs offers scholarships and exchange programs. eca.state.gov
Support for Young Adults
MDA is committed to supporting young adults with neuromuscular disease as they pursue education and seek to live beyond limits. Learn about our resources and how to connect with the young adult community at mda.org/young-adults.
Charmaine Dymond is a freelance writer in Halifax, Canada.
MDA Resource Center: We're Here For You
Our trained specialists are here to provide one-on-one support for every part of your journey. Send a message below or call us at 1-833-ASK-MDA1 (1-833-275-6321). If you live outside the U.S., we may be able to connect you to muscular dystrophy groups in your area, but MDA programs are only available in the U.S.
Request Information