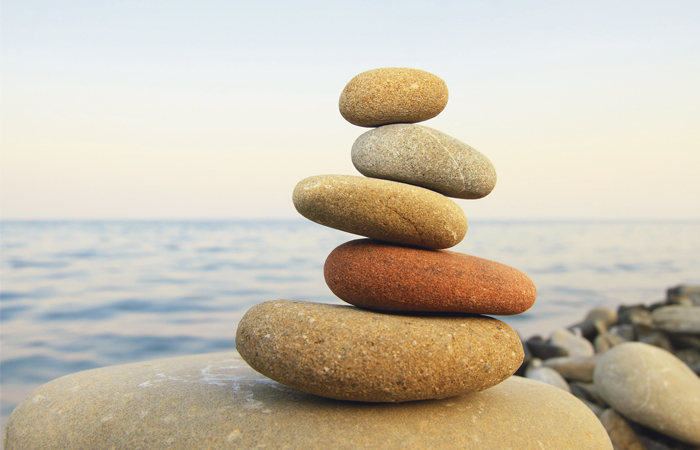 Adaptive yoga provides benefits for everyone, regardless of physical limitations
Editor's Note: Always consult with your MDA physician and MDA Care Center team before beginning any kind of exercise program.
Twenty-eight-year-old Chelsea Singer is not the typical yoga instructor. Her feet are deformed as a result of contractures and stiffened joints. Her hands shake, her knees frequently dislocate, and she lacks sensation in her extremities. Diagnosed with Charcot-Marie-Tooth disease (CMT) at age 11, Singer grew up believing she was frail and found physical activity, such as hiking, painful.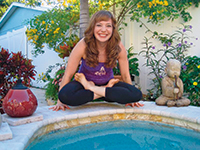 Extremely self-conscious and concerned about her physical abilities, Singer never went barefoot or even considered joining a gym. Reluctantly, she attended a yoga class with a friend and her life was changed. She took classes several times a week and found her sleep was no longer compromised by physical pain. Astounded with how much better she felt, Singer decided to start a new career and teach yoga professionally.
For nearly three years, Singer has taught adaptive yoga classes in conjunction with the Muscular Dystrophy Association and its Charcot-Marie-Tooth support group of Tampa/St. Petersburg, Fla. One of her greatest joys is working with kids at MDA Summer Camp. 
Yoga for you 
How does someone who uses a wheelchair or other mobility aids such as crutches and walkers, get on a mat and twist their body into a yoga pose? 
"It's not just about the physical movement, although that can really benefit people," Singer says. "Yoga is more about the inner experience than the outer experience. For people who have disabilities, I focus on deep breathing and meditation. Even when a pose requires the use of muscles impacted by neuromuscular disease, I tell my students they can close their eyes and visualize the body part that won't move the way they think it should."
Adaptive yoga classes tailor the instruction to the needs and abilities of the individual. If someone has balance issues, they might lean on a chair for support. People who use wheelchairs can do many poses in a seated position. Even those who cannot move their own limbs might have a volunteer or friend who holds their arm and moves it for them. 
Mind and body benefits
Practicing yoga has the potential to provide physical, psychological and social benefits for people with neuromuscular disorders, says Scott Holsten, a physical therapist at the MDA Care Center at Carolinas Medical Center and registered Yoga Alliance teacher. Neuromuscular disorders cause weaknesses resulting in muscle and structural imbalances in the body. These imbalances can limit optimal functional movement and even produce pain. The alignment-centered poses of yoga, which stretch and strengthen specific body parts, can be physically beneficial. 
"This can include stretching tight calves to improve ankle flexibility for better standing, stretching hip flexors that become tight from sitting more frequently to manage back pain and possibly strengthening trunk muscles weakened from lack of use due to sitting in a wheelchair," says Holsten.
Breath control is also a crucial component to practicing yoga. The various types of breathing techniques act as a form of exercise or respiratory training that might improve function.
Yoga's psychological benefits come from increased mindfulness and meditation. "The mindfulness practiced in yoga class can be transitioned to the world off the yoga mat," says Holsten, who finds that people who practice yoga learn to be less reactive to the world.
Exercising and socializing
Taking a yoga class allows one to get away from daily responsibilities and make the time to engage with others, which also may lead to new friendships.
During the yoga class, watch what the other students are doing. If everyone is moving their right arm, you don't want to be moving your left. However, don't get caught up in comparing what you can do with what others are doing. Comparison can lead to going too deep into the pose to look like someone else and result in injury.
"Often going too deep into a pose causes correct alignment to be lost and the benefit of the pose is reduced. For example, rounding the back to get deeper into a hamstring stretch causes the stretch to shift from the hamstrings to the back. Listen to your body. You are there for your benefit not someone else's," says Holsten.
Before joining a yoga studio, talk to the staff about the type of classes available. Speak to the instructor and discuss your limitations. "I always arrive early to class and remind the instructor that my knees easily dislocate," says Singer. Teachers speak to a lot of people. A few minutes discussing your capabilities helps ensure the activity is safe and the instructor can make the necessary modifications to guide you through the class.
Connecting with a class
Finding a yoga class where you feel comfortable takes a bit of searching. The class descriptors may include the word "adaptive" or "accessible," or they may not. Chair yoga is designed for seated participants and might be a good fit for individuals who use wheelchairs for mobility. Many yoga classes marketed to "seniors" are less intense. Some yoga classes are created for those who have a specific medical condition such as arthritis or multiple sclerosis, and may work equally well for someone with a neuromuscular condition. Here are some tips for finding a yoga class that works for you:
• Do a Google search using the terms yoga and the name of your town.  
• Ask your health care team and local MDA office if they know of any classes offered in your area.
• Contact health clubs, city recreation departments, community centers and colleges with leisure learning programs to see if they offer classes.
• Use the Yoga Alliance website to search for teachers and schools.
Barbara Twardowski has Charcot-Marie-Tooth (CMT) disease and uses a power wheelchair. Jim, her husband, is a registered nurse. The couple lives in Louisiana and writes about accessible travel, assistive technology and related issues.
MDA Resource Center: We're Here For You
Our trained specialists are here to provide one-on-one support for every part of your journey. Send a message below or call us at 1-833-ASK-MDA1 (1-833-275-6321). If you live outside the U.S., we may be able to connect you to muscular dystrophy groups in your area, but MDA programs are only available in the U.S.
Request Information