Strength in Numbers: A Walk to Remember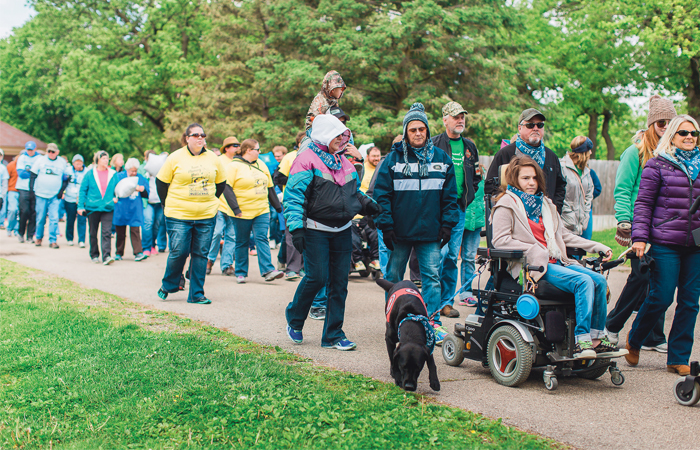 Measuring our progress
"I am the captain of the Muscle Walk team Hope for Harrison. The team walks in honor of Harrison, my son, who was diagnosed with Duchenne muscular dystrophy in the summer of 2011. The biggest reason I support MDA is that MDA is about living a full life, including working to ensure those living with diseases like DMD live long, full lives."  — Jessie Aldridge, parent
---
MDA Muscle Walk is more than a fundraising walk. It's a powerful experience that forges lifelong connections, celebrates families and the barriers they overcome, and turns hope into answers. Every event includes a 1- to 3.1-mile lap designed for participants of all ages and abilities, including a wheelchair and equipment-friendly course. Leading up to the event, participants and teams fundraise to help MDA find research breakthroughs across diseases, care for kids and adults, and empower families with services and support to live longer and grow stronger. 
For more information about Muscle Walk and to find an event near you, visit mdamusclewalk.org.
50,000+ Total number of participants
10,000 Number of teams
150 Number of events each year in hometowns across America
$8.5 million Amount raised last year
$26 million+ Amount raised since Muscle Walk began in 2011
MDA Resource Center: We're Here For You
Our trained specialists are here to provide one-on-one support for every part of your journey. Send a message below or call us at 1-833-ASK-MDA1 (1-833-275-6321). If you live outside the U.S., we may be able to connect you to muscular dystrophy groups in your area, but MDA programs are only available in the U.S.
Request Information