Splish Splash: Easier Ways to Get Clean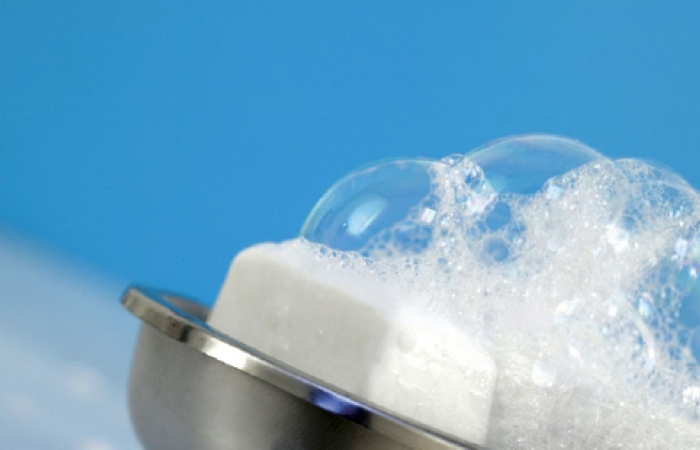 If you have a neuromuscular disease, is there anything more energy-draining than taking a shower or bath?
It's important, though, and not just because you don't want to stink up the joint. Because people with disabilities are more sedentary, they're at greater risk for pressure sores and circulation problems, said Jodi Bales, an occupational therapist (OT) at the Forbes Norris MDA/ALS Center at California Pacific Medical Center in San Francisco. Bathing or showering every two or three days helps to reduce these risks by moving your body around and rubbing off layers of dead skin.
To make keeping clean easier and safer, there are products that make your standard tub and shower more accessible, such as shower chairs and bath lifts; products that allow you to get clean outside the tub such as bidets; and products that allow you to bypass the bathroom entirely, such as portable showers and shampoo basins.
The following selection of assistive products, in a variety of price ranges and complexities, can help make your personal hygiene experience as easy and safe as possible. Also, at the end of this article, Bales shares some tips on simple ways to get clean.
By using one or more of these products, along with the helpful tips from the OT, you may reduce the time and energy it takes to get ready for the day — leaving more time and energy to enjoy your day.
For a more extensive list of manufacturers, ask your local MDA office for a printout. Many products are also available from local durable medical equipment (DME) providers, pharmacies, and home-improvement stores.
Shower and bath chairs

Shower Helper: Sisus

Commode-shower-tub chair: Go Mobility
Multichair 4020: NuProdx

Sliding transfer chair: Eagle Health

Adjustable bath chair: Duralife
Choosing a chair or bench for the bathtub or shower can be an overwhelming experience because there are so many different options.
When deciding on a shower or bath chair, consider your level of mobility, whether you prefer taking baths or showers, whether you'll be assisted by a caregiver, your bathroom setup and where you'll be transferring into the bath chair.
Bath and shower chairs come in a variety of shapes and sizes and range from simple to complex. You even can get a shower chair with a tilt-and-recline feature for pressure relief. Some are made of rust-free metal and others of PVC pipe to make them lighter.
If you can safely transfer into the shower with or without help, a standard shower chair may be just the thing. These usually are less expensive ($45-$380) and range from backless plastic benches to adjustable chairs offering full support. Some fold for travel, have commode cutouts to make personal hygiene easier or come with seatbelts for added safety.
For simple support when you want to soak in the tub, try a bath seat, which holds you in a reclined position. Cost ranges from $325 to $1,800. Most seats are made of PVC and have mesh seats and straps to hold you in place. Because bath seats sit on the bottom of the tub, making transfers difficult, an optional base can raise the seat height.
A mobile shower chair, also known as a roll-in shower wheelchair, is a good solution when your regular wheelchair won't fit through the bathroom door. When a lift is needed to transfer to a shower chair, mobile shower chairs allow transfers to be done in a more convenient location.
Costing from about $200 to $1,700, some have large wheels with hand rims and can be self-propelled, while others must be pushed by a caregiver.
When it's difficult to get into the tub to take a shower, consider a transfer bench. These benches usually are all plastic or plastic with rust-free aluminum legs, and cost from $90 to $1,300. High-end transfer benches are lightweight but sturdy, portable, offer more support and can be used over a toilet.
If you don't have enough trunk control to slide your body on a bench, try a sliding transfer system. These systems have seats that slide over the tub on a track. Sit on the seat, unlock the rollers and pull or have someone slide you into the tub, then lock the rollers. The caregiver just needs to lift your legs and put them in the tub.
Sliding systems run from $160 to $4,200, depending on complexity. Less expensive systems are very simple and made of rust-free metal. Some systems have swivel seats or attach to the lip of the tub.
At the high end of the price range, sliding transfer systems go all out for convenience. Instead of an attached seat, they use a mobile shower chair that can be rolled up to the side of the bathtub or shower and connected to the base unit inside, enabling the seat to slide across. The mobile chair has a commode cutout so it can be used over the toilet prior to bathing.
Bath lifts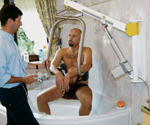 Maybe you've tried to convert yourself into a shower person, but you still long for the relaxation and comfort of a nice, warm bath. The solution: a bath lift.
A bath lift is a battery-operated lift that looks like a chair and lowers to the bottom of the bathtub at the touch of a button. Some bath lifts automatically recline and most have flexible suction feet for secure anchoring. Prices range from $900 to $3,500.
Another safe method of getting into the bathtub is to use a ceiling or wall-mounted lift system with an anti-slip bathing sling or specially-treated metal body support.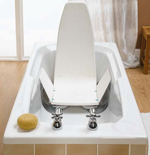 With a ceiling lift system, which costs anywhere from $8,000 to $14,000, the bathtub or shower can be just one stop along the lift's journey through the house. Obviously, a multi-destination lift that travels through doorways is more expensive then a lift that simply takes you from the toilet to the bathtub. Ceiling track installation also plays a part in the cost.
Wall-mounted lifts offer a third solution to the bathtub dilemma. If your ceiling structure won't easily take a track, a lift can be mounted on the wall between the toilet and bathtub. Prices for wall-mounted lifts range from $3,500 to $8,000.
Shampoo basins and trays
Shampoo basins are hard plastic, inflatable plastic or vinyl form-fitting tubs that support the head, neck and shoulders while you're being shampooed in bed.
Shampoo trays allow you to use the kitchen or bathroom sink to shampoo your hair without leaving your wheelchair. Depending on the model, the tray either rests on the wheelchair handles or your shoulders, and the high sides channel the water into the sink.A circular neck rest supports your neck during washing.
Prices for basins and trays range from $30 to $85.
Bidets & sitz baths
Originating in France as a fixture resembling a toilet, the bidet is a personal cleansing system that propels an arc of water into the air, washing the behind after using the toilet. Stand-alone bidet units are popular in parts of Europe, Asia and South America, but here in the United States people tend to prefer bidet attachments that fit the existing toilet.
Bidet prices range from $70 to $650, depending on the number of features.
"I've found that people really need to choose a bidet for themselves because each one has slightly different features," Bales said. "I encourage people to shop around."
There are hand bidets, bidets that attach to the side of the toilet, toilet seat bidets and travel bidets that don't need to connect to a fresh water source. Features include warm water, push-button operation, remote control, air drying, deodorizing and seat warming.
The sitz bath, commonly used by women after childbirth or to relieve hemorrhoids, is another helpful way for those with disabilities to keep clean. They cost between $9 and $69.
Some sitz baths are plastic tubs and others are made out of inflatable vinyl, but all fit over the toilet and are either filled with water directly or through a continuous flow from a tube connected to a bag of water or faucet. Vents in the sitz bath prevent overfilling.
Hand-held shower heads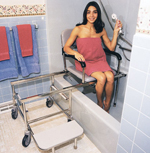 A hand-held shower head makes it possible to shower from a seated position. Prices run from $15 to $212.
A hand-held shower head that replaces your existing shower head either can attach directly to the water pipe coming out of the wall, or to a vertical bar that allows you to adjust the height of the shower head. A third option is a hand-held shower head with a diverter valve that allows you to use either the wall-mounted shower head or the hand-held unit. Hoses for hand-held units usually are 4 to 7 feet long.
Plastic hand-held shower heads are less expensive than steel, but generally don't last as long. Popular features include a variety of water streams from a fine spray to a pulsating massage; water consumption reduction; anti-scald hot water detection; and pause buttons.
Portable showers & baths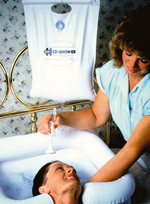 When it's simply not possible to access the bathroom, a portable shower or bathtub is the next best thing. These portable units are good for traveling or as an inexpensive alternative to remodeling the bathroom.
Most portable shower stalls ($650-$4,500) are lightweight and can be folded for easy storage and travel. Some are roll-in showers used with mobile shower chairs, and others have an attached seat that requires a transfer. Some need to be connected to an electric outlet and water faucet; others have their own power and water supply. Most come with a hand-held showerhead for showering, and have a pump or hose to remove excess water.
Portable bathtubs ($400-$800) allow you to take a bath without leaving your bed. These inflatable tubs are made of vinyl or other pliable, mold-resistant material. A hand-held shower head can be hooked up to a nearby sink or bathtub faucet. After the bath, some models have pumps to drain water into a sink or commode; others have a container to capture drain water.
No water supply nearby? Both Homecare Products and Shower Anywhere make bags or boxes that can be filled with water and used with the portable bathtubs or shampoo basins.
No-rinse & sponges
For quick clean-ups, consider a shampoo or body wash that doesn't need to be washed off. One option is the shampoo cap, which fits on your head and contains a no-rinse shampoo that is massaged into your hair. You also can try disposable rinse-free body wipes or washcloths. Prices range from $4 to $16.
These products aren't made to replace bathing or showering altogether, warns Bales. They're fine for temporary use or between baths, but she doesn't recommend no-rinse products for permanent use because, unlike a more rigorous bath or shower, they don't remove dead skin cells, which helps prevent pressure sores.
Long-handled sponges make showering easier, especially for those with limited range of motion, as does a sponge or terrycloth mitt. Prices range from $3 to $22.
Tips from the OT: getting clean
Foot washing
Sit on a shower chair or bathtub transfer bench, plug the tub and fill it with a few inches of water. Or, go get a pedicure for $15. It's relaxing and much more fun than a visit to a podiatrist. Many manicurist shops are set up to accommodate people with physical disabilities.
Slippery soap
Cut off a leg from a pair of pantyhose, put the bar of soap in the toe and tie it onto the faucet or grab bar so that the soap won't drop to the floor of the tub or shower. The soap will lather up right through the pantyhose.
Drying feet
To dry the feet or lower body, try sitting down and using a blow dryer set on low.
Drying hair
Is a blow dryer too heavy to hold? Aquis microfiber towels are super absorbent towels that dry your hair quickly. They're available at Kohl's or Bed Bath & Beyond for $22 and under. You also can get a stand to hold your blow dryer for you; check out www.hairmade.net.
Shower head tricks
To make the hand-held shower head easily accessible, loop the hose through the grab bar or arm of the shower chair. If gripping the hand-held shower head is a problem, try adding a Velcro strap to help you hang on to it.
Hair washing
Arm weakness making it difficult to wash your hair? Try a different body position, such as sitting down in the bathtub or on a shower chair and resting your elbow on a higher level surface, such as the soap dish or a grab bar. Or lower your head to your hand and use your head to move your hand around, instead of moving your hand around to wash your hair.
MDA Resource Center: We're Here For You
Our trained specialists are here to provide one-on-one support for every part of your journey. Send a message below or call us at 1-833-ASK-MDA1 (1-833-275-6321). If you live outside the U.S., we may be able to connect you to muscular dystrophy groups in your area, but MDA programs are only available in the U.S.
Request Information