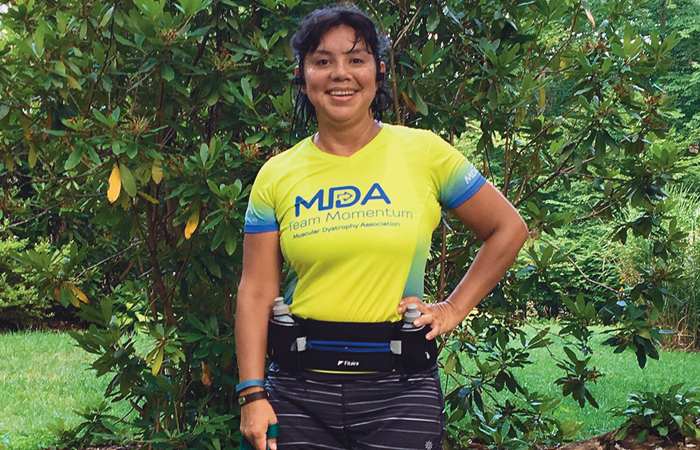 Ava Illingworth turns her daily stress reducer into a way to fundraise for MDA
Ava Illingworth picked up running two years ago as an outlet to burn off some of the stress from her job installing software and interfaces for health care organizations. It wasn't the most likely stress reducer for her, considering she has been living with Charcot-Marie-Tooth disease since she received the diagnosis in 2009 at the age of 35. 
"All the doctors were back and forth on whether I should exercise," Illingworth says. "I tried Pilates, but for me it hurt. And I'm the kind of person who needs to sweat to feel like I had a good workout." 
So Illingworth started running, at first just for her own exercise, but soon she started doing organized races as well. After participating in several 5K and 10K races, Illingworth went looking for a way to support the fight against muscular dystrophy through her running. This brought her to MDA Team Momentum, and her decision to take on the 10K at the 2016 Marine Corps Marathon & 10K in Washington, D.C., Oct. 30.
"By the time I was on the Team Momentum website, I already had around 25 5Ks under my belt and two 10Ks," she says. "I was eager to join a team that was strictly for muscular dystrophy, and they seemed like an open, supportive group to be with." 
And Illingworth has certainly felt the support of her MDA Team Momentum teammates. While living in Delaware made it difficult to attend all of the D.C.-based Team Momentum group practices, Illingworth did make the trip for the kickoff practice. 
"It was four hours of driving for an hour-and-a-half run, but it was worth it," she says. "It was awesome to see everyone face to face and to hear their connection [to the cause]." 
The support continued past that trip on social media and video chat. Illingworth and her teammates posted encouragement for each other often. So much so that Illingworth said her dog, Candace, who runs with her and is often a part of her posts, has become an unofficial mascot for the group. 
Heading into October's home stretch, Illingworth had raised almost $2,000 for MDA Team Momentum, exceeding her goal of $1,600.  
Join MDA Team Momentum Today
To find out how you can join MDA Team Momentum and run to support the fight against muscular dystrophy, visit mdateam.org. Upcoming races include the Dallas Marathon and Half-Marathon (Dec. 11) and the Miami Marathon and Half-Marathon (Jan. 29).
MDA Resource Center: We're Here For You
Our trained specialists are here to provide one-on-one support for every part of your journey. Send a message below or call us at 1-833-ASK-MDA1 (1-833-275-6321). If you live outside the U.S., we may be able to connect you to muscular dystrophy groups in your area, but MDA programs are only available in the U.S.
Request Information