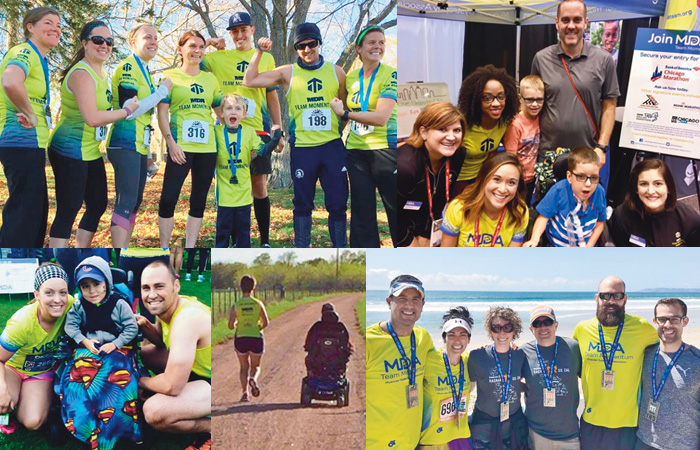 The faces and places of MDA Team Momentum
MDA Team Momentum participates in a dozen (and counting) marathon and half-marathon events every year. These events feature hundreds of runners and walkers who raise money for MDA, and they take place all across the United States, from San Diego to Chicago to Boston.
Here are some of the groups of runners who have made an impact fundraising for and raising awareness of MDA. 
Sterling Procter, who has inclusion-body myositis, supports his wife, Carol Anne, as she trains for the Chicago Marathon.
Patrick Sawhill, (in gray shirt) of Traverse City, Mich., has run five marathons (and counting) with Team Momentum for his son, Finley (in blue shirt), who has nemaline myopathy.
Tonya Jones (center) recruited friends and family to run the SoCal Ragnar Relay in honor of her grandfather, who had ALS.
Mason, age 8, lives with a type of congenital myopathy. Along with his mom, Alicia Miro (center), and other members of the Mason's Movers team, he has participated in three half marathons and the Marine Corps Marathon.
Jon and Stephanie Betts started the team Henry's Heroes in honor of their son, who was diagnosed with congenital muscular dystrophy. Each year, along with friends and family, they run in the Chicago Marathon and other races. They also serve as an MDA ambassador family for teams across the country.
---
MDA Team Momentum
Join MDA Team Momentum to cross the most meaningful finish line of your life. Upcoming events include the Superheroes Half Marathon Weekend (Nov. 9-12, Anaheim, Calif.) and Dallas Marathon (Dec. 10). Our spring 2018 events will be unveiled in October. Get involved with MDA Team Momentum today.
Read More MDA Team Momentum Stories on Strongly
To say MDA Team Momentum participants are passionate may be an understatement. These athletes push the boundaries of what they have known to be physically possible and raise thousands of dollars in the hopes that there will someday be cures for neuromuscular diseases.These athletes come from all different walks of life and each has a different reason for running. Every Team Momentum story is unique and inspirational, and we've had the chance to introduce you to many team members over the years. Want to join their ranks? To motivate you, we have compiled a list (in no particular order) of the most heartwarming stories guaranteed to give you all of the feels. We dare you to try not being inspired. Read more ...
MDA Resource Center: We're Here For You
Our trained specialists are here to provide one-on-one support for every part of your journey. Send a message below or call us at 1-833-ASK-MDA1 (1-833-275-6321). If you live outside the U.S., we may be able to connect you to muscular dystrophy groups in your area, but MDA services are only available in the U.S.