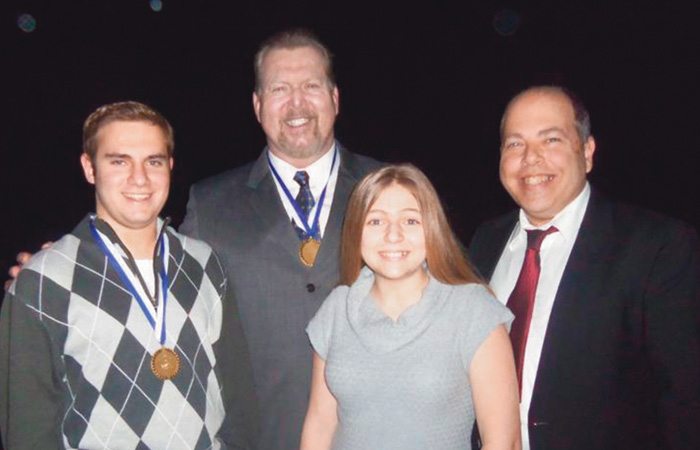 Andrew Baker is a dedicated student and competitive swimmer at Brandeis University
When he was younger, Andrew Baker, a 21-year-old junior at Brandeis University in Waltham, Mass., who has Charcot-Marie-Tooth disease (CMT), knew he wanted to compete. He tried baseball and soccer, but found that with his CMT he was unable to be a competitive player. Serendipitously, he was recommended swimming as a form of physical therapy, and with some encouragement from his younger sister who also has CMT, he decided to try swimming competitively.
"Water is a great equalizer," he says. "In the water, you can fly. I fell in love with the sport because of its accessibility and because I could be a part of something as a team."
Baker's first tryout in seventh grade didn't land him a spot on the swim team, but he came back the next year and earned his place on the team with his improved skills and a passion for the sport. Baker carried his passion through high school to his college career, and he now competes as a swimmer for the Brandeis Judges, where he has formed a strong bond with his team. 
"The camaraderie is a huge part of why I love swimming," Baker says. "My team at Brandeis is really supportive and understanding."
Beyond his swimming and schoolwork — he is currently studying international relations and Russian with a minor in health policy — Baker also has been an MDA Ambassador, an MDA Summer Camp counselor and an MDA Muscle Team volunteer. After discussing his experiences as an ambassador and at MDA Muscle Team with his coaches and swim team captains, they wanted to help him give back.
In 2015, the Brandeis Judges volunteered at the MDA Boston Muscle Team Gala, assisting with the silent auction and acting as runners for the live auction. They came back in 2016 to help again but were unable to participate in the 2017 Gala because it occurred on the same weekend as their championship. They are planning to come back next year. 
"The entirety of Brandeis is a huge family, and we all support each other in our personal and academic endeavors, and this is my team's way of supporting me," Baker says. "It's an amazing time. Not only getting to give back to MDA, but I'll admit it is fun seeing the sports stars. You get a little starstruck."
Baker knows firsthand how important giving back is, having seen both sides of MDA Summer Camp as a camper and a counselor. 
"Being able to go to Summer Camp and do activities I wouldn't normally do, like riding in a motorcycle, was a fun experience," he says. "But it was also the experience of seeing how many other kids there were, both with similar conditions to mine and with far more severe conditions. It made me appreciate my own condition, and it was actually for that reason that I came back to be a counselor."
While Baker has been a counselor for two summers, he was unable to participate last year. Instead, he worked as an intern in the Office of Civil Rights in Washington, D.C. 
"I was able to learn how to process and complete cases of discrimination, and I was trained on equal employment opportunity processes," Baker says. "I actually got my first professional article published through the U.S. Department of State."
Baker plans to build on his experiences in D.C., as well as his internship this summer where he will be working on the Boston Children's Hospital's Healthmap program. He will be translating and cataloguing information on disability cases occurring in Russia and former Soviet Union countries, as he pursues an eventual career in disability law. 
"I started Brandeis wanting to be a biomedical engineer," he says, "but I also really had a passion for Russian, and I wanted to find a career that combined my passion for Russian with helping people with disabilities. I took a disability awareness class my freshman year that helped fuel my passion and showed me there is a career that combines disability policy and Russian."
---
Connect with MDA's Young Adult Program
MDA's Young Adult Program is committed to supporting individuals with neuromuscular diseases navigating education, employment and independent living through resources, programming and community connections. Learn more by visiting the Young Adult Program on MDA's website.
MDA Resource Center: We're Here For You
Our trained specialists are here to provide one-on-one support for every part of your journey. Send a message below or call us at 1-833-ASK-MDA1 (1-833-275-6321). If you live outside the U.S., we may be able to connect you to muscular dystrophy groups in your area, but MDA programs are only available in the U.S.
Request Information