Artist with ALS takes inspiration from her surroundings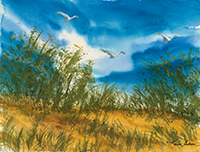 Karen Condron's passion for painting dates back to her first art lessons in 1968, but she only began showing her work at festivals in 2013, the same year she was diagnosed with bulbar-onset ALS. When ALS begins in the bulbar motor neurons, the muscles used for swallowing and speaking often are affected first.
As her ALS progressed, Karen lost her ability to speak. But, she is still able to express herself through her paintings, many of which are inspired by her favorite places. Peaceful, forested scenes and windswept coastlines populated by birds soaring over crashing waves are common subjects. She paints from her memory and imagination, recalling the surroundings around her Connecticut home and summers at the beach.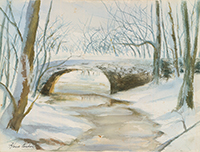 Jim, her husband, says Karen was active before her diagnosis, enjoying running and swimming. Although she can no longer run, Karen is still able to paint and exercise, and she stays involved in their community. Throughout her journey as an artist and adjustments to living with ALS, Karen credits Jim with being her rock.
"He helps me all day with all my needs, and he is the most important thing to me," she communicates via email.
---
Artful Expression
Read about another inspired artist, AJ Brockman, who is living with spinal muscular atrophy (SMA) and paints the world using cutting-edge technology and his left index finger.
MDA Resource Center: We're Here For You
Our trained specialists are here to provide one-on-one support for every part of your journey. Send a message below or call us at 1-833-ASK-MDA1 (1-833-275-6321). If you live outside the U.S., we may be able to connect you to muscular dystrophy groups in your area, but MDA programs are only available in the U.S.
Request Information