Passion Projects: Q&A with Author and Filmmaker Crystal Emery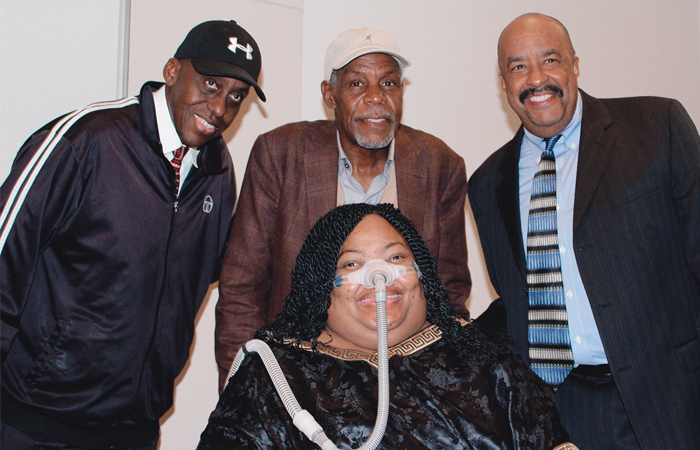 Author, producer and filmmaker Crystal Emery, who has Charcot-Marie-Tooth disease (CMT), wrote and directed her first play in the fifth grade, and she hasn't stopped telling stories since then. She's currently touring the country with her documentary film, "Black Women in Medicine," which can be seen on PBS, and her foundation, URU, The Right To Be Inc. Quest spoke with Emery over the phone about the film, her passion for the arts and more.
You've been writing and directing since fifth grade. How did you end up where you are now? 
I was born this way. When I was in fourth or fifth grade, I would direct episodes of Green Hornet and Kato versus Batman and Robin. In kindergarten, I did my first acting in a play. It wasn't a conscious choice; I literally was born an artist.
I was an actress, but [due to my CMT] in high school I started walking with a limp. By the time I got to college, nobody was casting or hiring an actress walking with a limp, and I had always loved directing, so I just morphed from acting to directing. 
What drew you to "Black Women in Medicine" as a subject?
I started out directing feature films, and the documentary thing was something somebody challenged me on. The universe has a way of directing you where you should be. While I was in the process of trying to get a job with a well-known person in the arts, I was asked by a group of doctors to interview another doctor and through that I met these wonderful women. I'm a storyteller, and they had extraordinary stories. My heart was moved — it wasn't a strategic-type thing — I didn't research them at all. It was really just a heart vibration. 
Why should readers check out "Black Women in Medicine"? 
It's about the trial of the human spirit. Working against all odds. People tell us in the disability community that you can't. Or they don't help you or they make it more difficult because they can't see through their limited viewpoints. "Black Women in Medicine," and all of the doctors featured, show that it doesn't matter where you come from or what your circumstances are — you can still overcome that. 
It's about faith and determination. I just spoke at a TEDx talk, and the talk was about the intersection of race, gender and disability, and how it's like a car crash, yet you can ride out of those ashes. Is it easy? Hell no, it is not. My film is showing in New York now, and I can't even go to the theater because it's not wheelchair accessible, but did that keep me from making the film? 
What are some of the highlights of traveling the country with your film?
Having Danny Glover host the screening of your film makes it worth going to California. But it really is the response from young people who say I always dreamed of becoming something and when I heard you speak and I saw the movie, I realized I could
do it. 
What advice do you have for readers, especially younger readers, who want to get involved in the arts?
I would give anybody the same advice: Follow your heart. I live off my creativity, and I wake up every day loving what I do, so on the days when the wheelchair breaks, or when we rented [an accessible] van and it broke, I remember that I love what I do. If you love what you're doing, nothing can stop you. 
What do you like to do for fun?
I create all the time. When I'm blowing off steam, I'm creating recipes, sitting in the kitchen telling the home health aide how to cook. 
MDA Resource Center: We're Here For You
Our trained specialists are here to provide one-on-one support for every part of your journey. Send a message below or call us at 1-833-ASK-MDA1 (1-833-275-6321). If you live outside the U.S., we may be able to connect you to muscular dystrophy groups in your area, but MDA programs are only available in the U.S.
Request Information