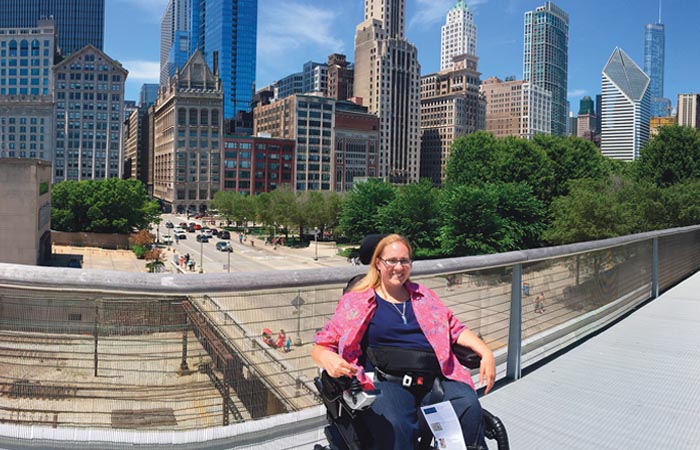 Sometimes conquering fear of the uncertain and finding a world of possibilities is just a train ride away
Have you ever felt trapped, isolated or suffocated by transportation-related issues? I'm sure those of you who use a wheelchair, like I do — I have spinal muscular atrophy — or rely on some other form of mobility aid have felt these things a time or two. I know I have. But in the past couple of years, I've been determined to face my greatest fear, which includes transportation and so much more: risk-taking. 
I love reliability and dependability. I do things I know I can do, and I try things that I'm at least 95 percent certain I will be able to do. But the things I'm really unsure of can take me months, or even years, to work up the courage to do. For me, certain forms of travel always held this level of especially scary uncertainty.
My parents and I moved to Illinois in 1999 after I graduated from George Mason University in Fairfax, Va. Northern Virginia is a pretty wheelchair-accessible place. They have taxis, trains and buses specifically for wheelchair users. Interestingly, when I moved to Illinois, the unknown created an internal fear that things wouldn't be as accessible. And frankly, at that time, the level of accessibility in Chicago and its surrounding suburbs wasn't as comprehensive as it is now. At the same time, I was really excited and felt very privileged when I received my driver's license and my first modified minivan in 2001. However, the density of downtown Chicago traffic and the expense of paying for accessible parking were too much for me. I've never acquired the confidence to drive in that kind of traffic, and I'm unwilling to pay such outrageous prices for parking. 
For years, I had been deeply yearning to try the Metra train system, the Chicago metro area's commuter railroad, but I was too afraid. I knew from experience that northern Virginia's equivalent Metro train was somewhat accessible, but I recalled that you had to cross a gap between the platform and the train to ride. This gap was only about 3 to 5 inches wide, and my previous power wheelchairs had big wheels in the front and back, so this was never an issue. However, my more recent wheelchairs, including my current one, have smaller wheels, which made me nervous about getting caught in a gap like this. In fact, I had such an intense fear of this happening that I refused to even go to a Metra train station here in Illinois to see if that's how its system worked. 
Can you imagine getting your tires stuck in this gap? I'd have nightmares of being run over by a train. It was frightening. 
Let's jump to July 2015. A good friend of mine lives in Chicago. He loves downtown and all the sites you can see. I confessed to him that I secretly longed to ride the train and explore the city, and that for the last year I've been trying to work up the courage to just figure it out and go. "What's stopping you?" he asked. I replied with a list of excuses that were wrapped around my fears. Afterward, he visited Union Station in downtown Chicago and talked with the conductors about the process of traveling. He even took pictures of the platform and a proposed walk we'd take from Union Station to the Art Institute. He also made a video showing me parts of the journey. 
Not long after that, on July 12, I faced the uncertainties and conquered my fear. My friend's support and encouragement before and during the entire trip helped me see the limitless possibilities of the Metra train system. Of course, there is a process we have to take, and it's best to know that process ahead of time. 
Yes, there is a gap between the train and platforms at some stations, but Metra trains are equipped with lifts that extend out of the train onto the platform. You simply ride onto the lift base, and it brings you up to the entrance of the train car. You can either go left or right into the car of your choosing. There are even places for your wheelchair. However, there are no straps to hold you down. For me, this didn't really matter. I felt safe and secure. There aren't any seatbelts for the other riders either; we're all the same. A conductor walks through the cars asking for tickets; you either pay for one ahead of time or do so on the spot. 
Our destination that day, Union Station, had ramps and was very accessible. And that was it! I was in downtown Chicago, which has crosswalks and cutout sidewalks on every corner. There also are accessible buses with fairly convenient schedules, as well as wheelchair taxis, but you do need to call ahead a day or two to schedule that option.
It's incredible all the things I can do now. I've come to realize that facing fear with a bit of love, support and encouragement from someone special can make all the difference in life. So my advice to everyone reading this? Never let fear stand in your way of seeing the possibilities that await you. Exploration increases enlightenment, self-confidence and self-worth. So go for it — take the risk and enjoy the adventure today!    
Jacqueline Johnson is a leading expert in holistic counseling, life coaching and spiritual well-being. Her focus is on reconstructing self-related issues to bring about total and long-lasting changes. For details, visit jacquelinemariejohnson.com. 
MDA Resource Center: We're Here For You
Our trained specialists are here to provide one-on-one support for every part of your journey. Send a message below or call us at 1-833-ASK-MDA1 (1-833-275-6321). If you live outside the U.S., we may be able to connect you to muscular dystrophy groups in your area, but MDA programs are only available in the U.S.
Request Information