Meet MDA's National Ambassadors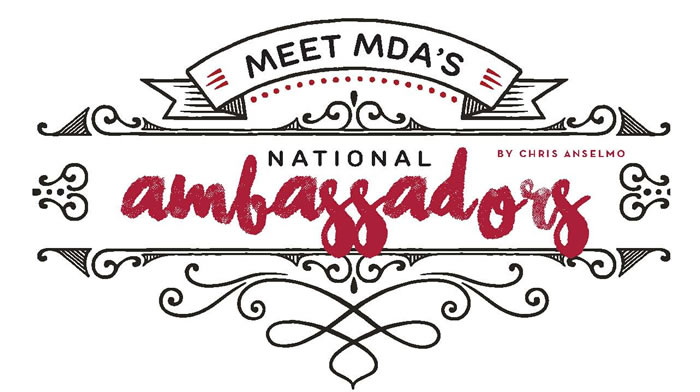 These poised young spokespeople represent individuals and families living with neuromuscular disease
There was a palpable buzz in the air on March 12 at the kickoff of the 2018 MDA Clinical Conference in Arlington, Va. The announcement of the new MDA National Ambassador was one of the most-anticipated elements of the day, and the crowd was excited to learn that this year, MDA has not one but two National Ambassadors: 6-year-old Faith Fortenberry of Waco, Texas, and 17-year-old Justin Moy of Concord, Mass.
The new ambassadors took the stage without a hint of nervousness in front of an audience of more than 700 people, many of whom were clinicians and researchers. Faith's mother, Leeann, addressed the crowd first, sharing Faith's journey with spinal muscular atrophy (SMA) and how her life has been positively affected by Spinraza, one of the breakthrough drugs approved by the FDA in recent years. When her mom finished, Faith introduced herself and thanked the crowd for helping kids like her.
Next, the audience enjoyed a video from the 2012 MDA telethon featuring a 12-year-old Justin. Afterward, Justin took the stage and threw out a quip about how much he has grown up since that telethon. Although he started with a moment of levity, the rest of Justin's speech left the room breathless. He shared his personal story about how he chooses to ignore the limitations of living with congenital muscular dystrophy (CMD), and how he looks forward to the opportunity to inspire others and spread hope throughout the country.
By the end of their introductions, it was clear to everyone in attendance that Faith and Justin would make ideal ambassadors.
MDA's Signature Program
Faith and Justin, MDA's 41st and 42nd National Ambassadors, continue the tradition of MDA's signature program. They take over for Joe Akmakjian, who served a two-year term as MDA's first young adult National Ambassador.
MDA National Ambassadors play an essential role in representing the thousands of people living with neuromuscular disease and spreading the word of MDA's life-saving mission. Throughout the year, they'll travel around the country to forge better connections with MDA families, engage with MDA's partners and champion improved services for individuals living with neuromuscular disease. In addition, Faith and Justin will share their experiences with the MDA community in blog posts and on social media.
"We are honored to have Faith and Justin, and their families, represent MDA as National Ambassadors this year," says MDA President and CEO Lynn O'Connor Vos. "These young individuals have incredible and different stories to share. I know that they will do a fantastic job for MDA during this exciting time in our organization's history, as we seek to build on the momentum of recent therapeutic successes, further our mission to provide the best quality of care and empower individuals and their families to Live Unlimited."
Faith Fortenberry
Many MDA Clinical Conference attendees met Faith the night before the announcement, when she sped around the ballroom of the Hyatt Regency Crystal City in her power wheelchair handing out cups of water to passersby. With her jovial personality and boundless energy, Faith quickly made friends. "She loves talking to new people," Leeann says.
Faith lives in Waco with her parents, Leeann and Don. Diagnosed with SMA at 17 months, Faith has used a power wheelchair from a young age. As she grew, Faith had limited use of her arms and was frequently hospitalized with respiratory infections. That all changed last May, when Faith began receiving treatments of Spinraza, the only FDA-approved drug for SMA. The results have been dramatic.
"Our little girl went from being hospitalized every three months — we almost lost her the first time — to no respiratory stays since she started Spinraza," Leeann says. Faith can now open her markers at school, roll over in bed and pull herself up in her stander, things she could never do before. "She has so much more independence," Leeann says.
Spinraza, which was the product of years of MDA-backed research, has helped redefine what is possible in Faith's life. "You can always do anything that you want to do," Faith says.
Spinraza has given kids like Faith this message of hope that the Fortenberrys are excited to share with MDA partners throughout the country.
Justin Moy
MDA's Live Unlimited motto is a core ideal of Justin's life. The recent high school graduate will be attending college in the fall with the hopes of becoming a researcher.
"I want to become a biochemist," Justin says. "I want to go into academic research or work for a pharmaceutical company so that I can help find a cure for my disease."
Justin was diagnosed with CMD at the age of 6 months and has always needed a wheelchair to get around, but he has never looked at life in terms of what he cannot do. This attitude is a testament to his parents, Prow Sarnsethsiri and Chris Moy, who have always encouraged him to dream big. "He can put forth a message that with our challenges we can still live life and pursue opportunities," Prow says.
MDA has been a major factor in Justin's life, providing him and his family with resources and support, along with exciting opportunities such as MDA Summer Camp. "Summer Camp is one of the best experiences," Justin says. "It provides independence and was a great opportunity for me to meet other kids with conditions similar to mine."
At MDA Summer Camp, Justin met counselor Alex Funez, who became his good friend. Recently, Alex pushed Justin in a half marathon and accompanied him on a trip
to Japan.
As a National Ambassador, Justin is excited to use his platform to empower others. "It is my belief that anyone, no matter their abilities, should take advantage of every opportunity that comes their way," he says.
Fun Facts About Faith and Justin
Faith Fortenberry
She loves to play softball, cheer, sing and dance.
Her favorite school subject is math.
If she has a favorite chore, it would be loading the dishwasher.
Her favorite food is mac and cheese.
The place she is most excited to visit as a National Ambassador is New York City.
Justin Moy
He collects pins.
He has traveled to 39 states and six countries, his favorite of which is Thailand.
His favorite food is sushi.
He enjoys having fun outdoors, especially adaptive biking and skiing.
He loves to sing. This year, he was in his high school's production of "Guys and Dolls."
Keep Up with Faith and Justin
During their year as National Ambassadors, Faith Fortenberry and Justin Moy will share their experiences with the MDA community. Keep up with them by connecting with MDA on Facebook (facebook.com/MDANational), Twitter (@MDAnews) and Instagram (mda_usa). Also, look for their updates on the Strongly blog at strongly.mda.org.
Chris Anselmo is a Connecticut- based freelance writer living with Miyoshi myopathy. He chronicles his journey with the disease at sidewalksandstairwells.com.
MDA Resource Center: We're Here For You
Our trained specialists are here to provide one-on-one support for every part of your journey. Send a message below or call us at 1-833-ASK-MDA1 (1-833-275-6321). If you live outside the U.S., we may be able to connect you to muscular dystrophy groups in your area, but MDA programs are only available in the U.S.
Request Information