MDA Team Momentum: Running Strong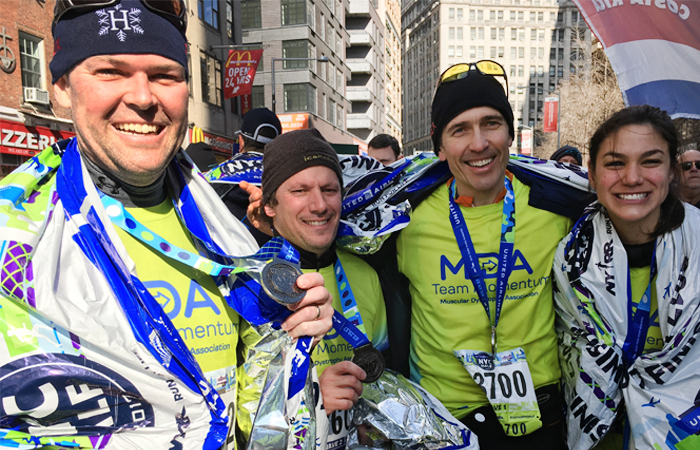 Every year, hundreds of endurance runners combine their passion for the sport with their passion for MDA, raising thousands of dollars for MDA. Matt Kendall (pictured above on the left), father of 5-year-old Archer who has Duchenne muscular dystrophy (DMD), raised more than $50,000 when he ran the United Airlines NYC Half-Marathon with MDA Team Momentum in March. 
"We want to fund more promising trials," Kendall says. "There is a lot of research out there that needs capital to get to the next level toward disease-modifying therapy. The opportunity is now."
Join runners like Kendall who are supporting MDA at one of the many races where MDA Team Momentum will participate in spring 2018, including:
• NYRR United Airlines NYC Half, New York, NY — March 18, 2018
• Reebok Ragnar So Cal, Southern, CA — April 6–7, 2018
• Boston Marathon Presented by John Hancock, Boston, MA — April 16, 2018
• Chicago Spring Half Marathon & 10K, Chicago, IL — May 20, 2018
• Boston's Run to Remember Half Marathon & 5 Mile, Boston, MA — May 27, 2018
---
Get Involved with MDA Team Momentum
Join MDA Team Momentum to cross the most meaningful finish line of your life. Get involved with MDA Team Momentum today.
Read More MDA Team Momentum Stories on Strongly
To say MDA Team Momentum participants are passionate may be an understatement. These athletes push the boundaries of what they have known to be physically possible and raise thousands of dollars in the hopes that there will someday be cures for neuromuscular diseases.These athletes come from all different walks of life and each has a different reason for running. Every Team Momentum story is unique and inspirational, and we've had the chance to introduce you to many team members over the years. Want to join their ranks? Read more about Matt Kendall and his son, and be sure to check out Strongly for so many more heartwarming stories guaranteed to give you all of the feels. We dare you to try not being inspired.
MDA Resource Center: We're Here For You
Our trained specialists are here to provide one-on-one support for every part of your journey. Send a message below or call us at 1-833-ASK-MDA1 (1-833-275-6321). If you live outside the U.S., we may be able to connect you to muscular dystrophy groups in your area, but MDA services are only available in the U.S.