MDA Muscle Walk: Walking the Walk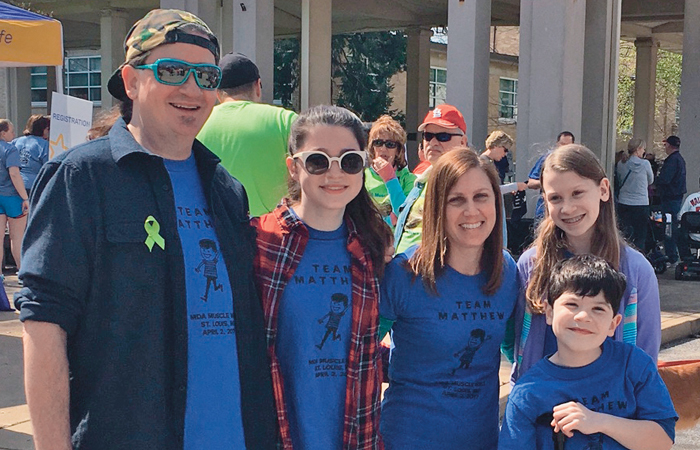 Team Matthew brings in more than $24,000 for MDA Muscle Walk
Tammy Silver and John Nash created Team Matthew, an MDA Muscle Walk team named in honor of their 9-year-old son who has Duchenne muscular dystrophy (DMD), on a whim last year. Even though they claim they didn't do much
planning, they raised more than $7,000. 
"That encouraged us to start early this year," Nash says. "And we ended up being No. 4 in the nation." 
Team Matthew raised more than $24,000 this year through many different avenues: social media, the family's friends and relatives, and Nash's work in the wine industry. Beyond feeling great about raising money for a cure, the experience of being at the MDA Muscle Walk of St. Louis provided the family with fond memories. 
"This year, we had a bunch of relatives, and it was almost like a family reunion," Silver says. "And just seeing all the other families that were there was awesome.... There's so much camaraderie — everyone is out there doing what they can."
Silver also appreciates that the money helps to send children like Matthew to MDA Summer Camp, where kids grow in independence and learn important life skills. Matthew himself has attended MDA Summer Camp for the past three years and he loves the accessible activities, especially swimming. 
Matthew also participated in the phase 3 clinical trial of eteplirsen (brand name Exondys 51), and he has seen great results. 
"It's made a huge difference," Silver says. "Luckily, they were having the trial [at a location that was] a 20-minute commute from where we live. We're blessed to be so close." 
---
Get Involved Today
Help bring strength to life at your local MDA Muscle Walk by getting involved today. Find your local walk, register and begin recruiting your family and friends.
MDA Resource Center: We're Here For You
Our trained specialists are here to provide one-on-one support for every part of your journey. Send a message below or call us at 1-833-ASK-MDA1 (1-833-275-6321). If you live outside the U.S., we may be able to connect you to muscular dystrophy groups in your area, but MDA programs are only available in the U.S.
Request Information