Living Unlimited Across America
A word from our CEO
This summer, MDA launched a new campaign called Live Unlimited that was inspired by the stories of individuals and families we serve. Together with our MDA community, we've challenged Americans to defy their limits — those we sometimes place on ourselves and those defined by others — and live life to the fullest. 
This campaign has sparked a national conversation about the importance of living without limits and redefining what is possible. Many of you have shared your enthusiastic responses to what we're doing — we love hearing from our families.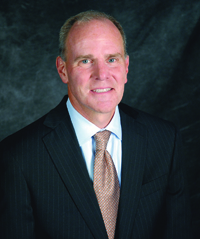 As an extension of this campaign, I'm pleased to share an update on the bold five-year strategic plan we launched last year to effectively and consistently advance lifesaving research, provide best-in-class care and enhance quality of life with important services and support. 
Here's a glimpse at new and improved offerings you can expect from MDA: 
Cure
• Clinical trial finder tool on mda.org to better connect families with trials for which they are eligible 
• More clinical trials at MDA Care Centers 
• Doubled research funding, including co-funding research with sister organizations to maximize impact
Care
• Enhanced experience and outcomes at MDA Care Centers through a quality improvement collaborative project at 20 Care Centers this year — results will be published and used at all Care Centers
• Piloting several new programs, including a project to reach families unable to travel to MDA Care Centers and another aimed at better transitioning individuals with pediatric-onset neuromuscular diseases to the adult care environment
• Expansion of MDA's Neuromuscular Disease Registry to learn more about neuromuscular disease and expedite clinical trial recruitment 
Champion
• New MDA National Resource Center, which launched this month, to provide families one-on-one support from trained specialists
• More robust programming for young adults, including a new webinar series and interactive online tools 
• Increasing public policy and advocacy efforts to help families with neuromuscular diseases
My hope is that the work we are doing together will help every individual living with a neuromuscular disease live longer, grow stronger and continue living unlimited. In this issue, you will read about individuals and families in the MDA community who are living unlimited every day. I encourage you to visit mda.org/LiveUnlimited to read more stories and share your own Live Unlimited moments. 
Thank you for your partnership as we work together for strength, independence and life. 
Steven M. Derks
President and CEO
Muscular Dystrophy Association
MDA Resource Center: We're Here For You
Our trained specialists are here to provide one-on-one support for every part of your journey. Send a message below or call us at 1-833-ASK-MDA1 (1-833-275-6321). If you live outside the U.S., we may be able to connect you to muscular dystrophy groups in your area, but MDA programs are only available in the U.S.
Request Information