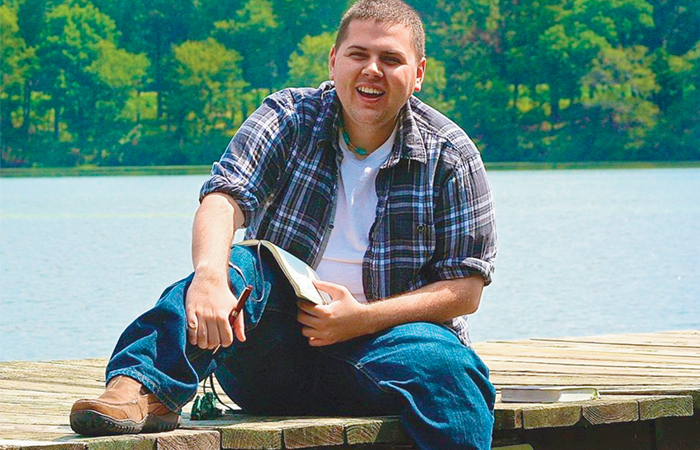 Recovering from an injury helps redefine what it means to be independent
My understanding of the concept of independence recently blew up in my face. Part of independence, for me, has been my ability to live on my own. In fact, I live 1,200 miles away from any relatives. Sure, I cannot walk very far, but a massive part of embracing my freedom has been my ability to drive, to travel and to go where I want when I want. 
Well, on June 16, 2016, I stood up from my scooter, like any other day, but my body had a plan of its own. My ankle rolled, fracturing on both sides. I was devastated, and fear smacked me in the face harder than my knees hit the pavement. 
I have to admit upfront that breaking any of my bones has been a deep fear since I was old enough to realize what simple injuries and illnesses can do to someone like me. I have been terrified for years about how something like a broken ankle could strip me completely of the independence I have worked so hard to attain. 
I am writing this article to share with you that months and months after my accident, I am still not 100 percent healed. The injury took a lot from me: time, energy, financial stability. But it did not strip me of my independence. No, it just redefined independence for me.
Did my family have to drive cross-country to pick me up from a hospital and drive me back to their home so I could recover safely? Yes.
Did I have to take a leave of absence from a job that I love? Yes.
Was I unable to drive for more than two months and walk for more than three months? Yes.
But did that steal my independence? No. 
I would be lying if I did not admit that on many days I felt like all of my independence was gone. Looking back, though, I know that my independence is not defined by my physical abilities, even though they seem inseparable.
My independence is found in my will and drive to do what I can, to accept help when I need it and to embrace interdependence as my mantra. 
Interdependence is a term that is making its rounds throughout the disability community. The concept is simply that no person — no matter their ability — is meant to tackle life alone. The concept states that people of all abilities have something priceless to bring to the table that is human relationships. 
To accommodate me, my parents literally had to tear down a wall and rearrange their lives. My pride took a lot of hits from the emotional and financial toll I was taking on my family. But that perception is quite flawed. Interdependence says that as much as I needed to accept assistance with my daily routine, my family was also depending on me to do what I could. To try when I was tired of struggling. To speak with love and encouragement when bitterness was overwhelming my spirit. 
Independence the way many in our culture view it is an extremely self-seeking concept. It reverberates with a voice that says, "I don't need you; I can do this myself." While interdependence announces, "I can do this better with you at my side; let's grow together from this experience." 
In many ways my injury was a nightmare, but it never reduced my worth or what I could bring to the table of human relationships. I know firsthand the fear that causes us to avoid trying something new and how even the concept of independence can be a chain that holds us down. If I could call you to any action, it would be to embrace interdependence as the true form of what human relationships are supposed to look like. 
For a while, I could only see what I felt my injury took away from my already "limited" independence. Now, I see that I looked my greatest fear in the eyes and conquered it. I got an extra three or four months to see family I rarely get to see. I got to take a breath and evaluate my life and come back stronger than ever. 
I had the wild idea of documenting the harshest parts of my recovery, which I did, and I posted the 10-minute mini-documentary on Facebook for my organization, Break the Roof, in November 2016. I wanted to take my experiences and give people without disabilities a behind-the-scenes look into our obstacles. More importantly, I wanted to show others like myself that if injury is your greatest fear, you have nothing left to fear. 
If you have nothing left to fear, what are your deepest desires that would make you soar? Utilize interdependence to go full force after what makes you feel independent and free. Maybe it is telling stories, knitting, working with kids, raising animals or counseling friends. What matters is that it makes you feel like the fullest version of you. Go after it, and leave fear behind.
Matt Curcio, 26, is a speaker, writer and advocate living with a non-specific congenital myopathy in Nashville. In 2016, he founded Break the Roof, a disability advocacy organization. His recovery mini-documentary is also accessible through these websites.
---
Read More Personal Stories
Read stories from around the MDA community — and share your own — on Strongly, the MDA blog. Visit the blog to find personal stories from individuals living with neuromuscular diseases, research news, fun videos and more. If you're interested in sharing your story on Strongly, contact us at strongly@mdausa.org.
MDA Resource Center: We're Here For You
Our trained specialists are here to provide one-on-one support for every part of your journey. Send a message below or call us at 1-833-ASK-MDA1 (1-833-275-6321). If you live outside the U.S., we may be able to connect you to muscular dystrophy groups in your area, but MDA programs are only available in the U.S.
Request Information