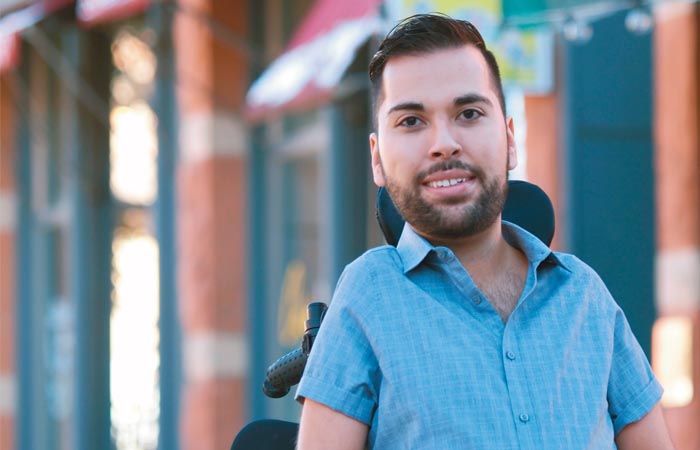 MDA's revitalized brand strategy puts families first as we strive to increase urgency and action to save and improve lives
Joseph (Joe) Akmakjian, who was diagnosed with type 2 spinal muscular atrophy (SMA) when he was 15 months old, will turn 25 this year. In 2015, to celebrate his 24th birthday and doubling his life expectancy, he didn't have the standard cake and ice cream with friends and family. Instead, he and 11 friends went skydiving to mark the occasion. Akmakjian was securely strapped to his skydiving instructor, wore a neck brace, and his arms were restrained across his chest. As he got ready to feel the wind on his face at 120 miles per hour, he shouted, "YOLO!" short for "You only live once."
"My dream is to inspire all types of people to live beyond their perceived limitations and achieve the success inside them," Akmakjian says. 
But it isn't defying limits, like jumping out of a plane, that Akmakjian is most proud of each day. 
"People often see my wheelchair and my physical limitations and think about the things I can't do," Akmakjian explains. "The No. 1 question people ask me is what I would do if I could walk. The truth is, I'm redefining what's possible and doing remarkable things every day. 
"For me, defying limits has many meanings. While skydiving was an amazing experience I'll never forget, I need to also recognize the simpler accomplishments I've made — like learning how to cross the street on my own, being active in nightlife with friends, graduating college and beginning my career by entering the workforce independently. That's what living unlimited means to me."
Listening to MDA families
The challenges and limits courageous individuals with neuromuscular diseases like Akmakjian and their families are overcoming every day are the inspiration behind MDA's revitalized brand and new campaign, which launched in January in New York City — the very place where MDA first started.
In June 1950, founder Paul Cohen gathered a group of individuals with a personal connection to muscular dystrophy to advance research to end this disease. Today, MDA's refreshed brand and inspiring consumer campaign represent its relentless commitment to fulfilling Cohen's lifelong dream of freeing individuals — and the families who love them — from the devastating effects of muscle-debilitating diseases so they can live longer and grow stronger.
After hearing from thousands of MDA families, donors and potential supporters, MDA launched a refreshed logo, updated messaging and a new look and feel to more accurately represent the needs and desires of the people it serves — with families at the center of its mission. 
"MDA was started by families, for families. Families are at the heart of our mission, and we wanted to make sure our brand truly reflects that," says MDA Chief Marketing & Communications Officer Steve Ford. 
The heart in the center of the new logo represents all the kids and adults MDA serves, and the bright marigold color symbolizes optimism for the future as MDA works to find research breakthroughs across diseases, care for kids and adults from day one and empower families with enhanced services and support in hometowns across America. 
"While our new visual identity tested extraordinarily well when we surveyed families and donors, MDA's brand revitalization is not about a new logo or tagline. It's about delivering on our mission with excellence," Ford explains.
Living beyond limits
In addition to looking and sounding more modern, passionate and personal — all things families and donors said they wanted to see more visibly from MDA — the organization has launched a new campaign called Live Unlimited.
"For individuals like me, the world often imposes man-made limits on us," Akmakjian explains. "People see that I can't walk or that I need help from others for the majority of my daily activities. It may be easy to see what we're limited by, but it's more important to know that with MDA's support we can defy limits and live life to the fullest."
Live Unlimited is the newest MDA fundraising platform that will engage corporate partners and consumers, starting this summer, to support MDA's lifesaving work. It's inspired by MDA families and amplified by everyday Americans to celebrate what we can do and be relentless in our pursuit to make more can-do moments possible. 
"Live Unlimited is a steadfast belief that every child and adult should be free from the harm and physical limits of muscular dystrophy, ALS and related life-threatening diseases," says MDA CEO Steven M. Derks. "We can all relate to facing limits in life, and we can all feel proud when we turn perceived 'can'ts' into 'cans.'" 
MDA's Live Unlimited movement is designed to rally supporters around taking urgent action to help make more moments, opportunities and dreams possible for MDA families — because everyone deserves to live unlimited. MDA families can expect to see more about the campaign, including how they can get involved in the coming days and weeks. (To meet a few of the MDA profile families for Live Unlimited, read the sidebar above and on page 25.)
A new face
To help rally the nation around this important cause, Joe Akmakjian will be MDA's new National Goodwill Ambassador for 2016, serving as a family spokesman and driving force for change for the organization. He has been involved with MDA since he was 6 years old, having served as a State Goodwill Ambassador and camper in his younger years, and today as brand champion in his home state of Colorado. He's most excited about helping forge better connections between families, engaging with current and prospective sponsors, deepening MDA's reach among millennials and helping champion improved services for young adults transitioning from childhood to adulthood.
"Joe is an incredible example of how the work MDA is doing thanks to our supporters is helping kids live into adulthood and thrive," Derks notes. "But there are still too many individuals and loved ones who we are losing too soon to these devastating diseases. We believe our refreshed brand and Live Unlimited campaign will help re-engage Americans in a conversation and inspire urgently needed action and donations to find more treatments and cures."
More information about MDA's new Live Unlimited campaign will be available over the coming days and weeks. For ongoing updates about the campaign, including how you and your family can get involved, visit mda.org. 
What MDA's New Brand Means for Families
As part of MDA's new brand, you can expect to see:
A newly designed mda.org with better information that is easier to find, including a special area for the newly diagnosed.  
A new MDA blog that will share engaging, weekly content from neuromuscular disease experts and families on everything from breaking research updates to first-person family stories and daily living tips.
Revitalized services for families, including new care standards to enhance our MDA Care Centers (formerly called MDA Clinics). 
A new resource center opening in 2016 that will connect families with trained experts to find information, resources and emotional support.
More promotion and story sharing across digital channels like social media and in stores with new partners this summer. 
Revamped logos for all of MDA's community programs that are consistent with the new visual identity and that better connect each initiative back to the organization and its families.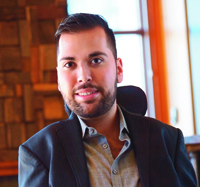 Meet MDA National Goodwill Ambassador Joe Akmakjian
Age: 24
Location: Fort Collins, Colo. 
College: Colorado State University (2013)
Degree: Bachelor's degree in Journalism and Public Relations, with a double major in Speech and Communication Studies
Current job: Marketing director for a local pain management clinic
Family: Dad is a surgeon, mom is a registered nurse, and has two sisters
Favorite food: Happy Hour Tapas
MDA experience: Has spoken on behalf of MDA for 18 years and is a former State Goodwill Ambassador for Colorado (2007 and 2008)
Best MDA moments: Too many to choose just one — developing greater independence at MDA Summer Camp, interacting with our heroes, the fire fighters, and being asked to serve as MDA National Goodwill Ambassador
Interests: Enjoys swimming, craft beer and red wine, live music, dancing, festivals, traveling and doing anything fun with friends
MDA Families Living Unlimited
Ethan Lybrand is a bit of a daredevil. He enjoys playing with Transformers, going down the slide at the playground and spending time with his family. Ethan dreams of being a train engineer or a pilot when he grows up.  
Six-year-old Ethan received a diagnosis of Duchenne muscular dystrophy (DMD) two days before his second birthday. As his mom, Jordan Lybrand, explains, Ethan is living life to the fullest.
"We don't tell Ethan he cannot do this or cannot do that because of DMD," Jordan says. "We let him live life every day without a care in the world. We encourage him to do that by simply living each day to the fullest and making each day better than the one before."
Ethan gets tired quickly, falls and has trouble climbing and jumping, but in spite of these daily challenges, the Lybrand family "just keeps moving on, taking one day at a time, one moment at a time and making it the best possible."
In this way, the Lybrands, like thousands of other MDA families, exemplify the spirit of MDA's Live Unlimited campaign. As such, the family's wish for Ethan is to grow up fighting back against limitations and to never give in to statistics or challenges that may come along with this diagnosis. 
"Our dream is for Ethan to live a full long life, full of happiness and adventure," Jordan explains. "Our dream for Ethan is to not be upset with his diagnosis but to use it to share a story of overcoming and living like there is no tomorrow, no matter what he faces in life. In reality, shouldn't we all be doing this regardless?"
For other families traveling along a similar journey, Jordan adds, "Slow down. The statistics are in the back of your head constantly, but you cannot let them hold you back. Fight back, keep living, take it one day at a time and enjoy every minute. Live unlimited."
What Live Unlimited Means to Me
Sarah Coglianese, 37, received a diagnosis of ALS (amyotrophic lateral sclerosis) in 2012. She is a wife and mother, and along with her sister, Liz, was featured in a 2015 Quest article on the role of sibling caregivers. Sarah and her family are now also an MDA profile family for the new Live Unlimited campaign.  Here, Sarah shares a little about herself and her approach to living unlimited.
On how she is trying to make more can-do moments possible and how she's trying to live unlimited in spite of the daily challenges of living with ALS:
"I face many challenges as a result of living with ALS, but by focusing on the good things in my life and the things that I can do, I take back some of the power in the situation. It's my goal to be an example of strength for my daughter, and that guides my actions and behavior every day. It allows me to live beyond my physical limitations because there's so much more involved in day-to-day life. There are a lot of different ways to be strong, and despite my illness, I'm able to find happiness and purpose every day."
On finding happiness and strength in the little moments that we sometimes take for granted:
"I think I've always been able to find happiness in the little things. A nice long walk, a cup of tea, reading a book with my daughter, learning something new. So even if I'm now in a wheelchair for that long walk, I'm still deeply appreciative of my ability to be a part of it. Something I particularly love is holding my daughter, Scarlett, on my lap and either reading to her, or telling her a story, or watching a movie. Just being with her makes me so happy." 
On facing limitations she never anticipated:
"It's important to me to feel like I'm still making a contribution in the world despite facing limitations that I never anticipated. Being with my family, writing and taking a really active role in my life are all ways that I defy the limitations placed on me by ALS. My life is so much more than just this disease."
To read more about Sarah's story, read My Brother's (or Sister's) Keeper.
MDA Resource Center: We're Here For You
Our trained specialists are here to provide one-on-one support for every part of your journey. Send a message below or call us at 1-833-ASK-MDA1 (1-833-275-6321). If you live outside the U.S., we may be able to connect you to muscular dystrophy groups in your area, but MDA programs are only available in the U.S.
Request Information