Four Steps to Booking a Hotel Room for Wheelchair Users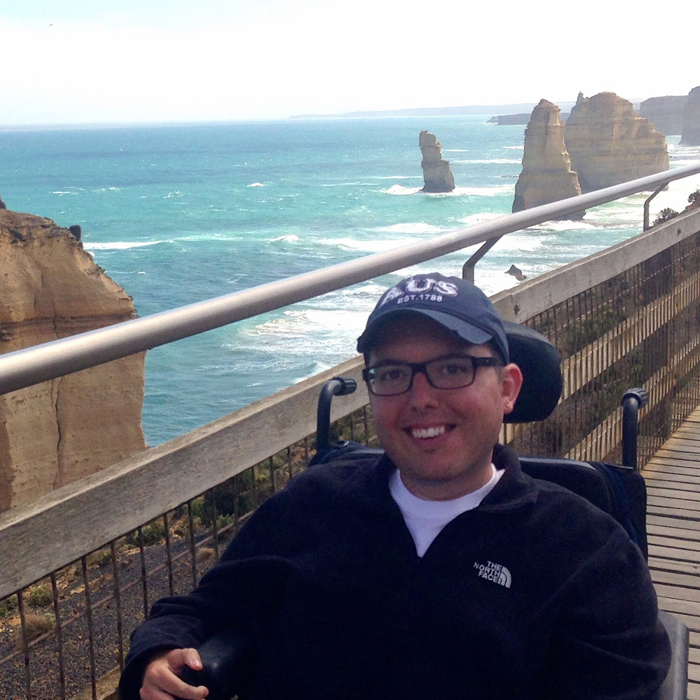 As an avid traveler who happens to be a wheelchair user, I do my fair share of booking hotels. It's a complicated process that I've somewhat mastered over the years. While most people can just go online and book their ideal hotel in a matter of minutes, it's not quite that easy for us wheelchair users. I recently called a hotel to ask if they were accessible, and they told me that they certainly were. After inquiring further, I learned that the only accessible feature they offered was an elevator, the doorway to get in the room wasn't wide enough for a wheelchair, and there was no roll-in shower or any other amenities that I need in a great stay.
This situation has happened multiple times while planning my travels, and I hope that this guide to booking hotels will make the process easier for you the next time you travel. Trust me, there's nothing worse than arriving at a hotel to discover that it really isn't as accessible as you had hoped.
Step 1: Browse Options Online
I know, I know — I just said that it's not enough to simply research a hotel online ... but this is still the best way to begin the process. Sites like Trivago, Expedia, TripAdvisor and more are excellent resources to find hotels in your desired location, compare prices and look up amenities. They often have great deals too!
During this step, you can create a list of possible options. But before you get clicker-happy and hit that "Book" button, it's quite likely that you'll need more details … which brings us to Step 2.
Step 2: Call the Hotel
If you're unsure about anything you see online, or just to confirm what you do see, it's imperative to actually call the hotel and speak to a representative. The word "accessible" can mean so many different things to different people. So, to discover what "accessible" means to the hotel you're interested in, as well as to confirm the presence of any features you see online, it's always a good idea to call … which brings us to Step 3.
Step 3: Ask Specific Questions About Accessibility 
While each wheelchair user has different requirements and preferences, below are some possible questions to ask while you're on the phone with a hotel representative:
1. What accessible features does your hotel have?
If it doesn't specify online, it's always good to find out what a hotel means when they say that they're "accessible." You'll probably want to ask more specific questions about some of these features (we'll cover more of those below), but first you should get a general lay of the land — ramps, elevators, handicapped parking and any other features they mention are good to know about.
2. What accessible features do rooms have?
Again, this may be specified online, but it's a good idea to tally up and confirm the features each hotel offers. If you're not satisfied with the answers you receive, or need additional information, consider some of the specific questions below.
3. Does the room have a roll-in shower?
Remember my example above? Not all hotels that say they're "accessible" actually have features that many wheelchair users need in order to be able to function properly. This is why it's essential to ask specifically if the shower is a roll-in one or a bath tub.
4. Are there grab bars located around the toilet and shower?
While grab bars are usually included in the definition of an "accessible room," you can never be too sure, especially if you're traveling to another country and you don't know much about their accessibility rules and regulations. Thus, it's always good to check about grab bars, and make sure that you ask if they're provided near both the toilet and the shower.
5. Is a shower chair provided? If so, what type?
Even hotels that boast roll-in showers don't always have shower chairs, and even hotels with shower chairs don't always have the type you need or prefer. This is probably one of the most important questions on the list, because what good is a roll-in shower with grab bars if you're still not actually able to sit in a shower chair and use it?
6. How much space is under the bed?
In this case, it's good to ask for a specific measurement in inches or centimeters. I usually bring a Hoyer lift with me when I travel — a device that helps me get out of my wheelchair and into bed, and vice-versa. It must be able to slide under the bed, so I always make a point of asking for a precise measurement before booking a room.
7. Are the accessible rooms located on the first floor?
It's best to be prepared for any situation. Elevators are obviously fantastic, but if the accessible room is a penthouse — or even just a couple floors from the ground — that won't help wheelchair users in the case of a fire. Because of this, you always want to make sure that the accessible rooms are located on the ground floor.
Step 4: Ask for Photos of the Room
If you're worried about the setup or how spacious the room is, it's a good idea to ask for photos of the hotel's accessible room. After double-checking that it's right for you, you'll feel even more confident when you decide to make a reservation!
Cory Lee is a 26-year-old travel addict, wheelchair user and blogger with spinal muscular atrophy at CurbFreeWithCoryLee.com.  
MDA Resource Center: We're Here For You
Our trained specialists are here to provide one-on-one support for every part of your journey. Send a message below or call us at 1-833-ASK-MDA1 (1-833-275-6321). If you live outside the U.S., we may be able to connect you to muscular dystrophy groups in your area, but MDA programs are only available in the U.S.
Request Information