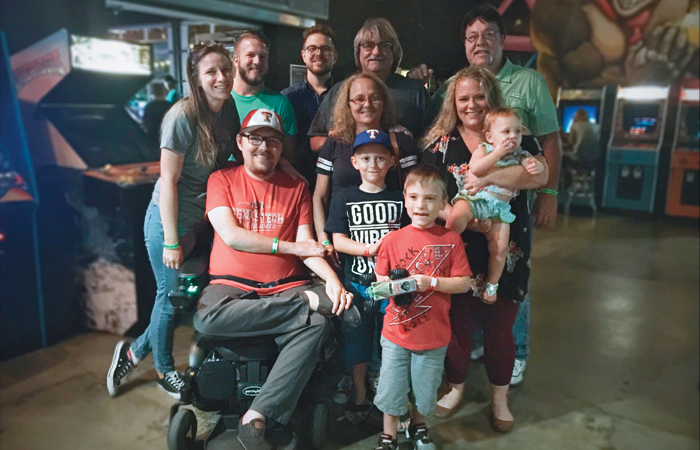 A high school play sets the stage for a career in the arts
Matt Plummer, a 30-year-old graphic, web and thatrical designer in Fort Worth, Texas, will never forget the role that introduced him to the world of theater and art during his sophomore year of high school: Townsperson No. 3 in Arthur Miller's The Crucible. 
"I think a lot of people in my situation have a hard time expressing themselves," says Plummer, who lives with spinal muscular atrophy (SMA). "That experience really gave me a creative, artistic outlet to express myself and everything about me."
Plummer credits his high school theater experience with helping him find a passion that he turned into a career. "The most important thing for me was finding a way out of my comfort zone," he says. "That led to things professionally, and personally it made me a happier and better person." 
After high school, Plummer studied theater in college and earned a Master of Fine Arts in design from Texas Tech University. During his studies, he used his talents to design promotional materials and sets for stage productions. Currently, he works at Odessa College as a graphic and web design specialist. 
Recently, the Odessa Arts organization selected Plummer for a project to beautify the city's traffic boxes. He designed a series of artistic coverings that promote literacy, reflecting the city's One Book Odessa program.
---
Make It Meaningful
Find your passion, and get involved in the MDA community in a way that's meaningful for you. Learn more about how you can get involved, and be sure to visit MDA's volunteer hub to discover volunteer opportunities where you live.
MDA Resource Center: We're Here For You
Our trained specialists are here to provide one-on-one support for every part of your journey. Send a message below or call us at 1-833-ASK-MDA1 (1-833-275-6321). If you live outside the U.S., we may be able to connect you to muscular dystrophy groups in your area, but MDA programs are only available in the U.S.
Request Information