Declare Your Independence with a Wheelchair-Accessible Vehicle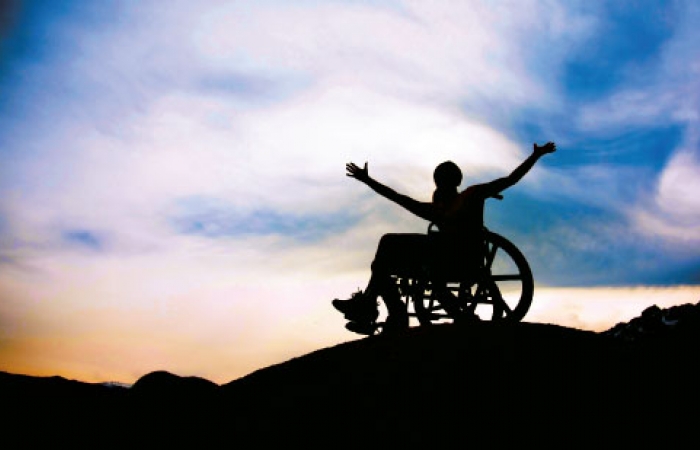 A look at what's new in 2011 for getting you out on the open road
Freedom. That's what it's all about, isn't it? A wheelchair shouldn't be a barrier to getting out and about, whether for work, day-to-day living or pleasure.
Finding the right vehicle means analyzing your needs. Do you want to ride in your wheelchair or transfer to the vehicle's seat? Will you be the driver or the passenger? If your muscle weakness is still progressing, how will your accessibility needs change down the line — and how can you accommodate them now?
What kind of vehicle do you want: car, minivan, van, truck, SUV or motorcycle? New or used? After-market conversion or built for accessibility from the start? Side or rear entry?
A great place to start answering questions is at the website for the National Mobility Equipment Dealers Association (866-948-8341). The NMEDA website is a treasure trove of tips for finding the right vehicle. One valuable tool is an accessible vehicle dealer locator — just type in your ZIP code to find local dealers.
Of course, in purchasing a vehicle, monetary concerns always come into play. The NMEDA site offers various directions to take in finding government funding and public assistance. You'll also find tips on buying auto insurance, numerous blogs on accessible-vehicle-related subjects and info on many travel accessories to make life easier on the road.
Because of the tremendous number of variables, it's not possible to give exact prices for the minivans featured here. However, we can provide some figures that will give you a ballpark idea of accessible vehicle pricing.
New side-entry converted minivans range from around $48,000 to $68,000.
New rear-entry converted minivans with manually operated fold-out ramps start in the low $40,000s.
You can find 3-year-old minivans with brand-new conversions starting in the low $30,000s.
For those with severe muscle weakness who want to drive their vehicle themselves, certified driver rehabilitation specialists (CDRS)can evaluate your needs, and provide a prescription for adapted driving equipment and driver training. To locate a CDRS near you, contact the Association for Driver Rehabilitation Specialists at (866) 672-9466. (For more on this topic, read Hand Controls Keep You on the Go, July-August 2008 Quest).
As you'll discover, the scope of accessible vehicles is very broad indeed. Here's a sampler of the myriad options currently available in the world of wheelchair-accessible vehicles and conversion equipme
Minivans
BraunAbility's Chrysler Entervan features flexible floor plans
Because wheelchair transportation requirements can change over time,BraunAbility enables buyers to easily configure the floor plan of its Chrysler Entervan. Whether you want to be the driver or the front-seat passenger, removing the appropriate seat is literally a snap: Unlock the seat base and roll the entire seat out of the van.
For easier boarding, the Entervan has an integrated "kneeling" system; while the door is opening, the rear suspension is lowered, reducing the slope of the ramp. To learn more, call (800) 843-5438.
VMI's Honda Odyssey Northstar promotes easy entry
In the side-entry, lowered-floor Honda Odyssey Northstar conversion by VMI, a remote control triggers the PowerKneel System, lowering the vehicle six inches and activating a power ramp that telescopes out from within the interior floor. 
The lower ramp offers a gentler angle, and the unrestricted entry means better maneuverability once inside.
VMI also offers the Summit accessible van conversion featuring a power fold-out, heavy-duty ramp system with an anti-rattle mechanism. It also has the power kneeling feature. To learn more, call (800) 348-VANS.
Consider rear entry, says Viewpoint Mobility
Believing that entering and exiting the van through the back avoids more barriers, Viewpoint Mobility's Vision rear-entry, lowered-floor modification converts Chrysler, Ford, GM, Honda and Toyota minivans. An automatic remote-control option activates hydraulic technology to lower the vehicle closer to the ground and the ramp to a more comfortable angle for wheelchair access. A less-expensive manual conversion is also available.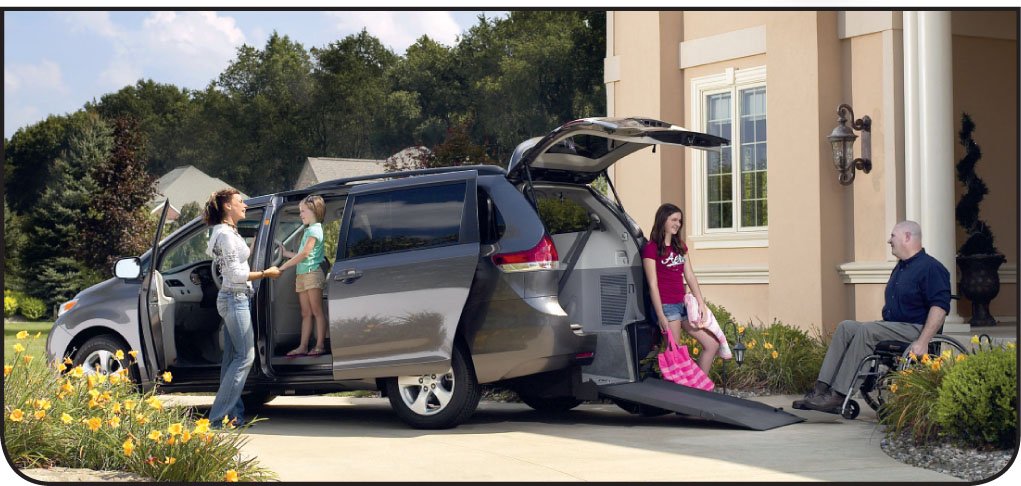 Although rear-entry vehicles don't allow wheelchair users to park in the driver or front-passenger locations, the Vision offers an optional swiveling driver or front-passenger seat that facilitates transferring from the wheelchair. (For more on the rear- versus side-entry question, see Accessible Vehicles Q&A, July-September 2009 Quest.) To learn more, call (877) 368-6022.
'Mobility vehicle' starts out accessible; can go green
VPG's so-called mobility vehicle, the MV-1, rolls right off the assembly line ready to transport a wheelchair user. This car-minivan hybrid is designed from the ground up with accessibility as its top priority and meets or exceeds all ADA guidelines.
The base model, at $40,000, includes standard features such as an integrated deployable ramp, anti-slip floor and ramp surface, Q-Straint wheelchair restraint track system, and a heavy-duty, six-way adjustable driver's seat. The Deluxe model includes a telescoping power access ramp. Both models are equipped with a Ford 4.6L V8 engine. The MV-1 also offers a green option: a compressed natural gas (CNG) fuel system. To learn more, call (877) MV1-FORU.
Rental vehicles
Pick up a Rollx at selected airports
It's now possible to rent a Rollx wheelchair-accessible Dodge or Chrysler minivan at selected airports around the country. Rollx recently announced the availability of accessible vehicles at Thrifty Car Rental, Dollar Rent-a-Car or Payless Car Rental airport counters in Salt Lake City; Denver; Phoenix; Las Vegas; Austin and Killeen, Texas; Billings, Mont. and Panama City Beach, Fla.
New locations are being added, so check their website before your next trip or give them a call. Posted rates at the time of publication were $113 per day with 150 free miles daily. To learn more, call (800) 956-6668.
Cars
Sport an attitude with Freedom Motors' Scion 'xs-able' xB
If you're just not the minivan type, consider Freedom Motors' sporty wheelchair-accessible Scion xB. Click the remote: Simultaneously, the driver's door swings open, the rear driver-side door gull-wings up and the ramp unfolds, ready for you to maneuver your wheelchair into driving position.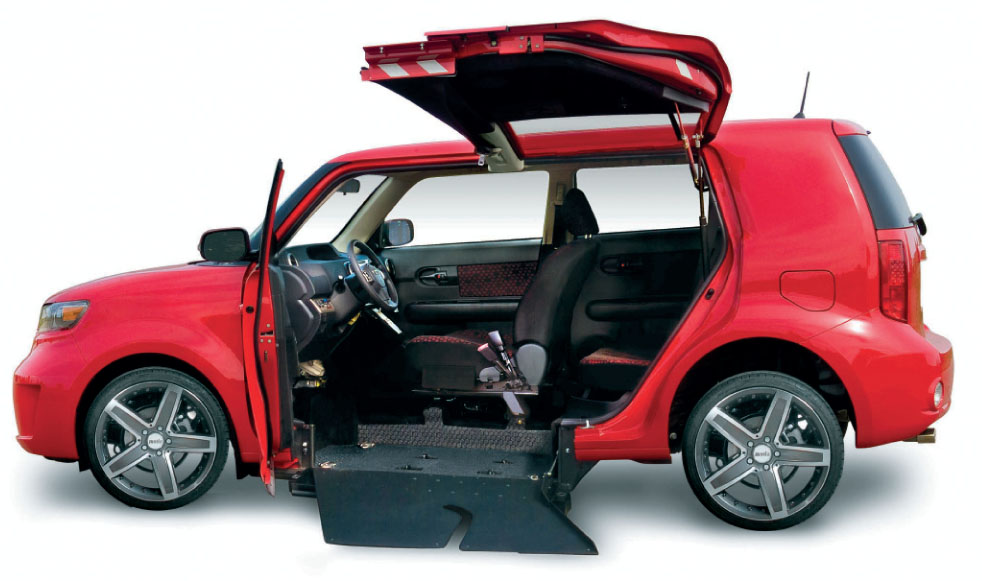 If you won't be driving, a similar conversion can be configured on the passenger side. Or if rear entry suits your needs, Freedom offers that model also. Prices range from the low $30,000s for the manual rear-entry model to the low $40,000s for the automatic side-entry models. To learn more, call (888) 625-6335.
Hand controls
Kempf's footless driving solutions
Kempf's digital accelerator ring coupled with hand brake is designed to make hands only driving safe and easy.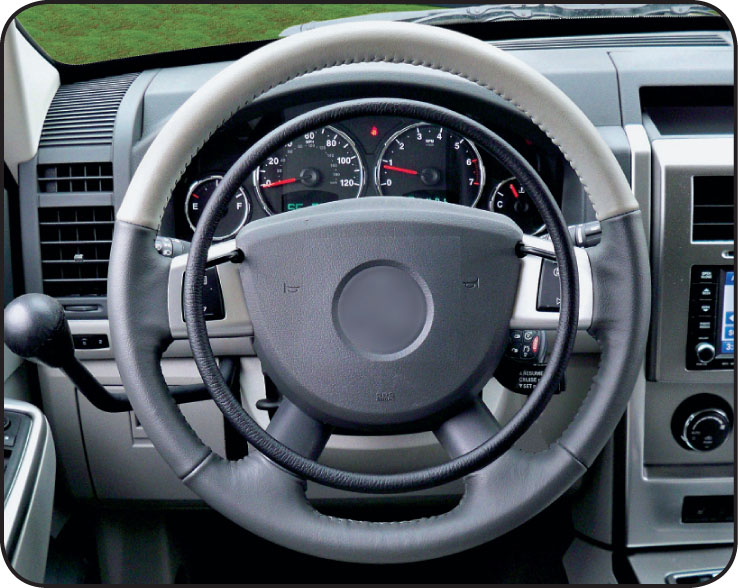 The system can be installed on most cars with automatic transmissions. The accelerator ring is mounted within the vehicle's standard steering wheel, with the hand brake just inches away on either the right or left. Pushing anywhere on the ring smoothly accelerates the vehicle, while pressing downward on the brake knob slows or stops it.
Depending on the make and model of your vehicle, installed prices start around $12,000, which includes transporting the vehicle to and from Kempf's facilities in California or Florida. To learn more, call (888) 453-6738.
Buying used
AMS pre-owned vans are easier on the budget
There's no getting around the fact that wheelchair vans are expensive; retrofitting new vans with accessibility equipment doesn't come cheap. One way to cut costs is to buy a used van to avoid the approximate 30 percent depreciation that happens when buying new. AMS offers many pre-owned vans outfitted with their new conversion equipment which can save buyers as much as $15,000 to $20,000.
Or, if you already have a fairly new Chrysler, Dodge or Volkswagen van, they may be able to convert it for you. Rear-entry conversions start at around $13,000, while side-entry conversions start at around $17,000, not including the price of the vehicle. To learn more, call (800) 775-8267.
Motorcycles
Conquest promotes ultimate freedom
If you can operate a manual wheelchair, you can drive a wheelchair-accessible motorcycle, say the makers of the Conquest touring bike (around $55,000). A remote-controlled drop-down ramp at the rear of the vehicle allows a rider to pull his or her chair into position, secure it with a push-button docking system, and ride off — no transferring necessary.
The bike features a powerful BMW 1170 cc engine, a six-speed, two-button, thumb-operated gear shifter, and a rear-wheel-drive differential. There's also a reverse gear for easier parking and maneuvering. To learn more, call (888) 693-3841.
SUVs and trucks
A Stow-Away lift puts you inside
Bruno doesn't sell wheelchair-accessible vehicles, but they do sell accessibility to vehicles.
Known for their home stair lifts and attachable vehicle lifts for transporting wheelchairs and scooters, they also make an add-on mechanism that will transfer you from a wheelchair up into the seat of a high-profile SUV or pickup.
Mounted directly under the vehicle door in a sealed, protected container, the Stow-Away ($5,000, uninstalled) powers out much like a drawer.
After the rider transfers from a wheelchair to the Stow-Away seat, the lift elevates to the level of the vehicle's seat and the rider self-transfers by sliding sideways.  
Consult local phone listings for a Bruno dealer.
GoShichi's no-transfer conversion for pickups
Being a wheelchair user doesn't mean you have to give up using a pickup truck.GoShichi's conversion (ranging from $50,000 to $55,000) allows either driver-side or passenger-side entry into the cab of a GMC Sierra or Chevy Silverado without ever having to transfer out of the wheelchair.
When activated with the remote control, the door slides out parallel from the cab, along with the lift platform which rests flat on the ground when deployed. The wheelchair user backs onto the platform, which then elevates up and into the cab as the door slides back into the closed position.
To learn more, call (260) 434-4777.
Resources
The Mobility Resource
(866) 771-7770
Features mobility solutions and needs-assessment services
The Association for Driver Rehabilitation Specialists
(866) 672-9466
Helps in locating a driver rehabilitation specialist
Mobility Works
(877) 275-4907 (sales)
(877) 275-4915 (rentals)
Provider of adaptive vehicles and wheelchair lifts
Ride-Away
(888) 743-3292
Provider of vans, modifications and adaptive equipment
Wheelchair Vans of Florida
(941) 451-8194
Provider of accessible vehicles
Mobility Vans USA
(877) 370-8333 
Provider of accessible vehicles
Wheelchair Getaways
(800) 642-2042
Accessible van rentals
Accessible Wheelchair Vans
Tips on buying wheelchair-accessible vehicles
More info from Quest
Accessible Vehicles Q&A
Quest Magazine, July-September, 2009
Hand Controls Keep You on the Go
Quest Magazine, July-August, 2008
Used Adapted Vans Increase Your Buying Power
Quest Magazine, May-June, 2007
Show Me the Money!
Quest Magazine, July-August, 2006
MDA Resource Center: We're Here For You
Our trained specialists are here to provide one-on-one support for every part of your journey. Send a message below or call us at 1-833-ASK-MDA1 (1-833-275-6321). If you live outside the U.S., we may be able to connect you to muscular dystrophy groups in your area, but MDA programs are only available in the U.S.
Request Information