The right cushion makes all the difference in wheelchair comfort
Anyone using a wheelchair, even for a few hours a day, needs to sit on a cushion. The most obvious reason for using a wheelchair cushion is simply to offer general comfort by reducing friction and vibration. A good cushion also can wick away moisture and keep you cool.
More importantly, a quality cushion can protect skin from bruising and breakdown. Pressure sores or ulcers are a serious risk because sitting all day reduces blood flow, as does loss of muscle. Pressure sores can, in the worst cases, lead to hospitalization, surgery and infections, and they reduce the strength of the skin even after they're healed.
Postural support is also crucial. A little bit of scoliosis or asymmetry makes correcting your posture essential in order to avoid any further spinal deformity.
Factoring the right cushion
Not just any cushion will do. There are hundreds of wheelchair cushions to choose from, and the best choice for an individual depends on many factors.
As soon as a person with a neuromuscular disease gets a new wheelchair, the search for the right cushion begins. Consult with your doctor, your physical therapist and an assistive technology specialist. They'll talk with you about your diagnosis and insurance coverage, examine how you sit, and then recommend cushions based on factors that might also include skin breakdowns; asymmetry or scoliosis; sensation; and your body style. They also will consider your ability to shift to relieve pressure and to transfer independently.
Then your doctor will prescribe the best wheelchair cushion for you.
Jeffrey Cupps, an assistive technology professional (ATP) in Baltimore who works closely with people served by MDA, says, "Cushions are dependent on the insurance and whether they code the cushions or not. Medicare requires that you have a certain diagnosis to get a certain cushion." The same applies to Medicaid and private insurance.
Diagnoses of neuromuscular diseases usually meet the guidelines for both pressure-relief and positioning cushions. However, Cupps points out that insurance won't cover wheelchair cushions for those who are still ambulatory and use a wheelchair part time.
Doctors are required to state the diagnosis on the prescription, and often to provide chart notes to back it up. The diagnosis determines which cushions will receive insurance coverage, Cupps says.
Shoppers for cushions should be sure that the ones they prefer have Medicare codes (or HCPCS codes), he advises.
Body type makes a difference. Thin people with less padding over their bones need to be sure their ischial (hip) bones (where the body meets the seat) are well-protected by a cushion. Pelvises come in different sizes, which also influence the choice of cushion.
You also should consider the height of your chosen cushion. The length of footrests, the height of the chair back, the position of armrests and other features are  influenced by how high or low you will be sitting on a cushion. Sometimes a thicker cushion means you can no longer slide under the desk or sink, Cupps points out.
The cushions mentioned here are only a few of those available and are featured to give you an idea of the different types available. If a cushion seems appropriate for you, consult your therapist or ATP to make sure it's what you need.
Most come in standard widths, and some are available in larger sizes at additional cost.
Amovida Motion Comfort
Aquila Airpulse PK2
Columbia Medical Polyair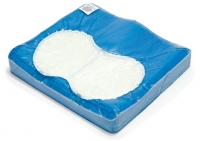 Columbia Medical Duoform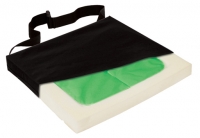 Comfort Company Elements with Gel and Curve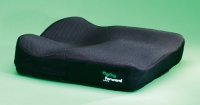 Ride Designs Forward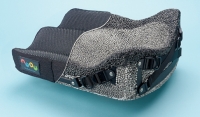 Ride Designs Custom System (cutaway view)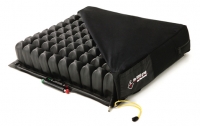 ROHO Group Quadtro (cutaway view)
Star Cushion Galaxy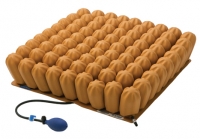 StarLock cushions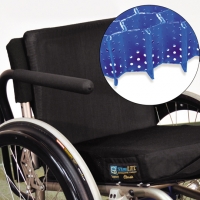 Supracor Stimulite (honeycomb view)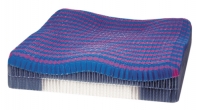 Supracor Contoured XS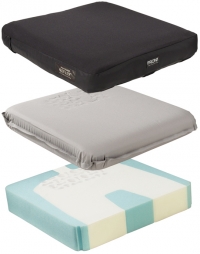 Varilite Reflex
Time to replace your cushion?
Most wheelchair cushions have an expected life of two years or less, with the cheaper foam cushions likely to wear out first.
A worn-out cushion means you have "bottomed out," that is, the cushion is no longer supporting the hip bones and your bottom is sitting on the cushion base with no support and putting you at risk.
Foam cushions simply get thinner. Air and gel cushions can leak and the gel inside a cushion can shift.
As a wheelchair cushion develops wear, it no longer offers comfort, support or protection from sores. Call your physical therapist before you bottom out, or if you notice the beginning of a pressure sore.
Your therapist or ATP can tell you if you're using the cushion in the wrong way or if you're ready for a different type of cushion.
The three major types of wheelchair cushions used by those with neuromuscular diseases are foam, gel and air. Each has its pros and cons.
Foam cushions
Foam cushions are the best known and most often used; they're inexpensive and lightweight.
Basic foam cushions may be used by individuals with good sensation who frequently move themselves in the wheelchair. Other, thicker cushions combine multiple layers of different types of foam. Usually, softer foam is positioned closest to the user with denser foam underneath.
Foam cushions now also possess varying degrees of "memory," holding your shape and adding to stability.
On the downside, foam wears out faster than other materials and loses its shape. Old foam that is compressed can lead to pressure sores.
If you choose a gel or air flotation cushion for daily use, it is a good idea to have a backup foam cushion since gel and air cushions can leak.
Foam wheelchair cushions can cost anywhere from $25 to $600. On the lower end, covers need to be replaced fairly regularly. The higher end of the price scale may cover high-quality memory foams with waterproof, breathable, washable covers and contoured surfaces that will provide the greatest pressure relief and last for many years.
At the lower-priced end are the memory foam, contoured foam, and gel and foam cushions from The Comfort Company, which range from $40 to $92.
Columbia Medical has a cushion of viscoelastic foam that is anatomically shaped for maximum stability. It's priced at $205.
Amovida's Motion and Motion Comfort cushions combine foam with a fluid layer for greater stability and comfort. The surfaces of the cushions contain a layer of 3D mesh, guaranteeing air circulation to help regulate temperature and prevent moisture buildup. They come with waterproof covers and an adjuster kit to generate extra volume in the fluid layer or to provide stability. The Comfort+ model adds a temperature balancing material. Amovida's cushions are priced from $350 to $400.
Ride Designs' Forward Cushion surrounds the pelvis with supportive contours. Air moves between the sitter and the cushion, helping to keep skin dry and cool. The Ride Forward cushion is most appropriate for people with mild to moderate risk for skin breakdown. The price is $390.
Ride also offers Custom System seat cushions that can shift at-risk bony prominences and redistribute pressure to more tolerant areas. They're adjustable to accommodate weight change, tissue atrophy and postural changes. The custom cushions start at $1,590.
Patterson Medical lists a number of foam cushions from different manufacturers, including memory foam and multilayer foam. Cupps says his customers with SMA often prefer foam cushions.
Gel cushions
Gel and fluid cushions are appropriate for people with poor sensation and movement. They can be contoured for postural support and are excellent at pressure distribution. They attempt to replace the consistency and support of atrophied muscle tissue, creating a harder surface than foam. They need careful attention because the gel or fluid can shift, and they may need adjustment or replacement.
Columbia Medical offers Duoform gel and foam cushions, in which the gel is sealed without seams for comfort. Prices range from $230 to $280.
EquaPressure's EquaGel is a dry-polymer gel with enhanced tensile and compression strength and durability. EquaGel cushions also feature column buckling, in which the walls of gel pass weight to surrounding walls when needed. Prices range from $250 to $325.
Cupps finds that young adults with Duchenne MD often prefer gel-style cushions because it's more durable than foam. For people with scoliosis, Cupps typically recommends gel or foam, to help with positioning. A more structured cushion works best in these cases.
Air cushions
Air cushions can provide good pressure distribution when properly inflated. These cushions have multiple interconnected air cells that evenly distribute pressure or can be adjusted to the user's specific needs. The air pressure should be checked often to be sure they're working properly.
Air cushions are frequently chosen by individuals who have a history of pressure sores or those at high risk due to lack of sensation and decreased ability to shift positions.
An ATP can help you set up and properly maintain an air cushion.
Star Cushions' air cushions come in several styles. The Galaxy combines multicellular air technology with a contouring design. The StarLock also features variable air control and contoured cell heights to help address asymmetry. Both cushions are priced from $280 to $390.
Columbia Medical's Polyair comes with its own pressure gauge and chart, allowing users to inflate it accurately. It reduces skin pressure on the hip bones and buttocks and uses a honeycomb design to increase stability. It's priced around $350 to $360. Columbia also has a version, Polyair 100, suited to less active patients at high risk of pressure sores.
Varilite offers several systems using air-foam flotation. They include the Reflex, which is recommended for those at moderate risk of skin breakdown. Priced at $132 to $182, the Reflex combines air with firm foam for the perimeter and medial thigh separator, and medium foam for the thigh troughs and pelvic bucketing.
Cupps likes to start people with ALS with ROHO Group air cushions, which are then replaced as the disease progresses.
ROHO's many types of air cushions include the PostureLITE, a self-adjusting model helpful for those with normal sensation. It's priced at $41 and is 3 inches in height.
ROHO's Quadtro cushions have memory control knobs to lock the air in place in each of four quadrants. It's adjustable for those with poor balance or unusual body shapes. They're priced from $300 to more than $600.
Honeycomb and alternating pressure cushions
Other cushion types that may be suitable for those with neuromuscular diseases include honeycomb and alternating pressure cushions.
Honeycomb cushions have tiny perforations in the honeycomb cells that circulate air and evaporate moisture, keeping the skin cooler and drier. Maintenance is easier than with gel or air cushions. Supracor's Stimulite honeycomb cushion boasts total pressure management. The honeycomb cells flex and compress with movement, stimulating blood flow to enhance circulation. Prices start at $448.
Alternating pressure cushions use an air pump to help those who are unable to perform their own weight shifts to relieve pressure. This is the most expensive type of cushion. Aquila Corp. offers the Airpulse PK and APK2 with adjustable pressure and inflation cycles and antimicrobial covers. Besides helping keep new sores from forming, Aquila says, the cushions can help sores heal. The automatic inflation and deflation changes pressure contact points, stimulates circulation and eliminates the primary cause of skin breakdown and pressure sores.
Each Aquila cushion system is custom-made, with a choice of firmness levels and cycle length. With a remote control, the system costs from $2,000 to $3,000.
MDA Resource Center: We're Here For You
Our trained specialists are here to provide one-on-one support for every part of your journey. Send a message below or call us at 1-833-ASK-MDA1 (1-833-275-6321). If you live outside the U.S., we may be able to connect you to muscular dystrophy groups in your area, but MDA programs are only available in the U.S.
Request Information