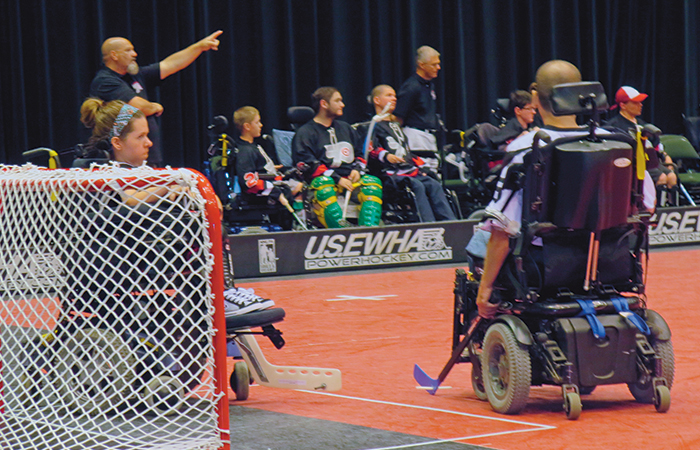 Playing adaptive sports scores health benefits and possibly higher achievement in employment
Scott Hatley, 37, began playing adaptive sports soon after he was diagnosed with Duchenne muscular dystrophy (DMD) at age 4. He began with wheelchair basketball, playing with friends in his garage. From there, he went on to adaptive skiing, wheelchair rugby and a few other activities before finding his current passion, electric hockey. E-hockey relies on battery-powered carts that can zoom up to 10 mph and turn on a dime. 
Swapping out his team jersey for a dress shirt and tie, Hatley is co-founder and development and community relations director of Incight, a Portland, Oregon-based nonprofit created to unlock the potential of people with disabilities through education, employment and independence. Since its debut in 2004, Incight has awarded nearly 800 college scholarships to students with disabilities and sponsored an annual stream of employment and networking events.
Dynamic duo 
While Hatley sees his athletic prowess and business acumen as two distinct sides of himself, a 2015 study from the University of Houston Department of Health and Human Performance suggests otherwise. The study, which surveyed 131 wheelchair rugby and wheelchair basketball athletes, concludes that participating in adaptive sports positively impacts athletes with disabilities and their potential for employment and economic independence. 
According to Michael Cottingham, Ph.D., associate professor and the study's principal investigator, adaptive sports provide a strong social support system, as well as increased self-confidence and a peer-education system. "These factors are probably directly and indirectly impacting employment," Cottingham says. "To what extent we don't yet know, but what seems clear is that disability sport is a catalyst."
Get in the game
Adaptive sports embrace an ever-increasing array of options. In addition to e-hockey and it's close cousin power hockey, Disabled Sports USA's list of available adaptive sports proves that almost any enjoyable activity can be made accessible, from baseball to biathlon and soccer to scuba diving.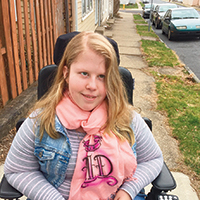 The accommodating nature of adaptive sports explains in part the growing participation. For example, Shelby Vanvliet, a 16-year-old high school student with congenital muscular dystrophy (CMD), sees how her sport — power hockey — is tweaked for anyone who wants to play. "If you're too weak to participate fully, we attach the hockey stick to your wheelchair — so there's less physical effort, but you still get the whole team experience." 
When you find a sport that interests you, Floyd Miller, a 31-year-old diagnosed with myosin storage myopathy, a form of congenital myopathy, suggests attending a few games as a spectator. "Talk to the team members and if it looks good, just do it! Get out there. Give it a shot. You'll probably fall in love with it."
Miller's love is e-hockey, and he's quick to add that anyone who feels uncomfortable joining the team is welcome to join the audience. "Whether you're playing or watching, there's camaraderie. You're compelled to get involved, and that's so healthy. If you don't use your social skills you lose them," he stresses. 
Team spirit
Sarah Heinsch, 35, is an avid power hockey player with impressive stats, including being a member of the three-time defending PowerHockey Cup Champion Minnesota Saints and the 2014 PowerHockey Cup Championship Game MVP. 
Heinsch, diagnosed with spinal muscular atrophy (SMA), loves talking about power hockey, although she quickly segues into the social support system her team represents. "My teammates are some of my best friends, and we love hanging out together. In fact, two players on my team fell in love and got married. The whole team went to their wedding!" Heinsch says with happiness in her voice.
A national survey conducted by Harris Poll on behalf of CareerBuilder discovered that this team spirit is yet another link between playing adaptive sports and professional success. Of the top 10 skills companies look for when hiring, 60 percent of those surveyed seek team-oriented candidates. According to Vanvliet, that is a huge benefit of adaptive sports. "Everyone talks to everyone, and it's impossible to sit by yourself. Someone will sit next to you and start a conversation. Now you're part of the team — whether playing or watching — and everyone deserves to feel that!"
Donna Shryer is a freelance writer in Chicago.
---
Be a Sport
To find a sport, start with your local MDA office, or do an internet search for "adaptive sports" in your city. You also can talk to your MDA Care Center physical therapist or physician. "Many colleges and universities have excellent adaptive sports programs," advises Scott Hatley. "If you live near a campus, check out what they offer." 
In addition, many national and local organizations provide sports and recreation opportunities for people with disabilities. Here is a list to get you started: 
• Incight, Scott Hatley's organization in Portland, Ore., hosts a robust schedule of adaptive recreation and social events. 971-244-0305.
• Disabled Sports USA provides opportunities for people with disabilities to develop independence, confidence and fitness through sports. 301-217-0960.
• The National Ability Center provides sports and recreation programs for individuals of all abilities. 435-649-3991.
• The National Center on Health, Physical Activity and Disability (NCHPAD) is dedicated to helping people with disabilities and chronic health conditions participate in physical and social activities. 800-900-8086.
• The National Sports Center for the Disabled (NSCD) is one of the largest outdoor therapeutic recreation and adaptive sports agencies in the world. 303-316-1518.
• Wasatch Adaptive Sports, in Snowbird, Utah, provides instruction in winter and summer recreational pursuits for people with adaptive needs and their families. 801-933-2188.
• Endeavor Games, sponsored by the University of Central Oklahoma, provides athletes with physical disabilities an opportunity to display their talents in a competitive setting. 405-974-3140.
• U.S. Paralympics, a division of the nonprofit United States Olympic Committee, promotes excellence in the lives of people with Paralympic-eligible impairments, including physical disabilities and visual impairments. 888-222-2313; 719-632-5551.
• Special Olympics International is a global organization with athletic programs in more than 220 countries. 800-700-8585.
MDA Resource Center: We're Here For You
Our trained specialists are here to provide one-on-one support for every part of your journey. Send a message below or call us at 1-833-ASK-MDA1 (1-833-275-6321). If you live outside the U.S., we may be able to connect you to muscular dystrophy groups in your area, but MDA programs are only available in the U.S.
Request Information