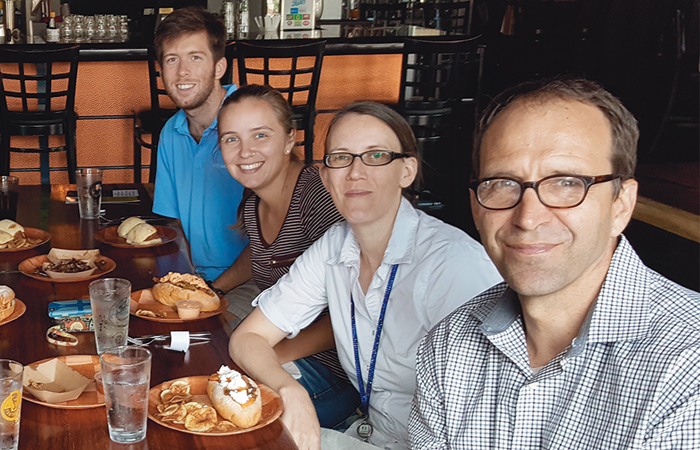 Dwight Koeberl fights neuromuscular disease through his work and as an MDA Jailbird
Dwight Koeberl, M.D., Ph.D., a pediatric medical genetics specialist at Duke University Medical Center in Durham, N.C., attended his first MDA Lock-Up six years ago as a guest. 
"I saw a patient at the clinic [whose family] was doing the MDA Lock-Up," he says. "After I attended that with them, I have a sneaking suspicion they mentioned my name to MDA [as a potential Lock-Up participant], and that was how I got involved."
Koeberl's connection to MDA began through his work as a doctor and medical researcher studying genetics and gene therapy. He didn't necessarily expect to be working on neuromuscular disease when he first arrived at Duke University, but the timing was right, as a colleague had just developed the enzyme replacement therapy treatment for Pompe disease. Since joining Duke, Koeberl has worked on multiple grants funded by MDA.
"We've been working on gene therapy for Pompe disease since before I got my first grant," he says, "but it has evolved over time. Currently, we actually have an FDA go-ahead to do a clinical trial of gene therapy in Pompe disease."
In addition to this clinical trial, Koeberl is currently researching what he calls the "next generation" of gene therapy — a gene-editing method known as CRISPR — for which he is hoping to receive grants so he can further study the cutting-edge technology.
"The first generation of gene therapy is replacing the gene to correct the patient's muscle, and the second is to actually correct the patient's mutation in their muscle so their cells will be permanently corrected," he says. 
Even though he's busy with this research, Koeberl finds time every year to raise money for MDA. He estimates he's attended around six MDA Lock-Up events and has raised around $1,000 each time. He attributes his ability to raise the funds year after year to his colleagues' connection to the cause through their research.
"I think part of the reason I'm able to fundraise is my colleagues here all understand the importance of MDA and how important [MDA Summer Camp] is for the kids, some of whom are our patients,"  Koeberl says. 
---
Get Involved Today
MDA Lock-Up is a fun and inspiring community event that raises funds and awareness to help kids and adults with neuromuscular diseases. Get started at mda.org/lockup.
MDA Resource Center: We're Here For You
Our trained specialists are here to provide one-on-one support for every part of your journey. Send a message below or call us at 1-833-ASK-MDA1 (1-833-275-6321). If you live outside the U.S., we may be able to connect you to muscular dystrophy groups in your area, but MDA programs are only available in the U.S.
Request Information