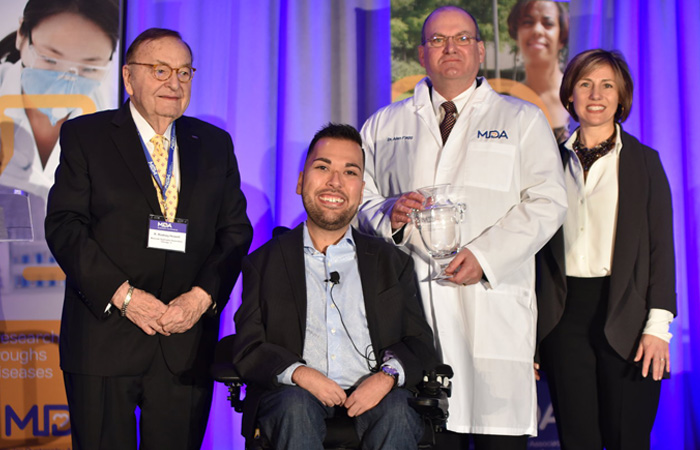 MDA honors CITGO with a special research award for their impressive fundraising efforts in support of MDA families
At the 2017 MDA Scientific Conference in Arlington, Va., on March 20, MDA presented CITGO Petroleum Corporation Assistant Vice President of Supply and Marketing Alan Flagg with a special research award to honor CITGO's unprecedented contribution to MDA's research program over the years. In the past 30 years, CITGO has donated more than $200 million to MDA to support the search for new treatments and cures for neuromuscular diseases.
"We started raising funds in 1986," Flagg says. "We started very modestly, but it's been a great run for us."
CITGO achieved this staggering number through supporting many different MDA fundraising events, from golf tournaments to the MDA Shamrocks program. During the award ceremony, Flagg was presented with a white coat by MDA Chairman of the Board R. Rodney Howell, M.D. The coat serves as a symbol of CITGO's commitment to funding treatments and cures for neuromuscular diseases.
"The CITGO employees, the CITGO retail operators, our marketers, our suppliers and our customers all participate and all contribute," Flagg says. "We're just excited that we're here to help raise some of those funds. Where the research is going, where the science is going, is truly exciting.
Read About CITGO Employee with SMA
For 30 years, CITGO has been making a difference for MDA families. Lauren Carter has worked for CITGO's corporate communications team since May 2015. She says the experience has been fantastic because of CITGO's longtime support of MDA families across the country. Read Independent Pro to learn more.
MDA Resource Center: We're Here For You
Our trained specialists are here to provide one-on-one support for every part of your journey. Send a message below or call us at 1-833-ASK-MDA1 (1-833-275-6321). If you live outside the U.S., we may be able to connect you to muscular dystrophy groups in your area, but MDA programs are only available in the U.S.
Request Information