Challenging the Nation to Live Unlimited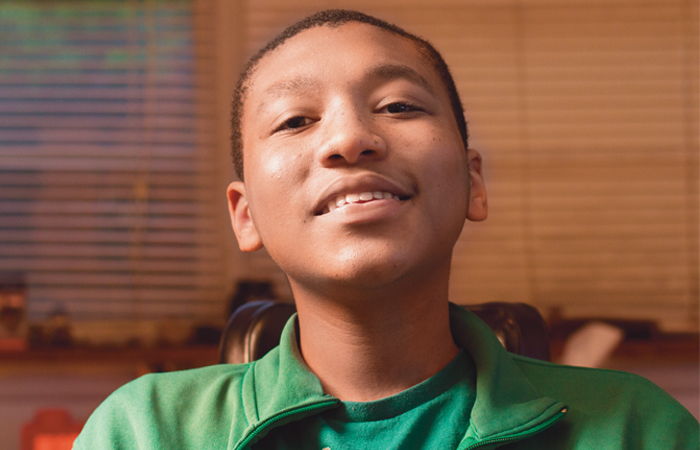 MDA families are doing remarkable things every day to live life to the fullest — and we're calling on all Americans to live beyond limits and support MDA families
MDA families face daily challenges that often make walking, playing, running, getting dressed, hugging and talking difficult — sometimes seemingly impossible. But these courageous families are defying their limits every day and inspiring a nation to do the same.
For example, Davion Bartlett was diagnosed with Duchenne muscular dystrophy when he was 4 years old. He quickly learned as a young child that his disease would never define him or hold him back. 
"Strength doesn't come from your muscles," Bartlett says. "It comes from your ability to keep going when things get tough."
Bartlett, who will be a freshman in high school this fall, recently completed the One America Mini Marathon in Indianapolis, a half marathon covering 13.1 miles and finishing on the Indianapolis Motor Speedway track. His teachers convinced him to complete the race as they pushed him in a special chair to raise money for MDA.
"People always used to tell me I couldn't do things," Bartlett shares. "Today, I continue to prove them wrong. Just watch me."
Bartlett's mom, Marilyn, believes crossing that finish line was a life-changing experience for him. "Davion is strong. He embodies what it means to live unlimited."
Bartlett's persistence to live beyond his limits and to refuse to believe in the word "can't" is the inspiration behind MDA's new six-week campaign called Live Unlimited, which launched on June 20, 2016 — the first day of summer. 
It was born from the stories of individuals and families in the MDA community who are doing things every day to break through perceived barriers and live life to the fullest. From everyday moments that help maintain independence to life-defining milestones, Live Unlimited is about both the small and big ways individuals overcome life's barriers.
Creating a wave of momentum
The Live Unlimited campaign kicked off with a digital takeover sponsored by National Seating and Mobility that included celebrity performances streaming on Facebook Live from sunrise to sunset. Celebrities, including X Ambassadors, Billy Ray Cyrus, JoJo, American Authors, Steve Aoki, Lauren Alaina, Mario Lopez and more, sang and shared their Live Unlimited moments to support MDA. They joined social influencers and MDA's network of families and friends who created a wave of momentum by sharing how they live unlimited in their own words on Facebook, Twitter and Instagram. 
On mda.org/LiveUnlimited, people have been sharing how they live unlimited by creating a custom graphic that can be uploaded to social media to spread the word and encourage others to support MDA families. 
Additionally, the first-ever MDA smartphone app called MDA Amplify is available to make receiving and sharing content about neuromuscular disease news, stories and other relevant updates easier than ever before.
"Live Unlimited speaks to a fundamental human truth in society: No matter who you are, where you live or what you care about, we all have the power to overcome our personal limits and those defined by others to live life to the fullest," says MDA President and CEO Steven M. Derks. 
"We believe this universal understanding will spark a national conversation that shifts the focus away from our limitations to the power of possibilities, and in turn shines the light once again on the urgency and action needed to help more kids and adults with muscle-debilitating diseases live unlimited."  
Finding a way around your limitations
"Living unlimited means breaking through barriers and not letting people tell you what you can and cannot do," says Rob Besecker, 41, who was diagnosed with myotonic muscular dystrophy in 2006. "Live for your goals; live for your dreams; and pursue every one of them. Living unlimited means finding a way around your limitations."  
An athlete in college, Besecker's diagnosis of myotonic muscular dystrophy in 2006 came as a shock. He experienced months of cardiac issues, muscle problems, muscle fatigue and muscle pain before finally learning what was causing it.
"When you get hit with a heavy diagnosis, you have two choices: give up and quit or move forward," Besecker says. "Quitting is just not an option for me."  
Besecker has traveled to all seven continents, visited every Major League baseball stadium in the United States, and last year he accomplished his biggest adventure yet — hiking to the base camp of Mt. Everest. 
"If somebody tells me I can't do something, my first response is always, 'Why?' My next response is typically: 'Oh yes, I can.' The Everest hike was one many told me I should never attempt," Besecker recalls. "But this trip was not just a milestone for me; it represented an exclamation point in my journey. It was a grueling experience and encompassed significant challenges to my physical and emotional well-being.
"I'm not doing anything that anybody else couldn't do. I'm not special. I'm just living my life the way I want to live, and I'm not letting little things or big things get in
the way." 
---
12 to Watch
From learning how to drive, graduating high school or getting a wheelchair for the first time to stay independent, to being pushed in a half marathon or even skydiving to celebrate doubling life expectancy, 12 MDA families are sharing their everyday Live Unlimited moments big and small as part of this summer's campaign. To learn more about the Live Unlimited campaign and to read and watch their stories, visit mda.org/LiveUnlimited.
Here's a glance at what some MDA families are sharing about their Live Unlimited moments:
"I credit a lot of my independence and well-being to my parents treating me exactly the same as my siblings. … I think my biggest triumph is being as independent as I am. I'm going on five years of living completely on my own, independently running my own care workers and really living life the way I want to. " — Haley Frieler, who has spinal muscular atrophy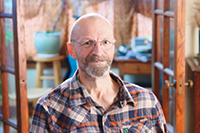 "When Ray was first diagnosed and he wanted to go across country on his bicycle, people thought he was a little bit crazy. But I knew we were going to do it. I knew Ray was going to be able to do it, and I went along with him to make sure he did. " — Rae Spooner, wife of Ray who has ALS
"Ethan's live unlimited moment was him being able to play sports. We were told that he could never play sports and that we should get him involved in music or art, so him being able to play t-ball last year was huge. " — Jordan Lybrand, mom of Ethan who has Duchenne muscular dystrophy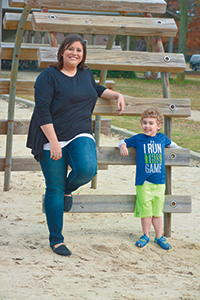 ---
Join the Live Unlimited Movement
MDA is challenging Americans nationwide to defy their limits and support MDA families. Here's how you can get involved:
1. Share how you #LiveUnlimited at mda.org/LiveUnlimited. You can create a unique Live Unlimited graphic that can be customized and uploaded to social media channels to show the world that limits don't define you. For every moment shared through July 31, a generous sponsor will donate $1 to MDA, up to $30,000.
2. Download MDA's new app MDA Amplify to receive and share the latest updates and news on social media. See "Become an Amplifier" for details on how to use this new tool.
3. Purchase a special-edition Live Unlimited bracelet at endorphinwarrior.com/live-unlimited — $6 from every bracelet sold will go directly to MDA.
4. Encourage your networks to make a donation at mda.org to help more kids and adults with muscular dystrophy live unlimited.
Become an MDA Amplifier
A new mobile app for MDA supporters
Every day, kids and adults living with muscle-debilitating diseases like muscular dystrophy and ALS are finding ways to live beyond limits. MDA needs your help to raise awareness and amplify their stories on social media year-round.
MDA Amplify is a new mobile app that revolutionizes the way MDA supporters and families can share MDA news on their own social media channels. MDA Amplifiers receive notifications on their phone when there are posts to approve. Amplifiers review the posts and can choose to post them to their profiles automatically or with personalized changes.
How to Join:
1. Download MDA Amplify for free from the App Store via your Android or iOS phone.
2. Choose and join a group based on the updates you'd like to receive and share.
3. Connect your personal social networks to the app. Be sure to accept all permissions. The app will never post anything without your permission. 
4. Permit the app to send push notifications to let you know when new information is available.
5. Approve MDA-supplied posts or edit them to make them your own.
6. That's it — you're an MDA Amplifier!
Keep sharing your stories of how you — or someone you know — live beyond limits every day, and continue sharing news and updates via MDA Amplify. 
How Americans Perceive Limits
MDA has released the findings of a recent survey* that asked Americans about their own experience facing limitations and uncovered the following:
A majority of those who face limitations say they have overcome them (69% of those facing limitations). This sentiment is stronger among millennials (78%) and those with a connection to a muscle-debilitating disease (77%). 
Two-thirds of respondents (65%) say they have done something they once thought was impossible. 
A majority of survey respondents (57%) say they have faced a limitation that has made it very difficult or impossible to do something they wanted to do. 
The most common limitation cited was financial (58%) among those who said they have faced limitations, followed by lack of self-confidence (38%), physical limitations (37%) and fear (32%).  Fewer said they have faced limitations because of their educational background (24%), professional status (17%) or mental abilities (15%).
When it comes to defying the impossible and overcoming limitations, the vast majority (82%) of those surveyed believe in the power of support and encouragement from friends and family more than they do in new research and technology (70%). Even more (87%) feel that if you have enough drive and willpower, you can overcome almost any limitation.
MDA Resource Center: We're Here For You
Our trained specialists are here to provide one-on-one support for every part of your journey. Send a message below or call us at 1-833-ASK-MDA1 (1-833-275-6321). If you live outside the U.S., we may be able to connect you to muscular dystrophy groups in your area, but MDA programs are only available in the U.S.
Request Information