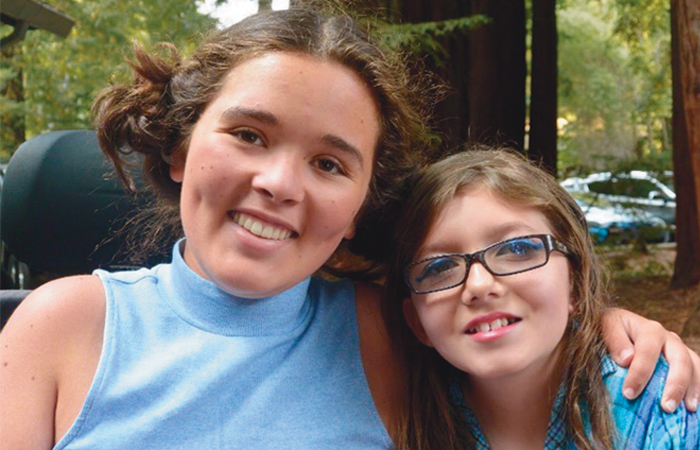 Young disability rights activist thrives at her first MDA Summer Camp — and beyond
For Sylvia Colt-Lacayo, a high school freshman with muscular dystrophy from Oakland, Calif., attending her first MDA Summer Camp at age 14 was a revelation. 
"My favorite thing wasn't even an activity, although all the activities were great," she says. "It was the fact that it was a week where I never felt insecure about my wheelchair and the different things that happen with my body. I felt comfortable because everyone around me had similar issues or knew what it was like to deal with those issues. The only way I can describe it is basically for a week I get to accommodate the world, the world doesn't have to accommodate for me."
For Sylvia, this experience underlined the importance of the work she does to advocate for the rights of people with disabilities. Sylvia is MDA's California State Goodwill Ambassador and also serves on the youth advisory committee for the University of California, San Francisco's Benioff Children's Hospital. 
"Being a teen is already really hard," Sylvia says, "and being a teen with a disability you can feel like no one understands you. I wanted to help younger kids that were dealing with this." 
In addition to helping individuals, in her role as an activist Sylvia hopes to get her message of disability awareness out to as many people as possible. The underrepresentation of individuals with disabilities in the media is of particular importance to her, and she hopes to change that by creating films of her own. She is currently a student at the Bay Area Video Coalition and has directed a short documentary film with plans for a narrative film in the near future.
And while filmmaking, school, advocacy and her other interests keep her very busy, Sylvia is already excited about living unlimited at MDA Summer Camp this summer.    
"I'm looking forward to being in that environment again and feeling comfortable," she says. "It's hard to explain, but most of my friends are able-bodied and my wheelchair isn't a barrier for them — or for me, either — but they will never fully understand the most important parts of me. [With other campers,] we relate on a higher level."
---
Check Out MDA Summer Camp
Learn more about MDA Summer Camp and how you can get involved today!
MDA Resource Center: We're Here For You
Our trained specialists are here to provide one-on-one support for every part of your journey. Send a message below or call us at 1-833-ASK-MDA1 (1-833-275-6321). If you live outside the U.S., we may be able to connect you to muscular dystrophy groups in your area, but MDA programs are only available in the U.S.
Request Information