All Aboard Accessible Amtrak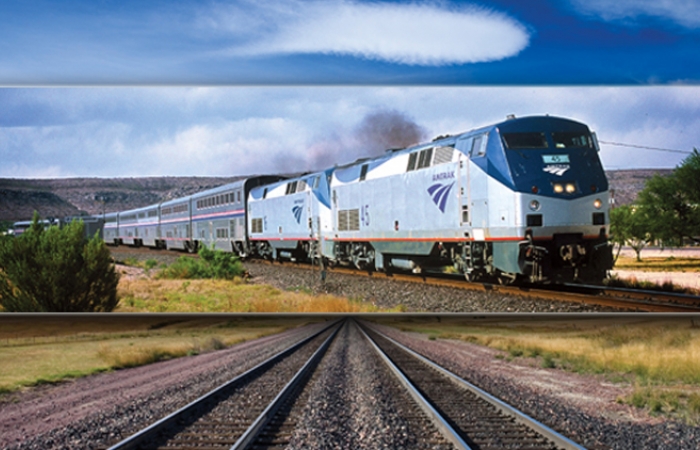 Accessible train travel is cost-competitive with air and car travel —and is much more relaxing
Eagerly anticipating the arrival of our train at the Hammond (La.) Amtrak station, my husband and I were as excited as the animated grade-school children running among the suitcases. All of us repeatedly gazed down the tracks trying to get the first glimpse of the engine light.
Hammond is a 30-minute drive from our home and the second stop the "City of New Orleans" makes heading north to its final destination — Chicago. Months earlier, we had booked our reservation with Amtrak — after carefully comparing it to driving and flying.
Although we are frequent travelers, Jim and I had never taken an overnight train trip. In my imagination, I picture a romantic journey, a fancy dining car and stimulating conversations with fellow passengers.
The brassy wail of the train's horn interrupted my fantasy. As the train rolled to a stop in Hammond, a large ramp was provided for my manual wheelchair. While Jim stowed our large suitcase in an open rack beside the door, an efficient Amtrak employee escorted us down a short hallway past a row of narrow doors — restrooms and a shower — to our accessible sleeper compartment at the back of the car.
In just under three minutes, the door was closed and our adventure began. We departed Louisiana at 2:30 p.m. and were scheduled to arrive in Chicago at 9 a.m. the following day.
Accessible bedroom
Bedrooms that are accessible are found on most of Amtrak's long-distance routes.
Designed for two average-size adults, they are offered on two types of Amtrak trains — Superliners and Viewliners. The major difference in the accessible bedrooms is that the Viewliner has an accessible shower and the Superliner does not. You can preview the bedrooms by taking a 3-D tour on Amtrak's website.
"The City of New Orleans" is a Superliner with an accessible bedroom that spans the width of the train. The compact space measures 6 feet and 9 inches by 9 feet and 5 inches. Two comfortable chairs, facing each other, are located on the left side of the compartment. The chairs, when pushed together, convert to a bed that is 2 feet 4 inches wide and 6 feet 6 inches long. Between the chairs is a small foldout table similar to the tray found on plane seats.
Amenities included with an accessible bedroom are: complimentary meals, attendant call buttons, electrical outlet, climate control, individual reading lights, towels, bed linens and blankets, bottled water, daily newspaper and coffee. Our train did not have Wi-Fi, but some do.
The upper berth is folded against the wall, giving the seated passengers open head room.
On the right side of the sleeper, angled into a corner, is a small sink, with open knee space below. Opposite the sink is a toilet. A floor-to-ceiling privacy curtain divides the room. A window on each wall prevents the small space from feeling claustrophobic. The sliding metal door must be latched when open to prevent it from slamming shut as the train rocks.
Our train had two levels. The dining, lounge and observation cars are located on the upper level and are not accessible. Passengers climb a narrow, spiral staircase to reach the upper level.
When it is meal time onboard, passengers make reservations and eat in the dining car. Those in an accessible sleeper are served in their cabin. Several entrees are offered including a "light" item and a vegetarian pasta. Menus for all Amtrak dining cars can be viewed online. An Amtrak staff member provided us with menus and delivered a total of five meals to our room. The train also has an upstairs lounge where you can buy drinks and snacks.
Throughout the trip, the train stops at stations along the way and stops to allow freight trains to pass. The conductor announces smoke breaks. The duration of most stops is short, and I never exited the train.
Around 9:30 p.m., a train attendant knocked on our door and made up our beds.
The upper berth easily drops down. Climbing in and out of the bed required some agility. Jim had to maneuver the two steps that were flush with the wall and swing his body over onto the bed. Exiting the bed was equally awkward. Due to the ceiling height, it was impossible for Jim to sit up without banging his head. Jim's bed measured 2 feet wide and 6 feet 2 inches long. A fabric "safety harness" was hooked to the ceiling and side of the berth to prevent falling.
Early the next morning, an Amtrak staff member came by to turn my bed back into seating and take our breakfast order. I was busy enjoying the view of towns as we traversed Illinois. We arrived at the Chicago station on time with a full day of sightseeing planned.
Planning an accessible trip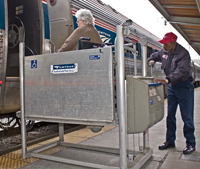 The first step in evaluating if Amtrak is a good option for you depends on where you live and where you want to go. Most routes connect major cities, stopping in small towns along the way. The train that travels the 900-mile stretch between New Orleans and Chicago pauses up to 20 times in places like Yazoo City, Miss. Begin your evaluation of Amtrak service by consulting the company's website.
Accessible seats and spaces are available in coach, business class and first class. You may remain in your wheelchair or transfer to a seat. It is important to discuss this choice when booking your reservation. Another option, especially appealing for long journeys, is an accessible bedroom.
Amtrak allows both manual and power wheeled mobility devices that weigh no more than 600 pounds occupied, and don't exceed 30 inches wide and 48 inches long. In addition, mobility devices must have 2 inches of ground clearance.
To make a reservation, call (800) 872-7245, which is available 24 hours a day, seven days a week. Bypass the automated voice by saying "agent." You also can visit a local station and talk to a ticket agent in person. Go online or call Amtrak to determine the hours a station is open and if it is staffed.
Reservations can be made up to 11 months prior to your departure date. Accessible seating and bedrooms are limited. Plan early to ensure the dates you wish to travel are available. Booking a reservation early usually results in the best fare.
Passengers with a disability and one companion can receive a 15 percent discount, which cannot be combined with additional offers. Written documentation of a disability must be provided at the ticket counter and when boarding. Acceptable documents include: transit system ID card, membership letter from a disability organization, physician's letter, Medicare card (if under age 65), Veteran's Administration ID with "service connected" designation, or a disabled parking placard issued by a department of motor vehicles.
Traveling by train
Amtrak has been working hard to make its service accessible. One of the difficulties the company faces is not owning the facilities it uses, such as the station, platform and parking spaces. Getting each owner to comply with accessibility needs is a challenge. "Much of our earlier focus under the ADA was making the trains themselves accessible, since that was mostly under our control. Much work has been done with stations and now platforms, thanks to an influx of federal funding," said Marc Magliari, Amtrak media relations manager.
Jim and I agreed that traveling by train was by far more relaxing than driving and did not have the stress of air travel. Instead of agonizing over the traffic or rushing to make a connecting flight, we spent the hours talking, reading and writing. For someone who uses a wheelchair, it is a great way to travel.
The Twardowskis are a husband-and-wife writing team from Mandeville, La., who are frequent contributors to Quest. Barbara has Charcot-Marie-Tooth disease. Contact them at thewritetwardowski@gmail.com.
More About Traveling by Train
Train vs. plane vs. car
From the Twardowskis' home in Louisiana to Chicago:
Amtrak: 18.5 hours one-way in an accessible bedroom for two adults (includes five meals for round trip); cost is under $600.
Flying: Three hours one-way direct flight, round-trip expenses (airport parking, two airline tickets); cost is $600.
Driving: 14 hours one-way, round-trip expenses (gas, one hotel night each way to break up the drive, and meals); approximate cost is $600.
Train travel tips
Compare fares and book reservations early to save.
Arrive at the train station early to alert the staff that assistance is required.
Although the train has a lounge, bring your own healthy snacks.
Try to time wheelchair transfers to the station stops because the train rocks.
Download books and movies to digital devices before leaving home. Not every train has Wi-Fi.
MDA Resource Center: We're Here For You
Our trained specialists are here to provide one-on-one support for every part of your journey. Send a message below or call us at 1-833-ASK-MDA1 (1-833-275-6321). If you live outside the U.S., we may be able to connect you to muscular dystrophy groups in your area, but MDA programs are only available in the U.S.
Request Information